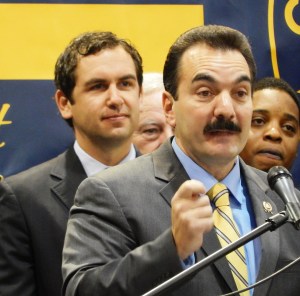 The names of lawmakers wanting the attorney general to apply a full cavity search to the former chief's claims about his boss, Jersey City Mayor Steve Fulop, don't include any Democrats from the lower house.
That's because Assembly Speaker Vinny Prieto (D-32) wouldn't be a party to the Senate Majority Office letterhead entreaty, sources say; neither would he let any of his caucus members.
"The Assembly Democrats know the AG can do his job," a source told PolitickerNJ. "He doesn't need a committee to do his job."
Assemblyman Paul Moriarty (D-4) of South Jersey last week voted against a measure to table Assemblywoman Amy Handlin's (R-13) letter to the AG's Office, prompting speculation that Moriarty was in regional warfare mode on behalf of Senate President Steve Sweeney (D-3).
Both Jersey City Mayor Steve Fulop – the object of the chief's allegations – and Sweeney of South Jersey are seen as North-South combatants in a developing gubernatorial Democratic Party Primary.
Moriarty's name didn't appear on the letter today after Prieto – like Fulop, a resident of Hudson County – made it clear to leadership in the party that his members would not ram the Handlin letter in the direction of the AG's Office.