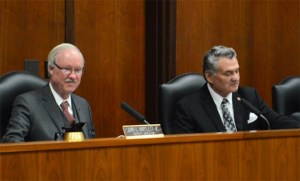 A sexual harassment lawsuit filed by a county supervisor earlier this year against a former private contractor is creating waves in an otherwise uneventful Ocean County freeholder race, where Republican incumbent Joseph Vicari is looking to stake out another year on the board.
Debate over the lawsuit, which was filed by general supervisor of building services for the county Rosemary Mennona and her husband, John, on April 4 in state Superior Court in Monmouth County, was resurrected earlier this month when Tim Ryan, the Democratic hopeful bent on unseating Vicari from his 33-year post, brought it up at a July 2nd freeholder meeting. At the meeting, Ryan asked the board who would pay for the legal fees incurred as a result of the lawsuit, which is currently in litigation.
In response, Vicari quickly dismissed the suit as "frivolous," adding that the contractor, Joseph Veni, was fired shortly after the allegations arose. The exchange was recorded in a video released by Ryan's campaign earlier this week.
"This behavior by Mr. Vicari's friend and political supporter was not frivolous, it was disgusting," Ryan said in a statement about the suit, in which Mennona alleges Veni, enabled by Vicari and other freeholders on the board, physically and emotionally harassed her. "Forcing his body against hers, unwanted kissing, unwanted back and shoulder rubbing, bragging about his sexual exploits, obsessing about large breasts over and over again for a period of years – this is all verbatim from the lawsuit. And there are reports of sexually charged emails that are consistent with this kind of slimy behavior."
In two separate interviews with PolitickerNJ, Vicari and Ryan recounted the July 2nd meeting and aired out their grievances about each other. Ryan alleged that Veni and Vicari are close "friends", and that Vicari created a patronage job for Veni shortly before raising his pay from $84,000 to $150,000.
"First of all he says at the meeting that he's not friend's with this guy Joe Veni, that is apparently totally a lie, I mean they vacation together, they've done all that together," Ryan said of Vicari. "Now that being said, then he starts talking about the legal fees, and in the course of talking about the legal fees he tries to brush it off saying, 'you know, we get these frivolous cases all the time, you know what I mean Mr. Ryan, you know how it would be paid.' I said, 'yeah, I know how it would be paid for me, from my own pocket because I don't eat from the public trough."
Ryan said that spurred an entire debate about "who's going to pay for what" and "what happens if [Veni's] found guilty of the charges."
"And so the council was clear to explain that they're not going to talk about anything of substance about the case, which I understand. .. But when I pushed him more about who's going to pay for the legal fees and the settlement if he does, he tried to do a two-step around me, he tried to say 'well they're claims I insured,'" he went on. "I said 'what do you mean, I've been a this a long time and I've never heard that expression, unless you're trying to tell me you're self-insured.' He said 'well yeah, that's it, we're self-insured.' I said 'again, so the county taxpayers are going to have to pay for their misdeeds.'
At that point, Ryan said Vicari was "getting visually upset."
But Vicari. who said he played no part in the harrassment and is no friend of Veni's, sees it differently. He contends that Veni is just one of "hundreds" of contractors the county employs every year, that the lawsuit just one of many the board "continuously" receives, and that Ryan's peddling of the issue just an attempt to distract from the fact that he has "nothing else to run on."
"It's campaign time, that's funny season," Vicari said. "Usually it begins in Sept. but this time it began a little earlier. I haven't seen [Ryan] again since then, he doesn't show up at the meetings. First time I saw him at a meeting in 15-20 years. He came by, stopped in for a few minutes, and that was it. So I'm not going to respond."
"I said from the beginning — it's all frivolous, there's no substance to it," he added. "When you're running for public office this is what happens sometimes. He's in the funeral business, I'm sure if I looked at his business there'd be all kinds of frivolous lawsuits with no substance."
The controversy has added some color to the race between Ryan and Vicari, which, in a county where Republicans outnumber Democrats 103,517 to 74,795, is likely the latter's to lose. It may also have some effect on the congressional races in the districts the county constitutes — specifically in CD3, where Republican business Tom MacArthur is taking on Burlington County freeholder Aimee Belgard to fill the seat of outgoing U.S. Rep. Jon Runyan (R-3).
Observers of that race say Belgard needs a low turn-out in Republican-leaning Ocean County and a high turn-out in her native Burlington County to win.
Ryan points out that Vicari and other officials in Ocean County have rarely — if ever — had serious Democratic competition. Vicari, on the other hand, isn't too worried.
"People go in, they see my name. Last election I didn't campaign and I got 79 percent of vote, so with Ryan I'll probably get 81 percent," he said.