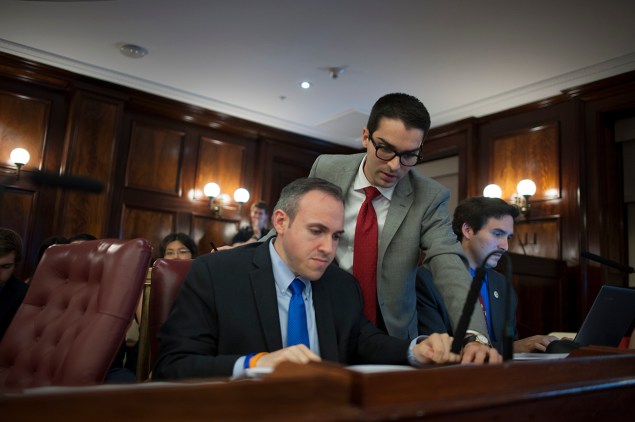 Officials pushing for independent oversight of the city's Hurricane Sandy recovery say Mayor Bill de Blasio's administration shouldn't have anything to hide.
"No responsible public official should be concerned with having independent monitors making sure this money is being spent the way it is supposed to be spent," Councilman Mark Treyger, chairman of the council's Committee on Recovery and Resiliency, told the Observer.
Mr. Treyger, a Brooklyn Democrat, and Queens Republican Eric Ulrich — who both represent neighborhoods hit hard by the storm — introduced a bill last week to establish a monitor at the Department of Investigation for Hurricane Sandy recovery in the city.
"I think that an independent monitor is necessary any time when you're handling billions of dollars," Mr. Ulrich told the Observer. "We simply can't allow the honor system to prevail here."
A spokeswoman for Mr. de Blasio, who has pledged to make Sandy a top priority and has recently signed several laws regarding the recovery, said earlier this week they are reviewing the legislation.
A Department of Investigation spokeswoman said the department is already monitoring Hurricane Sandy housing recovery program Build it Back — and has a hotline for fraud, one of the things required in the bill.
"They haven't done a very good job of telling people about it," Mr. Ulrich said of DOI's efforts.
Both lawmakers said what they're asking for is a more formal, established oversight structure with a specific monitor in charge, looking at all aspects of the city's Hurricane Sandy recovery.
"Heck, my colleagues voted for an inspector general to oversee the police department," Mr. Ulrich said.  "What's wrong with having an independent monitor overseeing almost $4 billion in [federal relief] funds?"
A city government source told the Observer earlier this week that the DOI was focusing on Build it Back because that's where the bulk of the money is, and that the focus would shift as priorities do. But Mr. Ulrich and Mr. Treyger said they wanted a visible presence from DOI codified into law.
Mr. Treyger cautioned he's not accusing anyone in the administration "of fumbling up to this point."
"I think it's about accountability and that there's no guessing game on who we contact," Mr. Treyger said, the way people might know Richard Condon is the special investigator in charge of education cases.
Mr. Treyger said the council has an obligation to perform oversight. "First and foremost, we have an obligation to protect precious taxpayer dollars," he said.
The city has received nearly $4 billion in three separate allocations Community Development Block grants aimed at recovery efforts — though it receives access to those funds slowly, one round of cash at a time. So far, it has begun reconstructing just 96 homes and has spent $5 million reimbursing 320 homeowners who made repairs without the city's help.
While that's an improvement over the start of the year — no checks had gone out, and no homes were under construction — it's little consolation in neighborhoods rocked by the storm or to the council members representing them.
"My constituents are outraged," Mr. Ulrich said. "And I am outraged for them, because they're watching on the news about all this money that's flowing into the state and the city to help them, and they haven't received a dime."
Mr. Treyger pointed to widespread fraud after Hurricane Katrina, and recalled his frustration in March, when at a hearing city officials testified that just three homeowners had received checks — despite millions having been spent on consultants to the city's recovery programs, he said.
"Why are we spending this much money on consulting and very few people are getting assistance?" Mr. Treyer asked.
To date, the city has spent about $8.3 million out of an $11 million consulting contract, according to its online Sandy tracker, and spent another $9.2 million of some $50.2 million in "case management" contracts — with lost paperwork and other case management woes among storm victim's top complaints.
Still, Mr. Treyger praised the mayor's new hires for Sandy recovery — including Amy Peterson, who now oversees Build it Back. And just yesterday, the mayor signed a bill waiving Department of Buildings fees for the recovery program, the latest in a series of pieces of legislation relating to Sandy he has signed. At the bill singing, Mr. Treyger thanked the mayor for his work on the issue, and the mayor noted that "even the tough judges in the city council" had thanked him for revamping the recovery.
"It all comes down to providing New Yorkers with the resources that they are entitled to – and acting as quickly as humanly possible," Mr. de Blasio said Tuesday at the bill signing.
Still, Mr. Treyger said the city "can't afford not to have answers for the public" when they ask where the money is going — but right now, everyone is simply "pointing fingers" at one another.
"Let's now have an entity, an independent entity that is not afraid of any type of political retaliation from anybody, to take a look at this and make sure that money is being spent the right way," he said.
This story has been updated to reflect new Build it Back figures provided by the mayor's office.