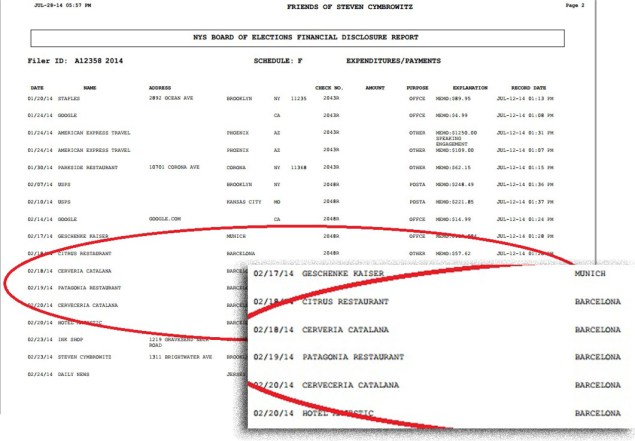 Brooklyn Assemblyman Steven Cymbrowitz spent more than $1,300 in campaign funds at three restaurants and a hotel in Barcelona, Spain and at a gift shop in Munich, Germany earlier this year, campaign records show.
Mr. Cymbrowitz's latest filings show that he spent the money during a three day spree between February 17 and February 20. In Munich, Mr. Cymbrowitz spent $189 at the souvenir shop Geschenke Kaiser.
"We are your first stop regarding high class wood carvings, pewter products, miniatures from the Saxonian Erzgebirge, beer mugs, jewelry and lupe paintings," the store's website states.
In Barcelona, the assemblyman spent more than $160 dining at Citrus Restaurant and Patagonia Beef & Wine, and picked up two tabs totaling more than $130 at the tapas bar Cerveceria Catalana–which travel guides refer to as the finest tapas bar in the Spanish city.
Mr. Cymbrowitz also spent $819 staying at the five-star Hotel Majestic.
"Majestic Hotel & Spa Barcelona has a 90-year-old history in excellence," the business's site reads. "The hotel is located in the middle of Paseo de Gracia–right in the heart of the city–and close to Gaudi's buildings, exclusive shopping facilities and Barcelona's most important historic tourist sites."
The Democrat told the Observer that he represents a large population of Holocaust survivors, and said he was in Munich to visit the Dachau concentration camp, and to advocate on behalf of Russian-speaking victims whose restitution claims have been denied by the post-war Conference on Jewish Material Claims Against Germany. He also said he spoke with German officials about the threat of neo-Nazism in the European nation.
"As the child of Holocaust survivors, I promised my parents I would do everything in my power to help other survivors and to not let our world fall into the destructive grips of fascism ever again," the assemblyman said in a statement.
He did not explain how the stop at the souvenir shop assisted him in this mission.
Additionally, Mr. Cymbrowitz argued his trip to Barcelona helped him better serve his Sephardic Jewish population in district, who are descended from people who fled Spain during the Inquisition and settled in the Middle East. Mr. Cymbrowitz said he was joined in the city by other elected officials and representatives from the Jewish Agency for Israel in Germany and the Ancient Synagogue of Barcelona Foundation
The Sephardic community in Brooklyn, however, predominantly identifies as Syrian, not Spanish. Mr. Cymbrowitz was also unable to immediately name the fellow politicians who accompanied him to Spain.
Mr. Cymbrowitz came under fire earlier this year for spending almost $2,700 of his campaign money on plane tickets to Turkey–which the pol justified based on the small population of Turkish immigrants residing in his district.
Mr. Cymbrowitz's southern Brooklyn turf does not include any sizable enclaves of ethnic Germans or Spaniards.
State law grants politicians broad latitude in the spending of their campaign cash, and usually allows expenditures as long as candidates can explain how the spending relates to the office they are running for. Even if the expenditures have little or nothing to do with political campaigns, the State Board of Elections rarely enforces penalties.
Mr. Cymbrowitz faces a primary challenge in September from local activist Ben Akselrod, who came within 244 votes of ousting the incumbent in 2012.
Updated to include the names of the organizations whose members joined Mr. Cymbrowitz on his trip.