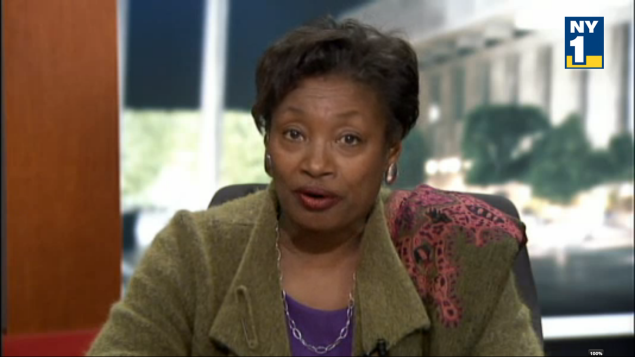 Westchester State Senator Andrea Stewart-Cousins–the Democratic minority leader in the state legislature–defended Gov. Andrew Cuomo's interference in the functioning of the anti-corruption Moreland Commission in the wake of a lengthy New York Times report alleging that Mr. Cuomo's office "hobbled state ethics inquiries."
Speaking on the Capitol Pressroom radio program, Ms. Stewart-Cousins echoed the governor's arguments that because he assembled and staffed the investigatory panel, he was free to intervene in its work. The Times reported today that Mr. Cuomo's top staffers repeatedly ordered members of the commission to drop subpoenas sent to groups connected with the governor in the two months between when Mr. Cuomo started the commission in July 2013 and when he dissolved it.
"I see the argument that it was the governor's commission, it was staffed by him, and they served at his pleasure," Ms. Stewart-Cousins said in response to questions from host Susan Arbetter, repeatedly stumbling as she spoke. "Rationally one would suspect that they would not–I think it would be difficult, and I think they called that a conflict."
Upon more pressing from Ms. Arbetter, Ms. Stewart-Cousins continued.
"I could see that people who were staffed by and were reporting to," the Democratic leader began. "I see they wouldn't necessarily be investigating the governor."
Ms. Stewart-Cousins refused to say if any members of her delegation had received subpoenas–as some Republicans have charged the Commission exempted Democrats from its investigation. The pol did say that none of her members had attempted to block investigations into their outside sources of income–and argued that most of her members had no outside sources of income.
"I know what we didn't do was fight subpoenas," she said. "Certainly the Senate Democrats were willing to answer questions."
The legislator concluded by predicting an overwhelming re-election victory for Mr. Cuomo in November, and by praising the state executive's record and motives.
"The governor is popular because the governor gets things done," she said. "He wins, people like him. People believe he's really moving New York State forward. I think his intent is always to make New York again the Empire State."