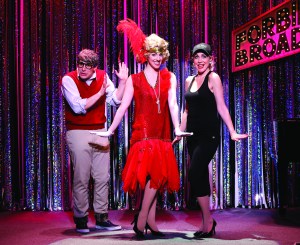 Irreverent is playwright Gerard Alessandrini's middle name. It's certainly his modus operandi. Now that the Tony Awards have had their say on Broadway, here comes the darker flip side—Mr. Alessandrini's report card, "Forbidden Broadway."
The latest edition of this long-running parody revue (No. 22) is housed through July 20 at the newly refurbished Davenport Theater on West 45th—clearly, a land God forgot. Where else but its lobby could you hear the overtures to Star! and Sugar? Inside, the walls are plastered with mock theater posters of Wickeder and More Misérables and Teeney Todd.
"Forbidden Broadway: Comes Out Swinging!" invites Rocky Balboa to "put 'em up, put 'em up" with the Italian Stallion—only here, the battle is over diction: an actor playing the role's creator/originator, Sylvester Stallone, in signature porkpie hat, is brought in to train his stage counterpart, Andy Karl, how to enunciate unintelligibly.
Rodgers and Hammerstein's indestructible hits take a few hits, too. "Carrie Underwhelming" saws off some Southern-frayed Sounds of Music and has a green-room scene with five-time-Tony winner Mother Audra, who has only to cough demurely to get a correction—"six-time-Tony winner Mother Audra McDonald."
And Fran Drescher, with a machine-gun guffaw that could shatter any glass slipper on the premises, sums up her Cinderella singing assignment with "Impossible."
Speaking of nasal (which we were), Idina Menzel reveals the secret of her technique: "Let It Blow," she advises, finishing up with "my nose never bothered me anyway."
Mr. Alessandrini, who's not necessarily a believer in moderation in all things, thought this sharp jab sufficiently covered the subject and opted not to lace into the complicated, color-coded, with-glasses-or-without storyline of Ms. Menzel's musical, If/Then.
"The only thing totally newsworthy about that show is Idina," he explained. "I tried to work in a chorus about If/Then, but—I'll tell you something I've never told any interviewer before—when you're doing a parody lyric, you're restricted by how much room there is in a lyric. Here, there's not a lot of space to say something. It's mostly ballads. That's why I always love doing a comedy parody, something that's either comedy Sondheim or Porter or Alan Jay Lerner because they're very wordy—you can put a lot of information, a lot of comments, on that—but I didn't have much room with Idina. Not only did I try to work through If/Then, I tried a lot of her vocal quality, some things about Wicked and Glee, and I just couldn't fit any of them in."
Paring the humor down to its purest (or puerile-est) form is a lot of the job. "I would say it's all the job," he revised. "Sometimes, after the show runs a month, I regret either taking something out or leaving it in. A week after we opened this, we did our cast recording, and I was still making changes, fixing a lyric for a sharper rhyme."
It's hard, exacting work—a kind of theatrical diamond cutting—and Mr. Alessandrini has been at it for over 30 years. These days, he has been spending a lot of time in London, preparing a fifth edition over there, and a bus-and-pickup version is about to move into Feinstein's in San Francisco.
In 32 years, "Forbidden Broadway"has bounced around New York, in and out of more theaters than the original production of Once Upon a Mattress—from Palsson's to Theater East to Triad (née Palsson's) to Ellen's Stardust Diner to the Douglas Fairbanks Theater to the 47th Street Theatre to the 45th Street Theater (Davenport).
At various times, it "Strikes Back," "Cleans Up Its Act," is "A Spoof Odyssey" or a "Special Victims Unit," has a "Rude Awakening," finds "The Roast of Utopia" or "Goes to Rehab."
Performers who cut their comedy teeth on it include two Tony winners—Michael McGrath and Jason Alexander—plus Bryan Batt, Christine Pedi, Michael West, Chloe Webb, Dee Hoty, Daniel Reichard, Barbara Walsh and the late Patrick Quinn.
The current quartet (plus accompanist David Caldwell) is on par with those pros, going after a wide range of highly individualized troupers in just under two hours and over 20 skits. If that's not daunting enough, Mr. Alessandrini and his co-director, Phillip George, insist they do specific, character-identifying tics and twitches.
All that Carter Calvert needs to make Susan Stroman work for the "Let's Misdirect" skit is a perky disposition and a blond ponytail in a baseball cap. Mia Gentile (a Caucasian) brings off "a very pale imitation" of Diana Ross' "Stop in the Name of Love" from Motown the Musical; Marcus Stevens quivers and shakes as an implosive Mandy Patinkin lifting off with "Super-Frantic-Hyperactive-Self-Indulgent"; Scott Richard Foster has fun with the angst-riddled Irish guitarist whose Oscar-winning "Falling Slowly" turns out to be (without much of a musical shove) "Frère Jacques."
"Despite what I say in the show, I liked Bridges of Madison County and Beautiful and Gentleman's Guide," Mr. Alessandrini said. "I was rather pleased with the season."
What the new season will bring (beyond Jason Robert Brown's Honeymoon in Vegas) remains to be seen, but Mr. Alessandrini is already rubbing his hands together in anticipation of the parodic possibilities. "I understand there's another Fiddler on the way—with Danny Burstein, and I heard Mandy will be Honoré [the Maurice Chevalier/Alfred Drake role] in Gigi," he said, pausing a respectful beat before putting his two cents' worth in: "I think it'd be better if Danny did Honoré and Mandy did Tevye."
He pooh-poohed recycling Cabaret with the same star, choreographer and director, "but maybe it was an idea worth doing—especially when you consider that last Guys and Dolls. They should have revived the revival with Nathan Lane. Cabaret is always beloved, and Alan Cumming is always naughty. Why not put Liza in it 40 years later as Fräulein Schneider? The song we do in the show—'So What?'—Liza does all the time anyway. I don't think anybody's going to take my advice, but they should."
Mr. Alessandrini is really no meanie. His criticism comes from a warm spot. "I know Bullets Over Broadway wasn't right, but I still enjoyed it. I loved the last 20 minutes of Rocky. And Hedwig. And Pippin. But I have to do my work: I have to draw blood."