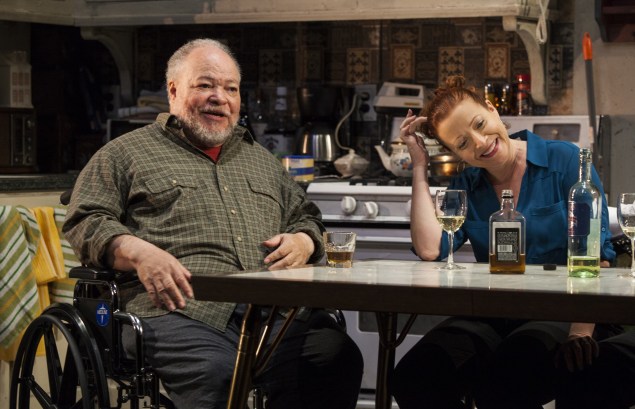 In the recent production of A Raisin in the Sun—a revival rife with rich performances—the last and tiniest character to arrive was that of Bobo, the middle-man in a liquor-licensing deal that has gone deeply south, taking the whole Younger family savings with it. The bottom line: "When a cat takeoff with your money, he don't leave you no road maps!" With stops, starts and stalls, Bobo took 259 words to get the bad news out—and the actor playing that part, Stephen McKinley Henderson, squeezed those words till they cried and he cried and you cried.
Bobo is characteristic of the New York career of Mr. Henderson, a first-class and quietly beloved character actor who has never let the size of a role stop him from making the proper impact. "There are no small roles . . ." as they say, and Mr. Henderson is living, working proof of that. He comes, he goes, but never until now has he stuck around for the duration and starred in a play in New York. This star is born July 31 when Stephen Adly Guirgis' Between Riverside and Crazy world-premieres at Atlantic Theater Company's Linda Gross Theater on West 20th.
If Mr. Henderson seems to handle the extra stage time with consummate authority, that's because it's not his first time at the rodeo. Audiences loved him in Buffalo and St. Louis and assorted regional theaters around the country where he refined his skills before taking them to Manhattan. "I've done all kinds of shows outside New York," he told the Observer recently. "I've done Arkadi in The Caucasian Chalk Circle and lots of Fugard plays that are really line-heavy since most of them have just two or three characters—Sizwe Bansi Is Dead, Sam in 'Master Harold' . . . and the Boys, Mr. M in My Children, My Africa I was one of the three in The Island in Dublin in 1981."
The regional theater that employed Mr. Henderson the most—for almost 20 years—was the now-extinct Studio Arena Theatre of Buffalo, where he has taught acting at the University at SUNY Buffalo since 1987—"but not much longer," he hastened to post-script. "I'll likely retire in 2016. As it is, I only teach one semester a year there now."
He reduced his teaching load in 1996 when he started working with August Wilson and wanted to be available for whatever projects the playwright needed him for. To date, he has hit all but two decades in Mr. Wilson's 10-decade play cycle on African-American life in 20th century America—the two that chronologically began and ended the cycle—Gem of the Ocean and Radio Golf. His specialty: the lead's sidekick.
For this he has achieved no small amount of success. The easy give-and-take chemistry between him and Denzel Washington in A Raisin in the Sun was plainly palpable. He received a Tony nomination for his personal favorite sidekick role, Bono, in August Wilson's Fences, and played Turnbo in Jitney, that playwright's look at men working at a Pittsburgh cab station.
"Jitney was a joy," Mr. Henderson remembered. "We got the Obie Award, the [Los Angeles] Ovation Award and the Drama Desk Award for Best Ensemble—every member of the cast got it—and we all got to do it at the National Theater of Great Britain, where August won the Olivier for New Play." It also won Best Play from The New York Drama Critics Circle and the Outer Critics Circle—but, being Off-Broadway and ineligible, no Tony. Because of that niggling fact, it's the only August Wilson play not nominated for a Best Play Tony. The most it can hope for now is a Best Revival Tony, and a movement is afoot for that to happen, said Mr. Henderson. "Ruben Santiago-Hudson has made it a mission of his to bring Jitney to Broadway. I'm with him if it happens, as are Anthony Chisholm and most of the original cast."
Easily the most startling of Mr. Henderson's six Broadway appearances was that of Abraham Van Helsing, Vampire Hunter, in Frank Wildhorn's short-lived Dracula, the Musical. Director Des McAnuff cast him, against pigmentation, "for the gravitas."
It was the gravitas that got him 15 years of judge jobs on Law & Order/Law & Order: Special Victims Unit as well as the role of the most famous noncommittal judge of them all, Pontius Pilate, in Mr. Guirgis' The Last Days of Judas Iscariot, which Philip Seymour Hoffman staged for his LAByrinth Theater Company in 2005 at The Public Theater.
The actor and the playwright have been close friends ever since—so much so that when Mr. Guirgis waved the first 15 pages of Between Riverside and Crazy at him, Mr. Henderson committed to the project on the spot. "It's a wonderful gift when a writer says to you, 'I've something that, I think, is your song to sing,'" he said.
This part that finally brings him front and center is Walter Washington (a.k.a. "Pops" to one and all), a recent widower and career cop felled by friendly fire eight years ago. All this time he has been stewing and boozing, nursing a grievance against the department, which has the sort of racial overtones that make everybody nervous. To get him to settle, pressure is brought to bear that could cost him his home, which happens to be one of the last great rent-stabilized apartments on Riverside Drive.
"Pops" feels betrayed not just by his ex-bosses and his jailbird son but also by life itself. "His whole life was lived in reaction to the fact he didn't know his father," said Mr. Henderson. "He did everything he thought was antithetical to his father—marriage, family, joining the police force—and he was good at it, but it really wasn't part of who he was. He was going so much against the grain of his instincts, he just got lost."
Mr. Henderson wears this role so well it seems tailor-made for him, but Mr. Guirgis says not: "The great thing about Stephen is you don't have to write for him—you just have to write. He's versatile, brilliant, truly interested in playing the character—not in building a character around his own personality and strengths. He's a genuine old-school character actor and, in my opinion, one of the very best American actors we have. I hope to be doing plays with him until one of us keels over and drops."
Director Austin Pendleton, himself an actor, knows what he has in his novice star: "First of all, he's a real ensemble player, alive to all of the other actors. He doesn't want you to cater to him, so that eliminates a lot of wasted effort. When you're directing him, you want to take in everything he's doing and suggesting. You ignore that at your peril. The process becomes blending that in with your own thoughts."
At the curtain call, Mr. Henderson does his best to blend in with his fellow players, but they nudge him forward for a solo bow. "It happens every night," said Mr. Pendleton.