Warby Parker is one of the hottest ecommerce companies of the past five years, and has been awarded all of the startup buzzwords (disruptive, innovative) for their great user experience and direct to consumer business model. But you can't be an insurgent company without someone else coming up fast for your number one spot.
Frameri, an online eyewear site that makes glasses with interchangeable lenses, officially launched this morning. They've set their sites on the trail blazed by Warby, but claim that their product is actually something new in eyewear, as opposed to being the same old product in a new shape, style, or designer label.
Unfortunately, Frameri has more challenges ahead than just rival eyewear startups if they want to take the market. The eyewear industry is dominated by a major monopoly and a massive supply chain that Frameri has to circumnavigate entirely in order to do business. The one thing they've got going for them is that they have a product that, for some reason, nobody else seems interested in offering.
In the shadow of Luxottica
When we speak to most people about Frameri and their interchangeable lenses, they ask, "Does nobody really do that already?" That was Frameri founder Konrad Billetz's reaction when he first went looking for interchangeable lenses after a frustrating day at the beach of switching between sunglasses and regular lenses.
"I knew someone had to be doing it, of course. It's so obvious," Mr. Billetz told us while visiting New York last week. "No one was."
The first reason nobody has shown up strong to the swappable lens game is because it's difficult to pull off. So Mr. Billetz, who was in business school when he came up with the idea, created an entire in-house supply chain: an optics lab, manufacturing, construction, design and everything else needed to run a cottage industry.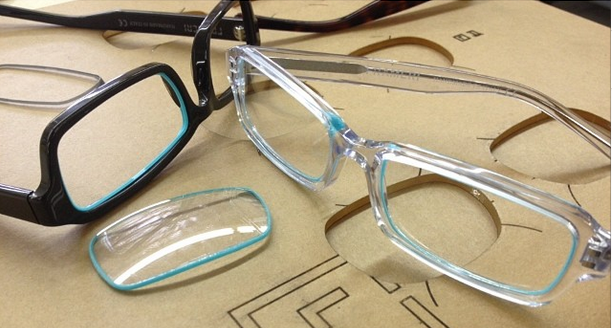 But the second reason no one had gotten there yet was because of biggest name in eyewear: Luxottica. Luxottica Group controls the vast majority of the world's eyewear, including brands like Ray Bann, Oakley, Pearlvision, Sunglasses Hut, Lenscrafters, and a dozen other brands, and sees no reason to mess with their own model.
"Luxottica has a damn near monopoly in the eyewear industry," Mr. Billetz said. "When you have an oligopoly, innovation goes down."
Luckily for Mr. Billetz, he set up Frameri right around the corner from Luxottica's global headquarters in Cincinnati. This allowed him to be close to the competition, get mentorship and advice from former C-level executives and poach talent that left the company.
"It's perfect, because a lot of people leave there," Mr. Billetz said. "They love the idea that we're challenging this company that they used to work for."
He started with an Indiegogo campaign so he could have proof that there was a demand for their product when they brought it around to investors. They more than doubled their $30,000 goal, and as of this morning, they've closed out an oversubscribed seed round at $750,000.
Wearing the frames
Frameri costs $100 for a pair of frames, and $100 for each set of lenses. Even if you have only your doctor's name, Frameri has the ability to call up and request your prescription from a physician.
We were given a trial set of glasses and lenses from Frameri's "Tidal" family of frames ahead of launch to try. The frames feel great, and this writer has a particularly large head, so it can be tough to find frames that fit well.
It may see obvious, but being able to swap lenses and frames does give you a sense of freedom and variety. It's refreshing to be able to wear sunglasses that match your shirt, and then turn them into regular glasses when you walk indoors.
When browsing the frames online, they seemed to have an unfashionable, unattractive curviness to them, but they manage to have a pretty stylish look once you're actually wearing them. Both sets of frames we tried elicited a number of compliments, a few of which were from the colored edge of the lenses, which add a small hint of flair for the extra-attentive.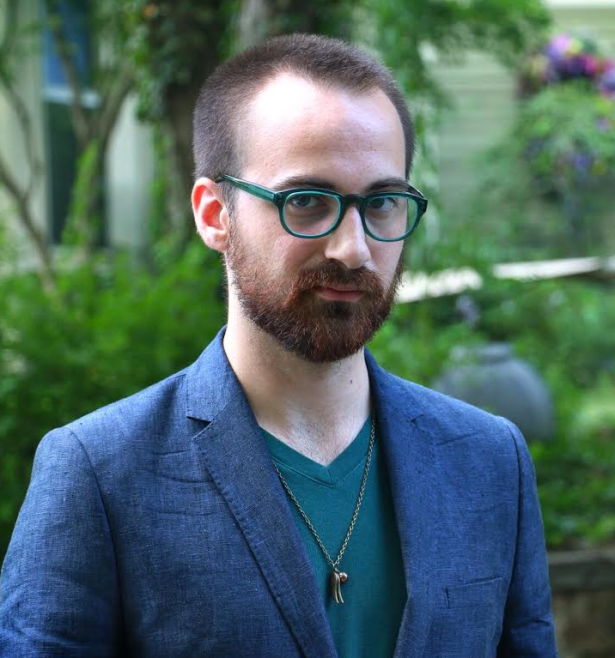 The frames are also a little, well, similar to one another. With Ray Bann, you can tell a Wayfarer, Clubmaster, or Aviator apart from a dozen yards away. Frameri styles don't vary so drastically, and Mr. Billetz hears the complaint so much that he's started to "hate when people say they look the same." Needless to say, frame variety is an upcoming priority for Frameri.
Otherwise, the product is very well made: the frames are made from preshrunk Italian acetate, German engineered 5 barrel hinges and thick structural wire to protect the frames from breaking while swapping lenses.
The lenses were hard to swap at first, and before we were used to popping them in and out, it was a bit of struggle, and we were scared to death of breaking them. When we brought this up to Mr. Billetz, he pulled out a pair of frames and dared us to try. His frames can be bent in a dozen directions over and over without breaking.
Needless to say, we were less skittish with the glasses afterward, and now we can change out the lenses in a matter of seconds, though one moment of haste resulted in cutting open a fingertip — the resultof carelessness, yes, but also the slightly sharp edge of the inner key on the lenses.
The only issues with swapping lenses out is that you need to find a place for your sunglasses set while you're out and about — we use that awkward, small inner-pocket on many pairs of jeans — and that lenses get smudged.
Overall, the product is very solid, and once you get used to it, holding a pair of glasses with static lenses feels like a copy of your favorite magazine after you've subscribed to the tablet version. It's lovely, but you still wish you had something a little more versatile.
Warby Parker
No matter how large and in charge Luxottica is, the company that's repeatedly summoned into any conversation about Frameri is Warby Parker. Warby is often held up in the startup world as a model "disruptor," and the company is listed in investment portfolios alongside names like Snapchat, Buzzfeed, MakerBot and Birchbox.
But Warby's product is really the same as everyone else's product, Mr. Billetz compains. It's static, unchangeable — essentially the same glasses people are used to, only with stylish frames and at a good price. Besides, direct-to-consumer isn't exactly a revolution, unless you consider OfficeMax an innovative disruptor.
"What I liked about Warby at the beginning is that they seemed rebellious, Mr. Billetz said. "Now they look like J.Crew. The people who originally made them cool aren't their customers anymore."
But hey, at least Warby's partnered up with Google to make frames for Google Glass.
Frameri, on the other hand, helps people save money through interchangeability. Have five frames and your prescription changes? Get one new set of lenses, and you keep your whole collection of glasses.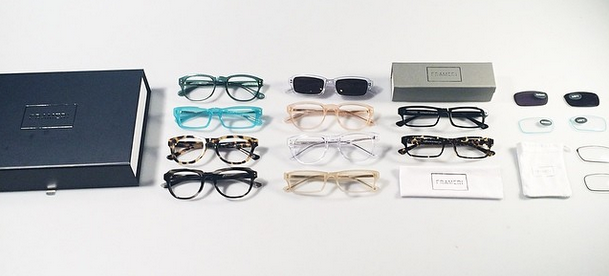 It also allows their business model to be more agile — since the pieces can be sold separately, they can branch out into brick and mortar, or whatever other pivot point they need to approach as the company grows. Once you have the lenses, you could see the frames on a mannequin, buy them, snap your lenses in and walk out.
"If ecommerce doesn't work, we'll look at other things, like independant optical shops." Mr. Billetz said. "We love being online, but we'll be fine no matter what."
Regardless of the stiff competition, Mr. Billetz is at least grateful to Warby at least for paving the way.
"You couldn't ask for a better benchmark company," he said. "They've driven so many people to buying glasses online now that it makes it easier for us to go in there and say, 'This is our product, and here's why it's better.'"