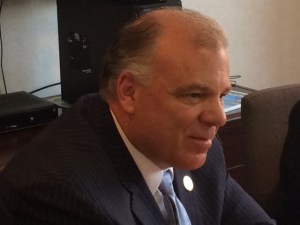 SOMERVILLE – State Senate President Steve Sweeney (D-3) spoke out regarding the feasibility of New Jersey Gov. Chris Christie as a potential Republican presidential candidate in 2016, days after Sweeney's main potential rival for the 2017 Democratic gubernatorial nomination, Jersey City Mayor Steve Fulop, questioned whether Christie had the right temperament to be America's commander-in-chief.
"I think he's a very viable candidate for President," Sweeney told PolitickerNJ.com, minutes after he visited the New Jersey Center for Tourette Syndrome in Somerville on Tuesday. "I work with Chris Christie closely, and he's very pragmatic."
Some state legislators questioned Christie's pragmatism last week when the governor pulled a package of judicial nominations after one of the nominees for judge, former Christie administration Director of Employee Relations David Cohen, got snagged when state Senate Majority Leader Loretta Weinberg (D-37) brought up a June 21 letter from a former Christie administration employee who asserted that Cohen did not adequately address her boss's behavior towards her.
The Democratic members of the committee moved to put off Cohen's nomination until July 10 to give Mariella Morales, the author of the letter and the former deputy executive director of the Center for Hispanic Policy, Research and Development, the opportunity to testify before the committee. The confirmation hearing for the other judges up for nomination was subsequently pushed forward to the same date.
Christie's response soon thereafter was to pull all of the nominations. The governor's move set off a spirited debate on the Senate floor, during which state Sen. Nia Gill (D-34) charged Christie with leading a "direct assault on the integrity" of the Senate.
In an interview days after the judicial nomination controversy erupted, Jersey City Mayor Steve Fulop, was blunt when asked during a PolitickerNJ.com interview last week if Christie has was it takes to be President.
"Do I think he has the temperament? No, I don't," Fulop said, adding that he still believed that Christie's fierce political ambition and work ethic would make him a "hard guy to count out" in the 2016 GOP primary fight if Christie does indeed declare himself a candidate.
Sweeney has publicly endorsed the potential presidential candidacy of former Secretary of State Hillary Clinton, a Democrat. But Sweeney, despite Christie's critics, still sees a place for Christie on the national stage.
"He pulled the [judicial nomination] package back. Do I think he should have pulled the it back? No," Sweeney said. "But you know what? The governor gets to do that stuff."
Sweeney acknowledges that he was in earshot of a prominent Democratic legislator on the Senate floor after the judicial nomination package was pulled making a negative reference to a potential Christie presidential candidacy.
"This is the guy who cold have his finger on the red button? I don't think so," the Democratic legislator said.
"I heard that," Sweeney acknowledged. "But that wasn't the red button. It was just a judicial package."