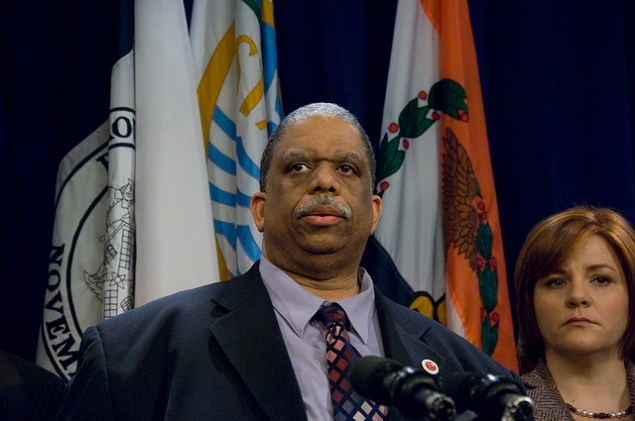 Teamsters Joint Council 16, representing about 120,000 workers in the five boroughs, has endorsed a trio of contenders today in three competitive State Senate races.
The union backed ex-Councilman Leroy Comrie's bid against indicted Queens State Senator Malcolm Smith, Dell Smitherman's campaign against indicted Brooklyn State Senator John Sampson and Bronx State Senator Gustavo Rivera's re-election campaign against Councilman Fernando Cabrera.
"We looked at the map strategically and decided these were three races where we could make a difference by endorsing early," said Teamsters President George Miranda in a statement to the Observer. "Over 1,000 Teamsters are registered to vote in each of these districts. By mobilizing our members, we will have a big impact."
The union chapter, not known for tilting local races like 1199 SEIU or the Hotel Trades Council, is looking to play a larger role in races where they can have even a marginal impact: a spokesman said they will be mailing, phone banking, and organizing Teamster activists to vote and volunteer in those races.
All three candidates have been racking up union endorsements, including the support of the labor-backed Working Families Party. Mr. Smitherman, a former 1199 SEIU political coordinator, and Mr. Comrie are each taking on members who were booted from the Democratic conference: their races, along with Mr. Rivera's, represent top priorities for the Democrats in this election cycle.
Mr. Rivera is fending off a fellow Bronx elected official backed by the Independent Democratic Conference, a coalition of breakaway Democrats that govern the State Senate with the Republican Party. After the IDC and Gov. Andrew Cuomo recently announced a deal to unite the mainline Democrats and the IDC in a new coalition after the fall elections, many unions promised they would work to solidify a potential Democratic majority.
Several IDC and Democrat-backed primaries have begun to fizzle out, throwing these three races into an even greater focus, observers say.
"Gustavo, Leroy, and Dell all share our values and will get Teamster strength on the ground," Mr. Miranda added