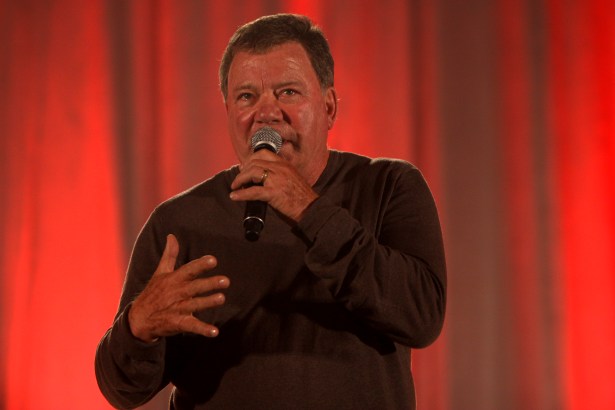 Facebook recently released an app called Facebook Mentions that's supposed to help public figures interact online with the pack of drooling ninnies they call their fan base. Mainly, it will help them compete with Twitter in the celebrity realm.

There's just one problem: William Shatner is not impressed.
Mr. Shatner took to his Tumblr blog, Shatner Says, to denounce the new app and enumerate its faults. In the five-part blog post, he compares the Mentions app to Facebook's civilian equivalent, the Pages app. He currently has both apps plus the plain-vanilla Facebook app.
"I seem to be in the best position to compare them," he asserts.
He first complains that when you install Mentions, you can't do anything until you've already followed another celebrity account. It's like high-level Candy Crush tactics. The app suggested he follow George Takei and, Mr. Shatner wrote, he rolled his eyes at this suggestion — doesn't Facebook realize Messrs. Shatner and Takei are still feuding 40 years later?!
Mr. Shatner opted to follow Robert Downey Jr. instead, then hid his posts. He thinks this whole thing is a big flaw in the setup.
Then, Mr. Shatner posts a charming graphic, pictured at left. He invites the reader to note the similarities and differences between Mentions and Pages. Mentions shows a regular news feed, while Pages shows the activity from the lens of Mr. Shatner's own page.
Which does our hero prefer? Get ready for a curve ball: "BOTH," he writes, then, to clarify: "(both are needed I feel in an App)"
He goes on to lament the way Mentions notifies you every single time someone makes a comment on your post, which seems like overkill for a famous celeb. He also wishes Mentions would incorporate Pages' option of showing statistics for each post.
When it comes to actually making a post, Mr. Shatner prefers neither Pages nor Mentions; "Clearly both fail on the number of options available to users," he writes.
In conclusion, Mr. Shatner is "not quite sure why Facebook released this app for 'celebrities,'" he wrote. "It seems to be ill conceived… I will continues to use my regular Facebook App as well as the Pages app."
We're grateful to Mr. Shatner for pulling back the blue velvet curtain behind which Facebook Mentions rests — but we're even more thankful for having found his Tumblr blog. We can't wait for his post about being a celeb Pinterest user.
(h/t The Guardian)