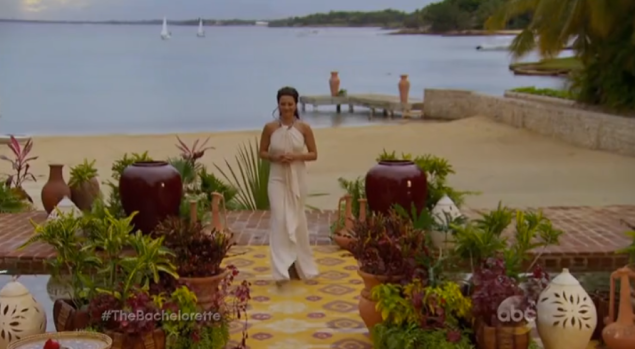 The Bachelorette is so good, it's frustrating that we have to cap it off at a measly two hours per week. That's why each Tuesday, we'll be having a Bachelorette morning-after rose ceremony to celebrate the people, places and moments that really made the previous night's episode shine.

A rose to Chris Harrison, whose opening speech basically tells us who wins: "I can't tell you whether Andi picks Josh or Nick, but what I can tell you is that the guy she didn't pick is still not over her," he says. "In fact, he tried to see her when she was vacationing in Mexico. She refused to speak with him. He attempted to confront her during the Men Tell All taping. She refused him again. Tonight, she can no longer avoid him."
Wow Chris, what a mystery! How will we EVER guess which guy resorted to stalking Andi after getting dumped? It's not like one of them stealthily lied to a hotel concierge, earlier in the season, to figure out Andi's hotel room and show up there unannounced. Was Andi's jilted ex by any chance wearing a scarf and a tiny, tiny leather jacket when he stalked her, Chris?

A rose to Nick, who's extremely nervous when he first meets Andi's family in the Dominican Republic. Is he nervous because five minutes before meeting them, he realized he was still wearing A PAJAMA SHIRT? Anyway, Nick should have known not to worry, because there was literally no way on earth he could have disappointed Andi's family. These people met Juan Pablo, remember?

A rose to Andi's audition for the next Twilight movie—er, sorry, I mean the way she describes her passion with Nick to her sister. "He sees my entire soul," she says. "The way he kisses me it's like, it's passion. I feel when he kisses me. It's not just kissing me. It's a different feeling for sure." K.

Another rose to Nick, because despite his nerves and his terrible outfit, he still wins over Andi's parents. First, he makes her mom cry by telling her he loves Andi in ways he never thought he'd love someone, which I took to mean as, "this is the first person I've ever considered sacrificing small- to medium-sized animals for." Then he asks Andi's dad for permission to marry his daughter. Nick's not Juan Pablo, so Andi's dad obviously says yes.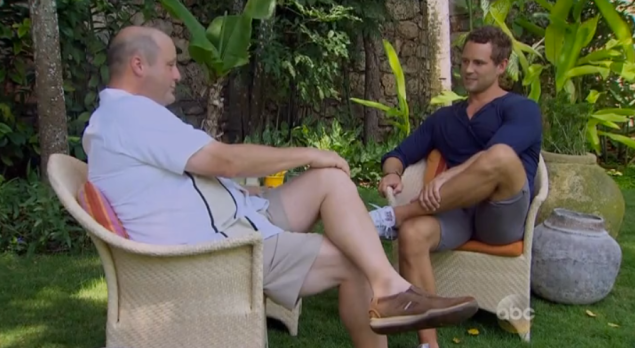 A SERIOUS rose to Josh, who up until this episode I assumed was in second place, but suddenly seems to be Andi's clear favorite. She calls him 'Babe' when he shows up to meet her parents! She didn't do that with Nick, despite the fact that Nick looks 7,000 times more like an actual baby. Josh is extremely nervous when he first meets Andi's family—he's sweating more than Farmer Chris at the race track—but the two seem to be REALLY into each other.

Another rose to Josh, because Andi's family really likes him, too—even though he's an athlete and all. You know, it's almost as if Josh hasn't played baseball for a really, really long time! "It hasn't been all roses. We've had serious conversations," Josh tells Andi's dad, to assure him he knows what real, grown-up, non-athlete-y relationships are like. Then he asks for permission to propose to Andi. Andi's dad, who looks a lot like an egg, says yes.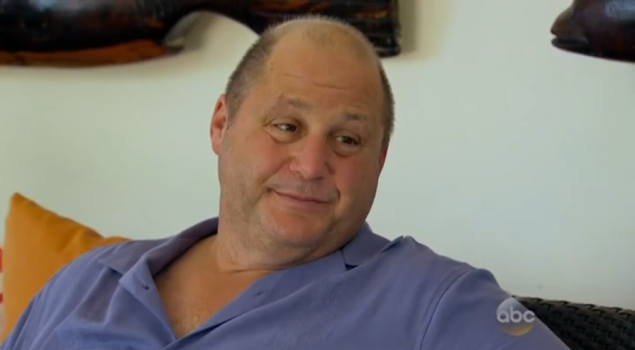 "I'm starting to think it might be Josh at this point," said the person with whom I was watching, theorizing that Josh must have rocked Andi's world in the fantasy suite—or, conversely, that Nick pulled an Ed Swiderski and failed to impress her.

Time for the men's final dates with Andi! After a casual picnic on a yacht, Andi and Josh cozy up on a couch. A rose to all the excellent arts n' crafts skills that went into the baseball card Josh gives Andi, with fake stats on the back like "Games played: doesn't play games" and "Errors: can't dance and swears too much." Andi's laughing hysterically even though it's, like, nottttt that funny. "Babe, this is so cute!" she squeals, before whipping out the pink toenail polish and cueing up a Scandal marathon on Netflix.

A rose to the Jeep/GoPro ad that is Andi and Nick's final date. They off-road to a secluded beach to eat mangos on a blanket and do some swimming. Nick has switched the creepy factor into high-gear at this point, telling the camera he knows Andi will find a way to subtly communicate to him that he's the winner. Later that night, after a pretty non-eventful conversation on some random couch, Nick informs us: "She's giving me all the signs, and I appreciate that. I do." Oh man, this is hurtling toward disaster faster than Cody's date in Verona, I think to myself.
On the bright side, no matter what happens, soon we'll never have to see Nick's creepy "head-tilts-down-eyes-look-up" thing ever again.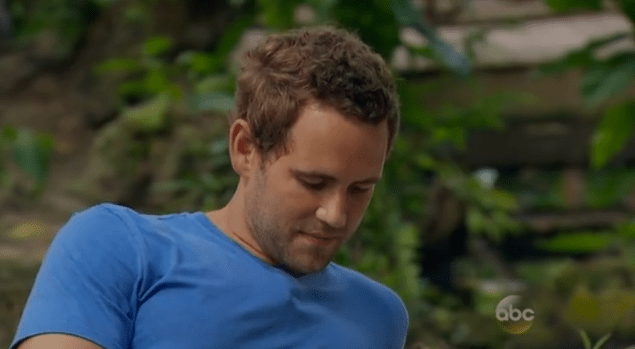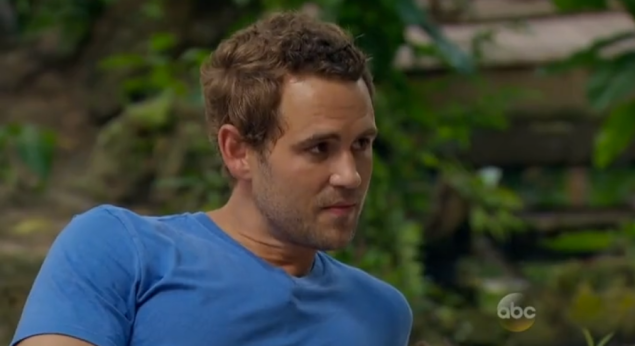 A rose to the way the directors asked Nick and Josh to open their doors, shirtless, on the morning of the proposals.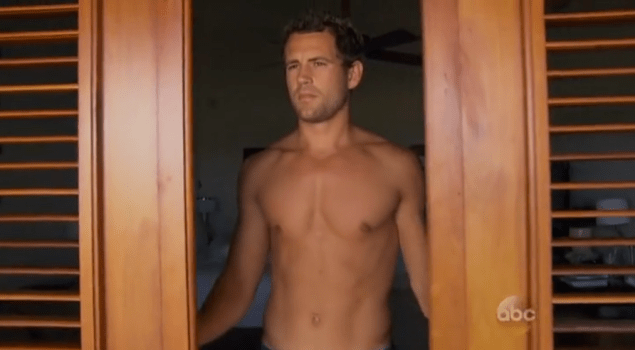 A rose goes to the overboard musical cues throughout this episode. When Andi rolled up to kick Nick to the curb, it sounded like the climax of a Bond movie. Chill, guys.

A rose to Andi for blaming her dumping of Nick on a fear of being in a relationship subject to too much "overanalyzing." Did Andi have a psychotic break? Does she have face blindness? Wasn't she like "everything with Nick is so easy" all season, while constantly questioning whether or not she could trust Josh? Nick doesn't seem to buy this nor have the energy to refute it, and I don't blame him.

A rose to the show for using Andi as a scapegoat for how terrible this process is. She didn't decide to start dating 25 guys on her own. Acting like she's a horrible person because she had to choose between two dudes at the end instead of being like "soooo have you guys heard of polyamory" isn't exactly her fault.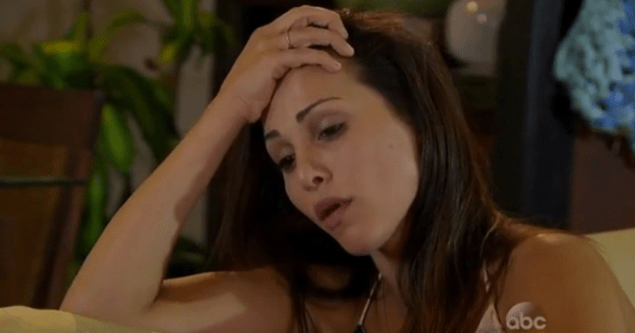 A rose goes to happy couple Andi and Josh, whose declarations of love (complete with some very soap opera-worthy faces) sounded so rehearsed that I have to believe this wasn't the first take. Either that or they've been rehearsing them all season, and HOW COULD YOU DO THAT TO NICK?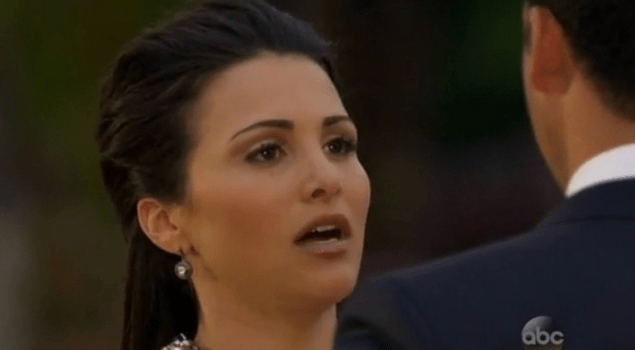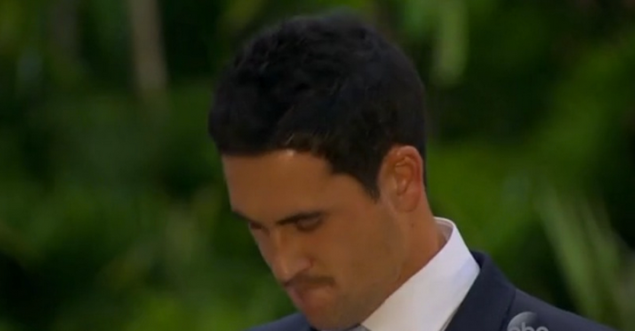 A rose goes to Nick for refusing to take this loss lying down and stalking Andi in multiple countries, even going so far as to enlist Harrison to try to get her to meet with him. She kept refusing, but as Harrison gleefully notes on After The Final Rose, she can't hide from him now! Harrison is the ultimate stunt queen.
I'm subtracting a rose from the show for thinking that anyone cared what the "bleachable moment" of the season was.

Finally, every rose in the garden to Nick for taking this season to the soap opera heights it deserved by calling out Andi for "making love" to him when she claims that she never loved him at all. First of all, we watched the whole season, and kept having to avert our eyes during Andi and Nick's makeout seshes because they seemed like something we shouldn't be able to see, so nice try, Andi. Second of all, "making love"?!?!?! Nick for Bachelor!!!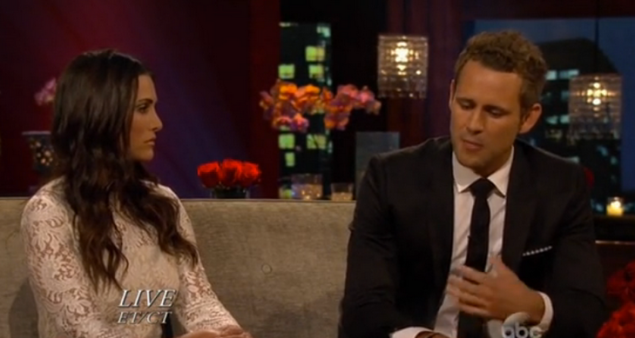 What a season, you guys. While it's uncertain what Andi and Josh's fate will be, one thing is for sure: Harrison really wants us to watch Bachelor In Paradise. And when Harrison says jump, we say "How high?" See you next week for the premiere.