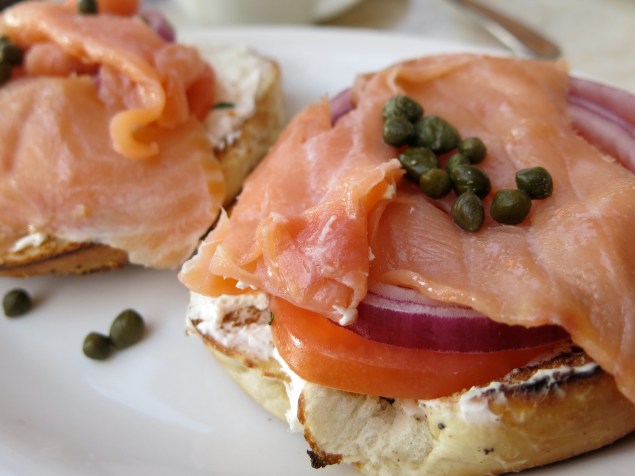 There are two kinds of New Yorkers, those who appreciate a classic bagel with cream cheese and those who don't. Those who don't are probably not real New Yorkers—they are more likely impostors who load their grocery store-bought cinnamon-raisin bagels with jelly and butter, have never heard of H&H or, gasp, prefer English muffins.
Recently bagels seem to have hit a peak of trendiness, as evidenced by three much-talked-about restaurants openings in May: Black Seed Bagels, Russ and Daughters Cafe and Baz Bagel and Restaurant.
But during a time when every comfort food—mac and cheese, ramen and even porridge—seems to have become a gourmet trend, many fear this hipness demonstrates a shift in the bagel economy, threatening the cheap, unpretentious boiled bread piled high with a schmear, onions, tomatoes and lox.
In many ways, these new bagel joints promise the authentic experience New Yorkers and bagel purists have been enjoying since Russ and Daughters was a herring pushcart peddling through the Lower East Side.
Each eatery takes pride in serving traditional handcrafted bagels, all kettle-boiled in that famous New York water. None of them get fancy with flavors either, offering only the most time-honored varieties of sesame, poppy, onion, everything, plain, and pumpernickel.
"We are always conscious that we are taking care of a piece of history," Niki Russ Federman, co-owner of Russ and Daughters told the New York Times  in May. "But we can't run only on nostalgia."
Yet it is because these spots can't run on nostalgia alone that they have felt the need to glamorize, or some say butcher, what had always been a humble, quintessential New York comfort food experience. Elitism—usually in the form of long lines, high prices and uber-gourmet tastes—often follows such trendiness, and now the upper-crust takeover of a populist food is leading to the bagel backlash sweeping the city.
"One of the things I wanted to get away from when I opened my store was the pretentiousness of the modern day food industry; that's why I opened a bagel store," said Tompkins Square Bagels owner Christopher Pugliese, who worked for restaurants like Nobu, Blue Ribbon and Sushi Samba before opening his East Village shop in 2011.
The pretense which Mr. Pugliese speaks of can be found in Russ and Daughters' bagel and lox priced at a hefty $16, which notably sits on a menu alongside caviar for over $1,000. There's also the pricey $3 bagel with plain cream cheese at Black Seed, which one can have delivered by Caviar—the Seamless of the upper-class that also distributes Mission Cantina's burritos and and Momofuku's pork buns.
"I think [bagels] should be for the average person," Mr. Pugliese added, saying he thought the new restaurants crossed the line price-wise.
"When it's expensive, I'd rather stick with the classic," said Shannon Liang, 21, explaining that high prices are not worth any frills these new spots may offer.
"If people want to pay a lot of money, God bless them, but a bagel is a bagel," said Phyllis, a born-and-bred New Yorker—one of few who, unlike many a true New Yorker, stopped to talk. She has been enjoying the Nova at Barney Greengrass for decades and doesn't plan on making the switch to one of the city's hotter establishments.
It's not just the steep prices that have New Yorkers rattling—of course, there is always something else to complain about.
The restaurants may keep the bagels authentic, but they couldn't entirely resist the allure of food fads. Russ and Daughters takes on the comfort food trend in the form of a smoked whitefish chowder. Black Seed not only cures its lox in beets, but also offers many unconventional—or some would say unkosher—toppings, such as almond butter, avocado and sprouts. And even Baz, which keeps to a more-or-less genuine menu, plates up specialties like gluten free-bagels and challah-grilled cheese.
While restaurant critics and epicureans have raved about these gourmet offerings, average New Yorkers seem to lament the tainting of a standard.
"It's the Californication of New York deli," said Ira Stahl, 65, a native New Yorker. "No avocado on bagels. It's like putting pineapple on pizza." His friend and fellow New Yorker, Richard Seigel, 65, agreed by simply rolling his eyes when he learned of the gourmand approach to a staple.
"It's baloney. A bagel is original … I'm an old lady, and I like everything original," said Phyllis when she learned of the newfangled bagel offerings.
But it's not just those who have been in New York for decades who bemoan the corruption of a classic.
"I'm more of a bagel snob," said Ben Ryzak, 21. "I like my bagels, cream cheese, lox —the standard."
And judging by the backlash, Mr. Ryzak has nothing to worry about. Trends come and go, but New Yorkers stick to what they like.
In that vein, I'll take an everything with lox and just a schmear.