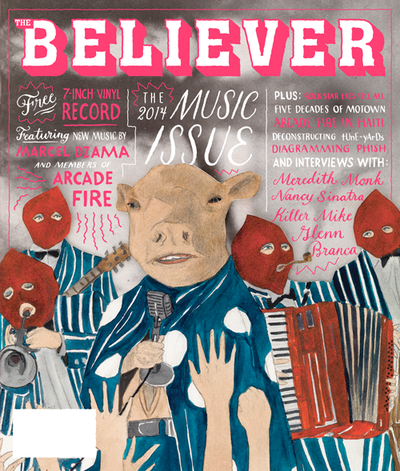 The Believer, the San Francisco-based literary magazine founded in 2003, is gearing up for a bi-monthly relaunch this January, according to Casey Jarman, its managing editor.
While the new, less frequent publication schedule will allow the magazine to cut printing and distribution costs—it will publish once every two months as opposed to nine times a year, its current rate—Mr. Jarman, the magazine's only full-time employee, said that money wasn't the motivating impetus behind the upcoming change.
"The main thing is that it's going to give us more time to plan and promote each individual issue, and make each issue bigger and more special," Mr. Jarman told the Observer. "Our first few issues were chunkier than our standard 80-page issues are now, so in some ways it feels like a return to the magazine's roots. But we also get to reinvent a little bit."
It is too early to say what exact form reinvention will take, but Mr. Jarman said the magazine will have a slate of new, recurring features—yet to be decided—and will most likely feature more art in each issue.
It will also include a new classifieds section, which is set to be introduced in the forthcoming Sept., 2014, issue and was announced in the "Notes and Apologies" section of the most recent issue.
"The Believer," the note said, "is now accepting love letters, conspiracy theories, limericks, inspiring affirmations, uninspiring affirmations, song lyrics, written free-scatting, one-act plays, ninth-grade diary entries, pet valentines, pet obituaries, and underappreciated tweets."
The introduction of a classified section at a time when revenues from print classified advertising are at an all-time low seems like a risky move. But The Believer, which is published by McSweeney's, has always operated slightly outside of industry trends. (It doesn't have a digital edition, and its long, meandering interviews are something of a trademark.)
The going rate for each classified ad is one dollar per word, and some of the classified advertisers who will appear in the next issue of the magazine include the Slate Book Review, The Rumpus, Waxwing Magazine and the Akron Art Museum, according to Mr. Jarman.
"We're hoping it can be a community space," Mr. Jarman said, "a space for weirdos who just want to write something, and also a space for small presses and publishers and websites that couldn't normally afford an ad in The Believer to talk about their wares."
Here are some examples—or, as Mr. Jarman put it, "headscratchers"—that have already come in over the transom.
A pirate-themed one, perhaps an allusion to 826 Valencia, the non-profit writing center in San Francisco founded by Dave Eggers, which features a functioning pirate supply store to help fund the endeavor:
REDACTED REDACTED best god-REDACTED book REDACTED REDACTED pirate culture REDACTED.

Mutiny: Why We Love Pirates and How They Can Save Us. REDACTED bookshops. Now.
Another pirate-themed one:
Building Pirate Ship:

Unicorns wanted to sail the seven bays and elsewhere.

Just your average, loveable, creative freebooters.

Shitloardes need not apply.
A non-pirate-perhaps-pizza-themed one:
To Tag Savage and Morris Chestnut: Don't fret, don't fuss—just eat the crust!
And:
Do you find the poem, or does the poem find you? Call 612-223-POEM, and take a free audio vacation to tropical Minnesota. Why not?
That would be the number for Ring Ring Poetry, a telephonic poetry service featuring Minnesotan poets.