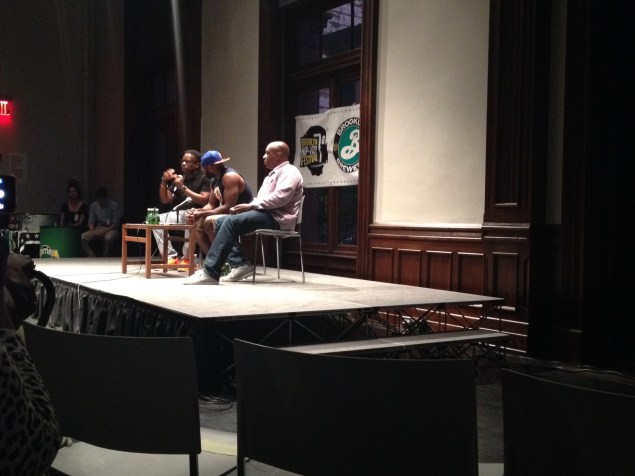 (Photo by Emma Hernandez/Observer)
The Brooklyn Hip Hop Festival kicked off its 10-year anniversary last night with "Told It First Hand," two panel discussions that celebrated hip hop by glancing back at the genre's history as a culture and looking toward solutions for issues that face the Brooklyn hip hop community.
Wes Jackson, Brooklyn Hip Hop Festival founder and executive director, stood on the stage at the Brooklyn Historical Society in a black polo and bright orange Nike sneakers. He moderated the discussions, and introduced the first two guests.
Scott Stedman, founder of the Northside Media Group (L Magazine, Northside Festival), was joined by writer and activist Kevin Powell for the first session of "Told It First Hand." Mr. Jackson wasted no time in jumping right into the issue of how gentrification in Brooklyn affects the hip hop community, and used Spike Lee's rant at Pratt Institute earlier this year as a jumping off point.
"With the Spike Lee comments, people can look at my brand and say 'this is the problem.' But what is gentrification?" Mr. Stedman asks. "It's two parts, one is real estate and one is cultural."
As Mr. Powell began to speak, his microphone grew too hot. He was told to grab the mic and hold it closer, which he did.
"Now I'm ready to spit," he said, and the crowd laughed.
Mr. Powell, who's lived in Brooklyn since 1990, said that Fort Greene and Clinton Hill, where he currently resides, has always been diverse.
"I want to live in a space where there's diverse people. But what we really need to talk about is wealth and power. Who has wealth and who has power?" Mr. Powell asked.
Picking up on Mr. Stedman's definition of gentrification, Mr. Powell spoke of the changes in Brooklyn real estate and how it has affected the cultural landscape in Brooklyn. Notably, he emphasized that just because he is against gentrification it doesn't mean he's against the development of underserved communities.
"We're not anti-development, we want development for the entire community," Mr. Powell said. "And let's get it straight, the community in Brooklyn has always been cool. It didn't get cool in the last five or 10 years."
In terms of a solution to the problem that threatens to "erase" Brooklyn's vibrant culture, Mr. Stedman offered an idea of how the community can take control over the situation.
"What I would suggest is that gentrification is a process," Mr. Stedman said. "The way to stop that process is to regulate."
During the Q&A session, an audience member asked for examples of other types of solutions that would best to help slow or stop the process in Brooklyn. Mr. Powell said the community has to rally together and work together to fight the changes in their districts.
"Whether you are a renter or an owner," Mr. Powell addressed the audience, "how many of you are community board members? How many of you are registered to vote?"
After the Q&A, there was a small break where guests were invited to grab a beer from Brooklyn Brewery, a Hip Hop Festival sponsor and arguably a symbol of the gentrification Mr. Powell spoke of.
The second session that followed was "Told It First Hand," a sort of hip hop oral history as told by two veterans, DJ Rob Swift and Video Music Box creator Ralph "Uncle Ralph" McDaniels lead by Mr. Jackson.
Wearing a backward Mets hat, DJ Swift dove into a quick history of his background. He remembered break dancing and running over train tracks to get away from the cops after getting caught writing graffiti with his brother, who was "engulfed in hip hop."
He also recalled running home from school every day at 3:30 to watch Uncle Ralph's public access TV show Video Music Box. Uncle Ralph was the first to play videos of legends like Run DMC and Jam Master Jay, which exposed DJ Swift to a professional scale of hip hop.
"I started Video Music Box in 1983, over 30 years ago, so it's older than half the people in this room," Uncle Ralph laughed. His footage helped to document the early hip hop scene, knowing that when he was filming Jay Z and Biggie in the mid-90s, he was getting something good on tape.
"That I knew," he said. "When you're a hip hop fan, you're like no, word? Nobody else is here getting this?"
As the discussion shifted to the present, DJ Swift addressed the introduction of technology to hip hop and its affect on the art of professional DJ'ing.
"It's a blessing and a curse. You want to be able to adapt to changes but you don't want to lose yourself, and this is why Saturday is so important," DJ Swift says. "Lots of young folks there will be watching people like myself not just turning knobs and pumping fists like these EDM DJs," DJ Swift went on. "I'm going to be sweating, my pits are gonna stink. I'm gonna be giving it my all."
The Brooklyn Hip Hop Festival features a variety of hip hop performances throughout the week. The main event is on Saturday July 12 featuring DJ Swift, Raekwon and Cyhi the Prynce at 50 Kent. This year marks the festival's return to Williamsburg.