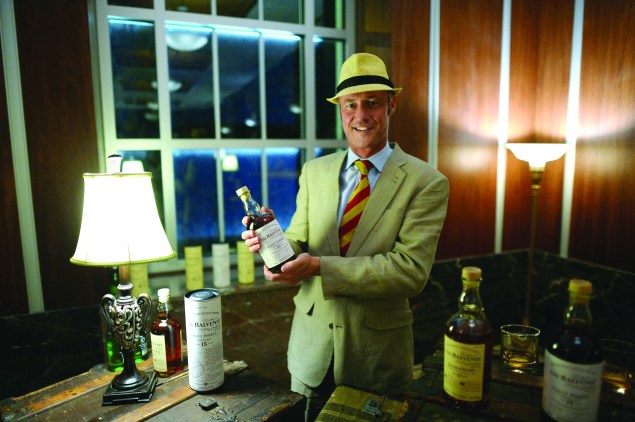 Last winter at the end of a stealthy 50-day alcohol and party cleanse, Shindigger had a yearning for one drink: Fine, sherry cask-finished, single-malt whiskey from the Scottish Highlands. Our curiosity about the magic in those oak barrels took us to Dufftown, Scotland, home of the distillery of Glenfiddich Scotch.
There Peter Gordon, great-great grandson of Glenfiddich founder William Grant, told us, "We've always had an openness about our business. We have a lot of great people who have been here a very long time." Our tour of the distillery yielded a taste of an exclusive 26-year-old whisky to be released this fall in time for Glenfiddich's 50th anniversary in the U.S.
Of course, Scotch isn't supposed to be a summer drink, but as the warmer months arrived, people always seemed to be offering it to us after a night of imbibing had supposedly ended.
"I like it in a dark cool room, like The Narrows in Bushwick," confessed X-Men star and Dewar's lover Evan Jonigkeit. "On the rocks with a splash of water." He too had ventured to the Highlands for a wee dram during the Edinburgh Fringe Festival.
---

23,000
Roughly the number of attendees at the 2014 Tales of the Cocktail


$4229.18
Price of David Stewart's "Batch 5 Balvenie 40 Year Old Bottling Note"


---
"Scotch is having a moment," Glenlivet brand ambassador Craig Bridger told us at an exclusive tasting of Glenlivet 18, 21 and 25 at Del Posto.
His feelings on Scotch in summer?
"That's why God invented ice cubes. Maybe don't drown your glass with chips of ice—taste it neat first."
David Blackmore, Global Master Brand Ambassador for Glenmorangie single malt, agreed: "Ice is often frowned upon by aficionados but shouldn't be, as it often creates a longer, more relaxing way to drink your scotch, especially in warm weather," he said at a hush-hush launch for Pride 1978, a new, 700-bottle-only batch.
Last week, Fine and Dandy, the men's accessories shop in Midtown, hosted its first "Fine and Dandy Social Club" gathering. Dandy Robert Bermudez Cordell of Berlyn Restaurant manned the bar and chatted to us about the challenges of serving Scotch.
"Scotch is a tricky spirit to work with in a cocktail," he explained. "It's malty, peaty, smoky and herbal. We don't want to lose those attributes, and the flavor profile can be tough to balance." His suggestion? Either a Rob Roy or a Blood & Sand, a drink "invented to celebrate the premiere of the 1922 film starring Rudolph Valentino as a bullfighter," he elaborated.
Soon afterward, we jetted off to New Orleans for its annual five-day boozefest, Tales of the Cocktail, where during the day we dutifully attended seminars like "Ultimate Deconstruction of Scotch" and "Tales of Drinking Responsibility." And at night we sloshed around from party to party, before succumbing to the devilish tomfoolery that beckons on Bourbon Street.
A highlight was William Grant & Sons' impressive Portfolio Party, held at the gorgeously restored Lakefront Airport, an art deco gem, where we toured themed rooms modeled after the escapades of Charles H. Baker Jr. Our last hurrah saw us clinking with cocktail bar legends Dave Wondrich, Julie Reiner, Simon Ford, Charlotte Voisey and Dale DeGraff at the 2014 Spirited Awards gala.
"New York for many years has led the way, but this year's awards were amazing, and we saw the greatest diversity of winners," PDT's Jim Meehan enthused at "Bartenders' Breakfast," a Tales of the Cocktail after-party held at the Audubon Aquarium of the Americas.
"My highlight was the Bar Fight Club party," Dushan Zaric of Employees Only chimed in. "Every year the quality of women at Tales is better than the year before," he added with a chuckle.
Soon it became apparent that sound bites from VIPs were becoming unprintable, so we strode over to TV personality Aisha Tyler for a final say.
"I have a lot of friends in this world," she divulged to Shindigger. "Bar Fight Club was my favorite event." We asked her how she was drinking her whiskey. "I'm a big bourbon fan—all of it," she gushed. "I like it neat and in cocktails."
A few hours later Shindigger landed back in New York—in a body bag.