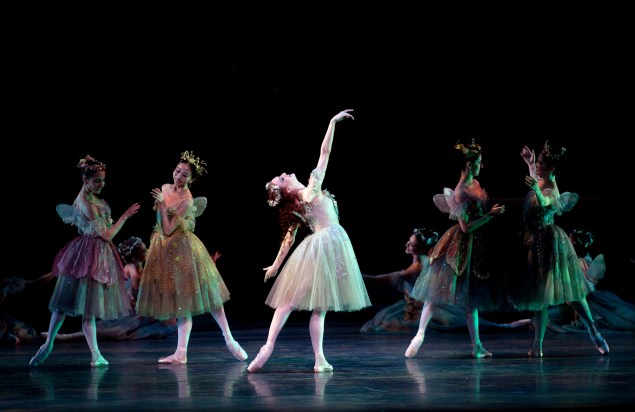 It's exhausting just thinking back over the ABT season, though not so exhausting as having lived through it. Don Quixote, Giselle, Swan Lake, La Bayadère, Manon, Cinderella, Coppélia—these were the full-evening "classics" trotted out at the Met—all with multiple casts, complicated by multiple cast changes as dancer after dancer succumbed to injury or illness: at one time or another we lost Gillian Murphy, David Hallberg, Herman Cornejo, Alina Cojocaru, to name just the heavy weights, although Cojocaru, at least, gave us her wonderful Giselle. And then there were the mixed bills: on the first, two Balanchines and a Massine; on the second, a "Shakespeare Celebration"—Ashton's The Dream and Ratmansky's The Tempest. My dance fatigue would have been greater (and remember, most of the time City Ballet was performing across the Lincoln Center Plaza) if not for my firm embargo of the schmaltzy Manon and ABT's empty version of Coppélia, no matter who's dancing.
Impossible to review every program, so let's focus on the highlights, beginning with what was for me the climactic performance of the entire run: Marcelo Gomes as Oberon in The Dream. Everyone knows he's a paragon of technique, looks, generosity, dependability, largeness of scale and smallness of ego—and he had already given us his endearing Basilio in Don Q., his stirring Solor in Bayadère, his Prince Siegfried, his Albrecht, his Prospero, though not even he could make much of the Cinderella Prince, who's more a prop than a character. But in The Dream he surpassed himself. He has such dramatic insight, such variety of subtle detail, so potent a combination of the magical and the human that you forget everyone else you've ever seen in this role, even the thrilling Hallberg and the original, Anthony Dowell.
His fortunate Titania was Julie Kent, whom Gomes treated with exquisite loving attention and who was clearly in ballerina heaven. Titania is a perfect role for Kent, flattering all her lovely natural qualities and making no technical demands she couldn't meet. (Cinderella is another such role.) Their Puck was Daniil Simkin, not a pretty sight, and despite his pyrotechnics a shadow compared to the inimitable Cornejo, first-cast the night before. The ABT corps understands the ravishing Ashton style this ballet demands, and the two Bottoms—Alexei Agoudine and Blaine Hoven—nimbly handled Ashton's famous stunt of having the donkey dance on pointe. All that marred these performances were the vulgar new costumes, particularly Helena's hideous blond ringletty wig and Hermia's unflattering orange dress, and the over-jokey way the two young couples were encouraged to carry on.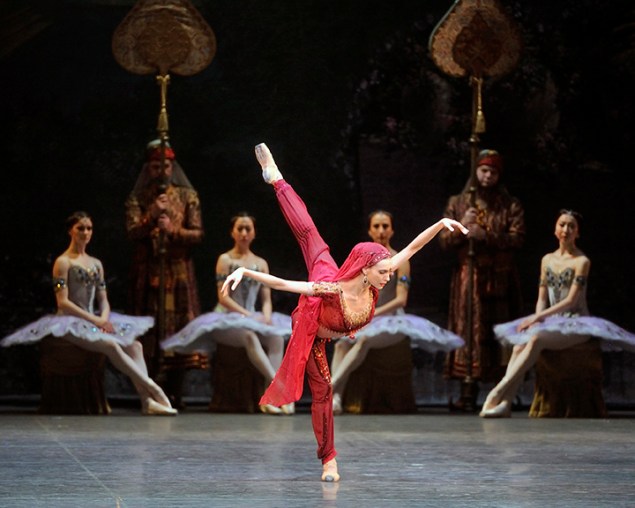 For Bayadère, ABT imported three very impressive Russian dancers, making up for some of that iconic ballet's longueurs. (A friend of mine, who went to six performances, has figured out just which passages he can safely sleep through.) The very young and very beautiful Olga Smirnova, who had triumphantly danced the "Diamonds" section of Jewels in a performance broadcast from the Bolshoi, was completely gripping from first to last. She has the quintessential ballerina look—the black hair, the exquisite neck, the pliant arms and back—and she has a ballerina's innate command and instinctual response to music and situation. (She'll be dancing here with the Bolshoi later this month.) Viktoria Tereshkina, whom I had found somewhat coarse when she danced here with the Kirov several years ago, has refined her approach and revealed extraordinary appeal and authority. And Vladimir Shklyarov, her partner, is simply the most brilliant young danseur noble we've seen in a long time. Virile and romantic, he's as fine a Solor as anyone since Baryshnikov.
| | |
| --- | --- |
| ABT confirmed that Ashton is, indeed, the greatest 20th-century choreographer after Balanchine. | |
The star of Ashton's Cinderella is Ashton—how splendid of ABT to put it on in place of their three previous versions. The Prokofiev score remains a problem—too long, too brash—and there isn't much action, but Ashton has filled it lovingly with charming dance details and characterizations (except, as I said, for the poor Prince, who isn't characterized at all). At the center of his vision are the comical stepsisters, originally danced in pantomime drag by Ashton himself and the famous Robert Helpmann. These sisters aren't wicked, only fatuous and self-deluding, and there's probably too much of them—but then we aren't steeped in the English panto tradition. (There's also too much of an obstreperous Jester). The first-cast pair of sisters, Roman Zhurbin, the company's finest character dancer, and Craig Salstein, the company's leading cut-up, were perhaps a touch over-the-top—I actually preferred the very tall Thomas Forster (who knew he could be funny?) and the much shorter Arron Scott. Crucial to the Ashton version are the four "seasons" variations and the superb group dances in the ballroom scene—electrifying as they build to climax. The success of these set pieces, together with the success of the company's performances of The Dream, confirms that ABT is a worthy home for Frederick Ashton's masterpieces, and that Ashton is, indeed, the greatest 20th-century choreographer after Balanchine.
My affection for Don Quixote may be a minor vice, like pigging out on caramels, but the company goes to town with it, and this season gave us the Kitri of Polina Semionova. She's gorgeous, she's strong, and she's fun—especially here, paired with the Basilio of Gomes. She fans, she flutters, she kicks, she balances outrageously, she dances up the storm that Minkus's simple-minded but enchanting score demands. Semionova has become a big audience favorite, and why not? Her Odette-Odile is as effective as her Kitri—she's a full-fledged ballerina, just short of greatness, at the height of her powers. She's not Vishneva, but she's the next best thing.
[youtube https://www.youtube.com/watch?v=0KVpz9y0Zpc]
The company's newest principal is Isabella Boylston, whose effortless jump and pleasing manner have made a strong impression these past few years. This season she made her New York debut as Giselle. My only question about her has been whether she has ballerina conviction, and her Giselle made it instantly clear that she does. There wasn't a false or uncertain moment. She's a charmingly innocent peasant girl with a wonderful flair for dancing—the opening jumps are light, airy, buoyant; the love for Albrecht is open and charming; the reaction to his treachery poignant and un-melodramatic. And in the second act, her classical technique is secure and persuasive. What's more, she did it all with an unpersuasive Albrecht. James Whiteside remains a mystery—or, rather, the mystery is why he was rushed to the top. He had no affect whatsoever in Giselle, and when in the second act he chose to climax his big solo with a score or so of entrechat-six instead of the rush of brisés volés that Baryshnikov once thrilled us with and Hallberg does today, they were efficient but empty. He just lacks urgency. Balanchine once said about show-off steps like entrechats and fouettés, "The audience enjoys the first three or four and then it starts counting."
***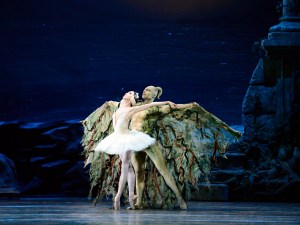 To be evenhanded, we have to point out some problems the season exposed, the first a matter of taste. To pep up (I guess) its Balanchine program—Theme and Variations and Duo Concertant, about which I've previously reported—it revived its production of Massine's Gaîté Parisienne, garish Christian Lacroix costumes and all. Perhaps somewhere there's a company that can grapple with the kind of character dancing Massine embodied in his heyday, but where? The ABT gang were game, but they floundered, overdoing and underdoing at the same time. Even the usually fail-safe cancan to Offenbach's sparkling music was a flop. A production like this costs a lot of money, and you can't blame a company for trying to recoup some of it, but you're asking for derision when you invite comparisons to Balanchine masterpieces. Let it die.
There's no criticizing the female corps, but ABT, which had an astounding roster of men only half a dozen years ago, is looking surprisingly vulnerable in this regard. Neither Whiteside nor Cory Stearns, though he works hard and has an elegant look, is on the Hallberg-Gomes-Cornejo level, and the rarely glimpsed Roberto Bolle, although his chest is as impressive as ever, is well past his prime. Joseph Gorak, a beautiful kid with perfect style and aplomb—he's just been promoted to soloist—isn't ready to partner the grander ballerinas. And the male corps, at least as seen in the first act of Swan Lake, is decidedly leaky—a very odd collection of lads. Russians can come and go, but a company like ABT needs at least half a dozen male stars of its own, and they're not likely to emerge from this motley crew.
Finally, I want to bid a grateful farewell to three excellent soloists who are leaving the company. Sascha Radetsky has been hard-working and effective, always giving everything he's got, in ballets as different as Giselle (Hilarion) and Twyla Tharp's In the Upper Room. Yuriko Kajiya is a lovely dancer with a combination of true lyricism and classical technique; she was exemplary this season in the Giselle "Peasant Pas de Deux," solos in Bayadère and Cinderella, and most impressively, as second-cast Miranda in The Tempest. I hope she finds bigger opportunity in Houston, where she's heading, along with the sterling Jared Matthews. He was not only at his sharpest this season, but he filled roles as diverse as The Tempest's Ferdinand, both Benno and von Rothbart in Swan Lake, Hilarion, Don Q's matador, and Franz, the hero of Coppelia. He's grown better and better over the last few years, and I suspect ABT will regret his departure. I certainly will.