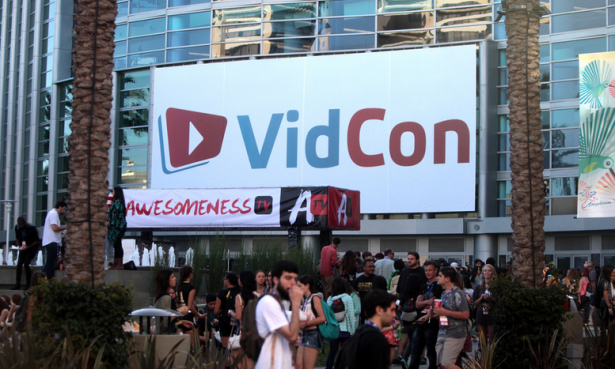 Vidcon, the SXSW of the YouTube world, recently held its fifth annual event. I've attended every Vidcon since its inception, and this year's event proved to be the most eventful of any thus far. Bigger than ever, the crowd at the Anaheim Convention Center swelled to well over last year's estimated 12,000 attendees, as brands, fans and the entire industry flocked to Orange County.
Founded by Hank and John Green of Vlogbrothers fame, Vidcon originally launched five years ago as a convention for fans and YouTube creators alike to come together. It has since expanded: the original event drew a around 1,400 attendees to the Hyatt Regency in Century City, in contrast to the massive crowd that thronged the Anaheim Convention Center this year.
Similar to SXSW, the event is a way to gauge the winds of change within the industry—helping set the tone for what's next in the space. Here are the three biggest trends I saw coming out of Vidcon this year.
YOUTUBERS CONTINUE THEIR MARCH INTO MAINSTREAM MEDIA
The past several months have shown a great deal of YouTube and traditional media powerhouses intersecting.
On the tip of nearly everyone's tongue was the success of The Fault in Our Stars. While many who have been in the YouTube community were unsurprised by the movie's financial success, the film has taken many in traditional entertainment by surprise.
The Fault in our Stars generated over $48 million dollars its opening weekend, the best-ever debut for a contemporary drama, whereas the Tom Cruise starring, sci-fi, special-effects-laden Edge of Tomorrow generated less than $30 million the same weekend, despite larger distribution, millions more in marketing and production, and solid reviews. Edge of Tomorrow had a  $178 million production budget, and over $100 million was spent on marketing. In contrast, The Fault in our Stars had a budget of just $12 million.
Ultimately, Green's ability to cultivate a community and make emotional connections with his audience is what has lead to the film's overwhelming success, and this has many in Hollywood sitting up and taking notice. This may be the year that traditional media finally reaches a tipping point in its understanding of new media —MCNs have been scooped up by major media companies. YouTubers have become the focus of TV, Print, and Out-of-Home ad campaigns.
Several months ago YouTube launched a traditional media campaign featuring popular YouTubers such as Michelle Phan, Epic Rap Battles and Vice, as part of an effort to gain mindshare among traditional advertisers. For the first time since its launch, YouTube revealed stats around the campaign's success, stating that they've brought on major advertisers Heineken, Johnson & Johnson, and have entered into a partnership with ad agency Digitas. Notably, awareness of the first three YouTubers in the campaign have increased 2-4 times what they were before the campaign.
During her keynote speech, YouTube CEO Susan Wojcicki announced another YouTube effort—bringing YouTube to mainstream media with the launch of a SiriusXM YouTube-centric music show, "The YouTube 15." Jenna Marbles will host, and the show will feature the biggest names and rising stars in music from YouTube.
Historically the domain of MCNs and indie talent agents, this year's panels showed an influx of attendees from Hollywood talent agencies WME, CAA, UTA, and countless others. YouTube sensation/bacon eating evangelists Epic Meal Time took the opportunity to publicize their upcoming TV show Epic Meal Empire, which is launching July 26th.
CROWDFUNDING BECOMES A FIXTURE WITHIN THE YOUTUBE COMMUNITY
As YouTube has grown, the idea of turning YouTube into a full time job has become a reality for thousands. However, much of the past year and a half has shown creators increasingly expressing frustration and discontent with their inability to generate the amount of revenue they feel their work merits.
Monetization is consistently a topic of interest at each Vidcon, and this year is no exception. Historically much of the conversation has revolved around how to generate more brand deals or sell more merchandise; however, as the community has grown, so have the opportunities.
Crowdfunding has become increasingly common within the YouTube space. Creators have launched mobile games and a variety of ventures through Indiegogo and crowd funding campaigns. Most recently, companies such as Subabble (founded by Hank and John Green, the Vidcon founders) and Patreon have cropped up. The platforms are relatively similar in that they allow fans to support their favorite content creators through donations. Going into Vidcon, Patreon announced a $15 million dollar Series A round of funding, and at multiple panels Subabble was cited as critical to the success and livelihood of many creators.
Drafting off this trend, YouTube announced the launch of "Fan Funding." The new YouTube feature allows fans to support their favorite channels "through services like KickStarter, IndieGogo, Patreon and more."
MOBILE IS THE FUTURE OF DIGITAL VIDEO
With over 40% of views on YouTube coming from mobile devices, mobile video is a hugely important within the YouTube ecosystem. This past week  a number of mobile-first companies made major announcements and their made their presence felt at the conference—helping brands and content creators capitalize on the increasingly sought-after mobile battlefield.
Victorious, a mobile app startup, came out of stealth mode to officially announce its plans to provide a platform for YouTube creators to transform their media channels into mobile apps, allowing them to better connect with their communities. The team includes several former YouTube execs, and they have already enlisted top-tier YouTube creators Michelle Phan, Boyce Avenue, and ShayCarl to the platform.
Although there was no formal presence or announcement made by Vine, Twitter's 6-second mobile looping video platform was a looming presence at the conference. Vine creators made appearances throughout the conference, and the tween-filled Vidcon crowd of screaming fangirls were seen running after top Viners Logan and Jake Paul, Jerome Jarre, and countless others with the same "Belieber" style fervor and zeal as they do for the likes of creators who developed their audiences on YouTube.
YouTube CEO Wojcicki also made a series of announcements around updates to the YouTube platform. YouTube showed its willingness to adapt to the mobile future with the launch of Info Cards, which appear to act as annotations, but which have a cleaner look and the ability to work across mobile and desktop devices. A major drawback of end cards to date has been their inability to work on mobile devices, essentially cutting out YouTube channel's in-video cross promotional efforts.
Most notably, Wojcicki announced a new mobile app—YouTube Creator Studio. The app, already released on Android and coming to iOS shortly, makes it "easier to manage your channel on the go. Check out your latest stats, respond to comments, and get customized notifications so you can stay connected from anywhere." In many ways, the app mirrors Facebook's "Pages" app, which allows social media managers to manage their Facebook pages on their mobile devices. This development shows how in many ways YouTube is continuing to position itself as more palatable to both social media savvy and traditional advertisers alike.
The events of this year's Vidcon highlights an interesting turning point for the space. The community is straddling old and new media battlefields—taking on mobile while making major headway among traditional advertisers, mainstream media, through advertising, and now film. At the same time many YouTube creators are carving out their own path—slowly removing themselves from reliance on brands and leveraging crowdfunding platforms to help make a living.
Regardless, its the fans that make it all possible and that sense of community is something that is continuing to grow each year and the influence that YouTube and its top creators have is not likely to wane any time soon.
Brendan Gahan (@brendangahan) is a YouTube expert helping Fortune 500 brands with their YouTube influencer and community building campaigns. He was named Forbes 30 Under 30 in Marketing & Advertising and one of the 25 Top YouTube Business Power Players for 2013.