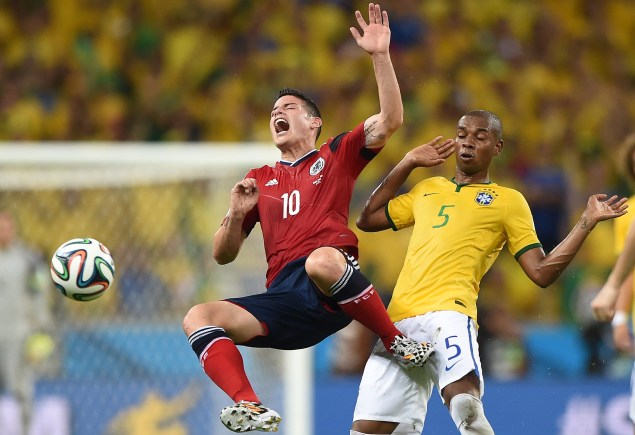 Last Friday, the Nike marketing myth of Brazil's enduring "jogo bonito" was brutally, finally and thankfully put to bed. As the home team viciously hacked, chopped and bullied a much more talented and beautiful Colombian opponent, the football world looked on in horror at the depraved low the once formidable Brazilians had reached in their desperate quest to not lose at home. Sadly, the brilliant, fragile Neymar paid the greatest price for his team's ugly play.
This is hardly new. Brazil stopped playing pretty after 1990, when their flamboyant eye-turning team game smashed head first into the cagey, machiavellian football of Dr. Carlos Salvador Bilardo (with a hand from Diego Maradona and Claudio Paul Caniggia) This final wake-up call from "los hermanos" would mark a turning point in the Brazilian national team.
Brazil was desperate for a title going into that 1990 World Cup in Italy. Their last conquest—and last trip to the final—had come 20 years prior with one of the most dazzling national sides to ever play the game. That vaunted 1970 seleção heralded a golden era of global football not just in Brazil, but the world over. From Johan Cruyff's total football in Holland, Cesar Luis Menotti's flowing Argentina sides, and of course Brazil's eye-popping jogo bonito. These were teams that  played a freewheeling, aesthetics-first game that overwhelmed opponents with relentless talent, flair and wonderful hairstyles.
The golden era would would be short lived.
The first World Cup of the next decade, Spain 1982, ushered in a new wave of tactical, cynical football. Argentina, the defending champions, trotted out to high expectations with the world's best player, Diego Maradona, and a host of international-caliber stars like Ossie Ardiles and Mario Kempes. Brazil, which had performed superbly at the previous cup, fielded a superlative squad stocked with wizards like Zico, Socrates and Falcao. Both South American dazzlers ran smack into an unheralded, Italian team playing not to lose—a winning strategy in grueling yet short tournaments like the World Cup. The Italians compensated for their lack of game-changing talent with game-numbing catenaccio enforced with shin-splintering precision by hitmen like Claudio Gentile. FIFA referees would, of course, require several more years to catch on.
By the time the wonderful Brazilians had crashed out to the European side, the message was clear.The bureaucrats had taken over the art gallery. Aesthetics were out. Winning at any cost was in. Following their 1982 first round fiasco, Argentina's flowing Menottistas would cede to Bilardistas, the country's own, wilier version of Italian catenaccio. Brazil, curiously—perhaps stubbornly—held on to its signature jogo bonito far longer in spite of mounting evidence that the world around it had changed.
But how had it changed?
For Dr. Bilardo, the recipe was simple. Whereas Cruyff's Holland famously employed all players in every facet of the game—with defenders attacking and attackers defending—and Menotti's sides built play from the back, through retina-pleasing, creative midfielders to languid goal hungry forwards, Bilardo viewed the world much more pragmatically. Labor would be divided. Ten workers + one genius CEO up front. Maradona y 10 más. (Translation: Maradona + 10 other dudes).
It worked.
With a team made up mostly of hard-working nobodies all playing in the service of one game-deciding superstar, Argentina conquered the next cup at Mexico 1986. The formula would be tweaked for the 1990 cup, with Argentina fielding a team of nine working class laborers, plus two "special" players up front to conjure goals, Maradona and Claudio Paul Caniggia. These same two men would put the final nail in Brazil's jogo bonito coffin.
The Italy 1990 knockout stage match between Brazil and Argentina will be remembered for all the Brazilian goals that didn't go in—and, by Argentines, for the one special one that did. For most of the match, a flashy Brazil ran over a depleted, limp Argentina on the pitch, pinging shots off the crossbar like an arcade. Yet the stubborn Argentines—using every trick in the Bilardo playbook (including, it's been suggested, tainted water bottles) clung on for dear life. When Argentina's solitary genius flashed between a cluster of Brazilian legs and threaded an unimaginable pass to Caniggia for the game's only goal, 200 million Brazilian hearts sank.
[youtube https://www.youtube.com/watch?v=3X3p0_R0Y5E]
So as they geared up for the 1994 World Cup, the Brazilians had a choice to make. Modernize and try to win, or stay "bonito" and risk everything yet again. Pragmatism won out. With the stingy Carlos Alberto Parreira at the helm, a rugged marking midfielder named Dunga as captain, and two very special players up front in Bebeto and Romario, Brazil clawed and elbowed its way to a narrow World Cup victory in 1994. Brazil's bitter Bilardista medicine had worked. Save the occasional flash, they haven't looked back.
[protected-iframe id="3a14719528d897b56615e8bb3f385bcc-35584880-65782131″ info="https://vine.co/v/MAMlXLIrpzl/embed/simple?audio=1″ width="600″ height="600″ frameborder="0″]
Fittingly, it's Maradona's 1990 dagger through Brazilian hearts that's being commemorated in song by the hordes of Argentine invaders taking over the beaches of Rio de Janeiro for this World Cup. As the World Cup banger of the moment goes, "Diego juked you, Caniggia dicked you, and you've been crying ever since Italy."
[youtube https://www.youtube.com/watch?v=G4MlltqFrU0]
And Brazil is certainly crying. But now the whole world cries when Brazil plays, too, because it's 1982 all over again. Brazil is now Italy. Fernandinho is the butcher Claudio Gentile. What the former, along with his equally punishing  teammates, did to Colombia's 22-year-old boy wonder James Rodriguez in last friday's cynical quarterfinal, looked eerily similar to the treatment received by another sublime 22-year-old South American in 1982. Except this time the bully also wore a South American kit.
Perhaps a return to the beautiful game's barbaric calcio roots is inevitable. Brazil, almost alone, carried the torch as far as it could through the 1980s. But as the famous Brazilian song (sorta) goes: Tristeza nao tem fim, jogo bonito, sim.
Now, only Lionel Messi can deliver us from catenaccio.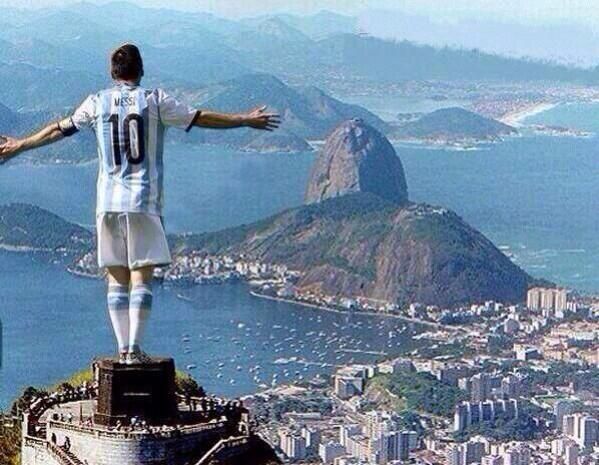 Fernando Cwilich Gil is a painter, writer and unabashed Maradona supporter. Follow him on twitter at @losmaradonianos