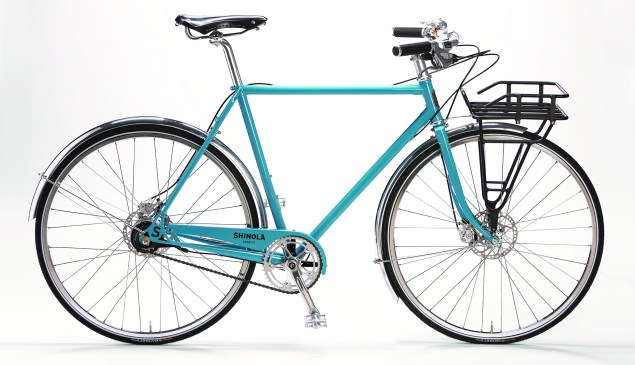 Inspired by Parisian courier bikes of days long gone, the Runwell has its wheels planted firmly in U.S. soil. This bicycle-of-the-moment is made by Shinola— the hot new company based out of Detroit whose goods, ranging from watches and journals to footballs, are all proudly American made. In less than three years Shinola have amassed a cult following, especially for their recently introduced line of high-quality, city-friendly bikes.
Cool-girls Alexa Chung and Harley Viera Newton have both been spotted riding their Shinolas. Don't worry about dressing the part though, with all the gorgeous detailing people will be noticing the bike, not you. Capitalizing on the catching-fire trend for bikes in New York City, Shinola opened their flagship retail store in Tribeca in July 2013.
"With almost 300 miles of bike lanes in NYC now, the implementation of the Citi Bike sharing program, and increased awareness of cycling as a viable means of transportation, ridership is up." Sky Yaeger, Shinola's director of bicycle product development told the Observer.
The Runwell Bike is crafted in Wisconsin and assembled in Detroit and features a handmade lugged steel frame and fork, an 11-speed internal hub, and internal cable routing. What does this all mean for you? An incredibly smooth and responsive ride.
If you're more interested in aesthetic prowess, the Runwell is unmatched. Everything from the eye-popping assortment of colors, ranging from fire engine red to turquoise, to the Shinola-made leather saddle screams custom made. The Runwell's custom-level quality and classic design means it can easily transition between zooming down the streets of Manhattan or leisurely peddling through Amagansett.
The Runwell, available from $2,950 from Shinola, 177 Franklin St., New York, NY