"If you like Louie, GIRLS, and Eastbound and Down, you'll probably like our show," says Mitchel Jarvis, one of the creators and stars of It Could Be Worse, a dark comedy which premiered its second season on Hulu last week. Created by Broadway actors and friends Wesley Taylor and Mr. Jarvis, the web show–originally picked up by Pivot–follows struggling NYC actor Jacob Gordon (played by Mr. Taylor) as he handles the absurdity of his love life, acting career, pony-tail donning agent, hyper-sexual cougar mother, and a case of the sexually transmitted disease, syphilis. Oh and that's just the pilot.
[hulu id=51ewhoq-7bpgv2gwoh-7xa width=512]
Jarvis explains that Sam was initially intended to be a "sort of Kramer type," adding, "you never really know how he gets what he gets." That's just Sam, the kind of guy who creates a fully staffed management office in his New York City apartment, even though Jacob is his only client. While the ponytail is noticeably missing in the second season, rest assured there is more than enough headband action to keep your wandering eyes amused. Transplanted from New York to LA, Jacob is even more hemmed in now that he's living with his agent, who supplements his steady diet of cocaine with the occasional green juice.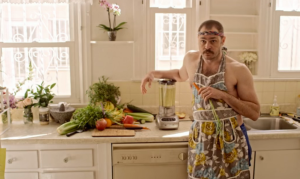 Mr. Jarvis admits he loves the juxtaposition of absurdist comedy in a realist world: like in the first season, when Jacob's dad, depressed about his recent separation, takes his son to an underground brothel for a "massage" after dropping in on him to "toke." These "This-can't-be-real-life" moments are all too familiar to the duo, who often write comically embellished versions of their real life experiences. The creators met six years ago while starring in Rock of Ages–both on and off-Broadway–and began the voyage into filmmaking by filming behind the scene sketches. This eventually led to the creation of a web series called Billy Green, based on a character Mr. Jarvis describes as "your worst nightmare social climber." The series received positive feedback, and inspired, the duo set out to write a pilot featuring what Mr. Jarvis calls "sketches of humiliation." When funding for the pilot fell through, they decided to combine the ideas and create a web series. Thus It Could Be Worse was born: a show where graphic scatological trauma goes hand-in-hand with pre-audition jitters. (Themes of "Yikes, been there" often pervade the duo's work.)
Mr. Jarvis and Mr. Taylor starred in, filmed, edited and produced the first season, which takes place in New York City, and released episodes weekly as online shorts. After raising over $65,000 on Kickstarter to develop a second season, the pair decided Jacob's character should take his show on the road … and they packed up and moved as well.
"There were three of us living in a one bedroom apartment in LA," Mr. Jarvis recalls, explaining the entire second season was shot in a single month (with only two days off) and without a single permit. "We didn't know the exact trajectory, we just wanted to make something that resonates and makes people laugh." After an additional month and half of editing in LA, the show was picked up by Pivot TV, but on the condition that only the first season would air, and only for the month of June. Soon after, Hulu bought both seasons; a more natural home for the web-based series. Already the show is getting more traction online than it did on Pivot, including a New York Times profile that ran on Friday that called it a "celebration of schadenfreude."
A third season exists within Mr. Jarvis' mind but for now we can look forward to watching the second season every Thursday this summer on Hulu.