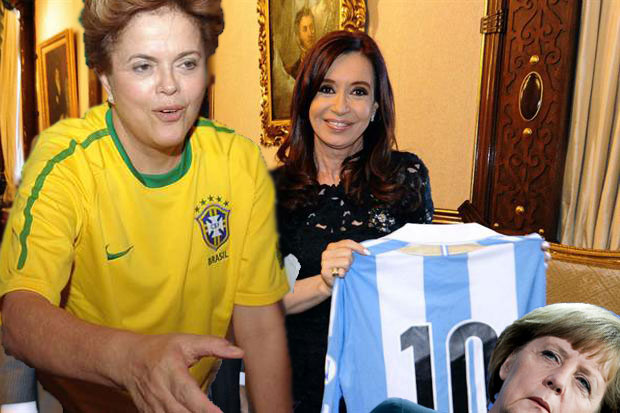 In Brazil's controversial, opening win vs Croatia in Sao Paulo, Brazilian president Dilma Rousseff was roundly jeered by her compatriots – at least those that could afford to be there in person to root for the home team. Demographically speaking, the rich caste at the glitzy Itaquerão stadium that day strongly aligned with Ms. Rousseff's political foes, so their vociferous vaiada was not entirely unexpected. Still, the sight of thousands of Brazilians pissing on their own parade before the eyes of the world was jarring, and set off a heated national debate about manners, class, race, politics and the role of sport in the host nation – one that has continued to this day.
This World Cup, which cost Ms. Rousseff's government an estimated $11 billion, has largely been been a sporting and tourism win to date for Brazil, with many commentators and spectators already declaring it to be the best World Cup of all time (it's also the most expensive to date) Yet that overall triumph could be dramatically overshadowed by bitter notes should Brazil, the pre tournament favorite, fail to lift their 6th trophy at Rio's legendary Maracana stadium on July 13th.
Brazilian senator Aécio Neves, perhaps Ms. Rousseff's strongest opposition candidate, has been posting obligatory pictures of himself on Facebook doing his patriotic duty and supporting the Brazilian Seleção with each passing match. However, it's no secret that a Brazil bust would be a heaven-sent political gift for the ex Minas Gerais governor, and would certainly embolden his crusade as the October presidential elections draw near. A Brazil victory, on the other hand, would give Ms. Rousseff and her powerful PT party a crucial popular boost.
Argentine president Cristina Kirchner's PJ party – which has enjoyed a relatively unobstructed, yet tumultuous grip on power since her late husband took office in 2003, would also face a long, cold South American winter if Lionel Messi and co can't continue to grind out victories. Such is the power of football in Argentina, a country where even a bloodthirsty military junta successfully milked a 1978 World Cup victory at home for all it was worth, allowing it to remain entrenched in power. Although Ms. Fernandez de Kirchner cannot run for reelection in 2015, her party has already begun jostling to choose a successor to the Kirchner throne.
Argentina's leading opposition candidates like Sergio Massa and Mauricio Macri – the latter of whom was in attendance at Argentina's opening win against Bosnia – have likely celebrated Lionel Messi's late game heroics with guarded reserve. Mr. Macri, the ex president of Argentine club powerhouse Boca Juniors, understands better than most the political bounty to be reaped via the beautiful game in futbol-obsessed South America. Mr. Macri lept from successful campaigns as football club president almost directly to the powerful Buenos Aires mayor's office.
Both Ms. Rousseff and Ms. Fernandez de Kirchner, close political allies, are lightning rod women at the head of deeply entrenched populist machines, in two highly machista countries where football reigns supreme. As a Brazilian friend told me the other day, if Brazil loses against Colombia on Friday – and bear in mind Colombia is playing the Cup's most mesmerizing football – Brazilians are "going to burn the country down."
The ominous  ghost of 1950 looms heavy in the hearts of Brazilians. Killing off that ghost once and for all, along with newly forged strategic alliances with political powerhouses like Rio de Janeiro strongman Anthony Garrotinho – could propel Ms. Rousseff and her populist party to another resounding victory, in spite of a projected economic slowdown and a host of perennial, nagging concerns like crime and education. An early Brazil exit, on the other hand, and Ms. Rousseff may join the growing list of things only US goalkeeper Tim Howard could save.
May the better presidenta win – as long as it isn't Angela Merkel.
Fernando Cwilich Gil is a painter, writer and unabashed Maradona supporter. Follow him on twitter at @losmaradonianos