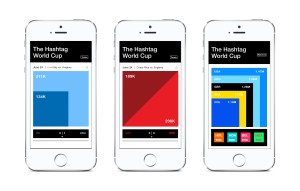 It's no secret that this year, the World Cup and social media have gone hand in hand. The FIFA tournament even led to a 50% increase in Tinder activity in Brazil.
Huge, a company that helps expand businesses and brands, created a website called The Hashtag World Cup to determine the real winner in all of this.
The site is using hashtags to track World Cup buzz by country and determine social media winners for each match as well as the overall tournament.
For each match, users can see popular hashtags and the total number of tweets that contained them.
To no surprise, the U.S. has gotten further on the social media front than it has in the actual tournament. Currently, the U.S. has reigned in 1.47 million hashtagged tweets, putting them only 10 million behind front-runner Brazil. The U.S. versus Belgium match saw 745,000 — more than any other game of the 2014 tournament.
But now that The Yanks are out and Brazil and Germany are competing for a place in the championship game, the U.S. might fall behind in this Cup too.
Currently, even with Germany's monstrous 5-0 lead, the two countries seem to be on an even tweeting field.