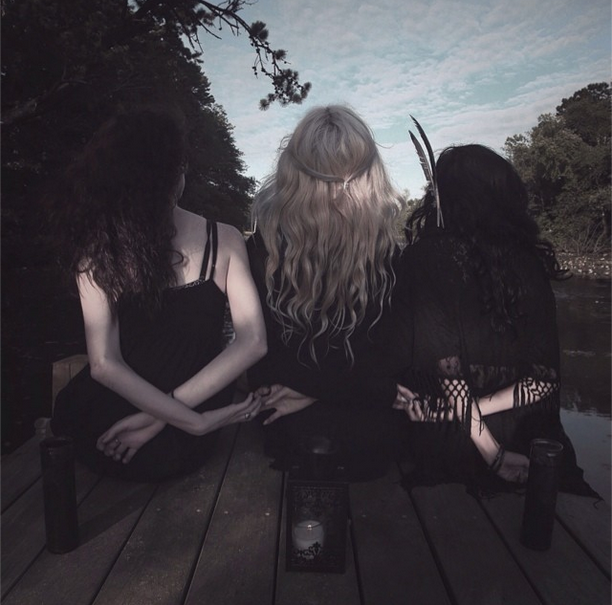 Most of the photos in my Instagram feed fall into the same categories. There are the selfies, the brunch pics, the found objects with ironic captions, the blurry group shots intended to induce FOMO. They seem like authentic displays of real life, but we all know they're meant to enhance public opinion of the people posting them.
I say this as someone who uses Instagram for that exact purpose: it can get boring. You start wishing your friends would use their iPhone cameras for art or daydreaming or anything but self-preservation.
About two years ago, I was just about ready to give up on Instagram when my social media wishes were granted. Out of the clear (or was it Brannan-filtered?) blue sky, girls I knew started posting photos like this…
… And getting hundreds of likes. I thought it was odd, but incredibly cool. I'm up for a good Stevie-Nicks-in-Salem-themed outfit anytime.
Then, as the women behind these accounts continued posting spooky photos, their follower counts ballooned into the thousands. I could tell they were serious — and that the bell sleeves and black lace weren't just an aesthetic choice.
For my inaugural Almost Famous column, I knew I had to talk to one of my favorite Instagram Witches (that's my own nomenclature; the witches themselves are too cool to come up with their own name for their clique). So I contacted Tilly Garcia, the artist behind @_spirits.
Here are some of Ms. Garcia's posts:
http://instagram.com/p/qXD46wMEnP
http://instagram.com/p/ojWrZPsEtI
Ms. Garcia lives on the Jersey Shore now and works as an artist and tattoo apprentice. She's been making art for a long time. For a while, her preferred platform was Tumblr.
She's naturally drawn to the aesthetics of ritual and witchcraft, as well as religious imagery, and has had "an affinity for the macabre" ever since she can remember.
In addition to having "Santeria in [her] blood," Ms. Garcia also looks to "ancient religions, shamans, alchemy, spiritualism, new age and so on" for inspiration, she said, but don't take that to mean she's just appropriating different religions and traditions for the look and feel.
"I am a deeply spiritual person. I read tarot and the stars, I use crystals, meditate, and so on," she said. "I don't have a name for what I follow, it's very earthly and intuitive…I research things to death before I bring them up in my work, and they have to resonate with me or I don't incorporate them."
Here's a fun fact: Ms. Garcia mentioned in our interview an astrological phenomenon called "the 2012 shift," which I hadn't heard about until now — but which also indirectly explains why these photos started popping up in my feed that very year. This Newsweek story by Katie J.M. Baker about millennials embracing the occult also proves that this is part of a larger trend.
"I truly believe [the 2012 shift] has changed the nature of a lot of people and has them yearning for magic and spirituality, and I think for a lot of people that is closely associated with the morbid and unknown," Ms. Garcia said.
She considers herself and the other women who ascribe to the same aesthetics artists who are all on a similar wavelength, but declined to give the movement a name. "I'll leave that to someone else," she said. Instagram Witches it is, then.
She doesn't consider herself Instagram famous, but is grateful for her following. "I try not to think much about it," she said. "Losing touch with the self and getting content with where you are as an artist is the kiss of death!"
I asked Ms. Garcia if it was tough to keep such a tight lockdown on her online identity. Doesn't she every just want to say, "screw it," and post a picture of her brunch with the Lo-Fi filter?
"Haha, no," she said, "I actually really enjoy it. I like the editing process and being selective about what I post."
She and her de facto colleagues go on trips, sometimes several times a week, and she works with photographers like Alex Jackson (@onejug). Creating a single photo involves "sketching, looking for clothes or props, researching places, editing photos, daydreaming. It's very much a full time thing," she said. "Between this and my apprenticeship I'm art-making around the clock and I wouldn't have it any other way."
She's met many of the other women she works with through Instagram and has collaborated with a lot of them. She recently went on a trip to Lily Dale, N.Y., with Crystal Lucas, alias @_blackmass, which took eight hours of driving each way.
Although Ms. Garcia works with a tight-knit group of people as far as Internet friends are concerned, I wondered how they found each other without the use of hashtags or any central online meeting place besides their own feeds. One of the most impressive things about the Instagram Witches is the fact that they amass followings without using typical (and annoying) tactics like follow-for-follow and hashtags. They achieve this by tagging each other in photos and reposting each other's work, Ms. Garcia said.
So why put so much effort into her Instagram feed?
"I get a lot of positive energy from the recognition I get on Instagram," she said. "It's very motivating, the urge to create comes from somewhere much deeper than this though. The more aligned with it I stay, the better I feel."
In the time that I've watched the Instagram Witches become more and more popular and post more and more spooky photos, I've also started following other accounts that are more thoughtful and artistic. I've found that by filling my feed with art, fashion and, yes, the occult, Instagram feels less like a social obligation and more like an endless stream of Roitfeld-era French Vogue editorials.
"I'm very conscious of the meaning of such things and I take it very seriously," Ms. Garcia said. "I like to flirt with the darkness but I belong to the light."
To get your Insta Witch fix, follow these accounts:
@_spirits, @_blackmass, @theewhitewitch, @bloodmilk, @lunarrose, @grauenvoll and @light_witch