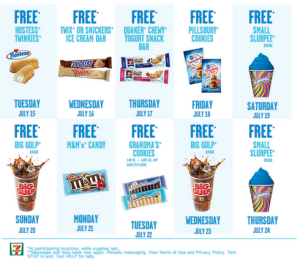 To celebrate its birthday, 7-Eleven had this genius idea of asking people to download its app in order to score free food. It was supposed to work like this: download the app, get free coupons that were redeemable for snacks like Doritos Loaded pockets, and leave the store only mildly annoyed that you wasted your cheat day calories.
It didn't work.
Customers complained on Twitter that their coupons for free junk like Big Gulps and other treats didn't load. A 7-Eleven spokesperson told USA Today that "high demand" caused their servers to experience "some technical difficulties."
To make up for this unthinkable disaster, 7-Eleven says the deal (which includes a free small Slurpee, M&M Birthday Cake candy, and Snickers!) has been extended until July 24. And they promise the app works this time, which is good news since we're broke.