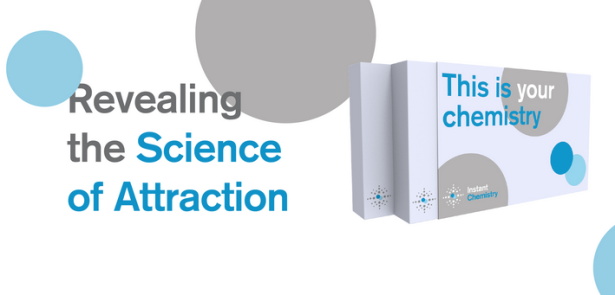 Want to know what the future holds for your fab new Tinder boyfriend? A Canadian company is claiming they've devised an at-home test that can scientifically predict whether you and your partner are destined for long-term happiness.
The Couples Kit, created by Ontario-based Instant Chemistry, has couples participate in genetic and psychological tests to determine their compatibility, the Daily Mail reports.
"Through intensive research scientists have found that long-term relationship satisfaction stems from two constants – your DNA and core personality – and how those match up with your partners," Instant Chemistry's chief science officer, Sara Seabrooke, is quoted as saying.
After paying $164 for the kit, daters each spit in a tube, and send it back to the company. Scientists then analyze the spit to determine if the daters' genetic make-ups are compatible. They also investigate how each dater's brain processes seratonin, which can indicate how couples have contrasting emotional reactions to different situations.
The couples are also asked to fill out an online test, which determines their personality compatibility.
If Instant Chemistry senses a couple is headed for disaster once the tests are complete, they'll give the couple advice on how best to improve their relationship.
"Most couples who take the Instant Chemistry test obtain an overall compatibility score between 60-80%," Instant Chemistry's FAQ page says. "Depending on your scores we'll also provide tips to help you nurture your relationship and help it grow. Never before has science been so useful for helping you improve the most important aspect of your life: who you choose to share it with."
Sadly, Instant Chemistry's Couples Kit is only currently available for heterosexual couples, but their site says they're "running a research trial to find out" if they could apply the same science to LGBTQ couples.