Before the Ohio kid's ironic potato salad captured everyone's attention, the Internet was captivated by another wildly successful crowdfunding campaign: the electronic blow job machine known as the Autoblow 2.
When the sex device first hit Indiegogo in May, its creator, Brian Sloan, hoped to raise $45,000. By the end of the month-long funding period, the Autoblow 2 had raked in $280,247. But that wasn't the end of the blow job machine's popularity; when the Autoblow 2 became available for pre-order online, its website had so much traffic from horny consumers, it crashed. On top of it all, Mr. Sloan told Betabeat he was even contacted by someone who wanted to make a reality show about his life and business (he declined).
Now that the Autoblow 2's first customers are finally getting their coveted blow job machines in the mail, let's examine how and why the Internet got so turned on (sorry) by this particular product.
Why it Went Viral
The now-famed sex toy creator proposed various possibilities when I asked him why the Autoblow 2 had gone viral. Part of it came down to simple psychology, he reasoned. "Men like blow jobs… a lot," Mr. Sloan told me via email. "And I think most people think robots are cool. It's already proven that men click anything with the word 'blow job' in it, especially when it appears on a mainstream website. So… 'blow job robot' is pretty much top shelf clickbait."
He also said that people were drawn to his Indiegogo pitch video.
[vimeo 93410802 w=500 h=281]
"Most Indiegogo pitch videos are really really fake looking," he said. "It's like the real people disappeared and they replaced themselves with robots who tucked in their shirts. I was myself in the video and apparently it was a combination of creepy and funny that the Internet liked."
The Stigma of the Male Masturbation Toy
Hundreds of customers per day placed orders for the Autoblow 2 during its pre-sale period. Mr. Sloan said he's shipped out thousands this week alone. Clearly there's a demand for men's masturbation toys, but at the same time, they're still a pretty taboo topic — certainly more so than toys geared at women. Vibrators, after all, are mainstream enough that Barbara Walters has talked about hers on The View, but you rarely hear a celeb — let alone a regular Joe — talk about the magical time he had last night with his Fleshlight.
Women have been able to enjoy dildos and sex toys in a relatively shame-free atmosphere since at least 1998, when Sex and the City's infamous episode featuring the Rabbit vibrator came out. That show helped vibrators become a symbol of female empowerment rather than shame at having struck out sexually. It's pretty difficult to imagine, say, one of the guys on HBO's Silicon Valley enjoying a brotherly pat on the back for introducing the guys to Tenga eggs. Instead, the show just uses male masturbation as a bawdy punchline.
Perhaps Mr. Sloan's description of his Indiegogo video is also how most people view men's masturbation toys: "a combination of creepy and funny." While vibrators and other women's sex toys are widely praised — and rightfully so — for letting women take control of their own sexual pleasure, sex toys for men seem to get labeled as novelty items, more worthy of derision than genuine, enjoyable use. That's also inevitably part of the reason the Autoblow 2 went viral — not necessarily that people wanted to buy it, but that they wanted to laugh at it.
I polled my friends and followers on social media to find out why our attitudes toward sex toys are so gendered.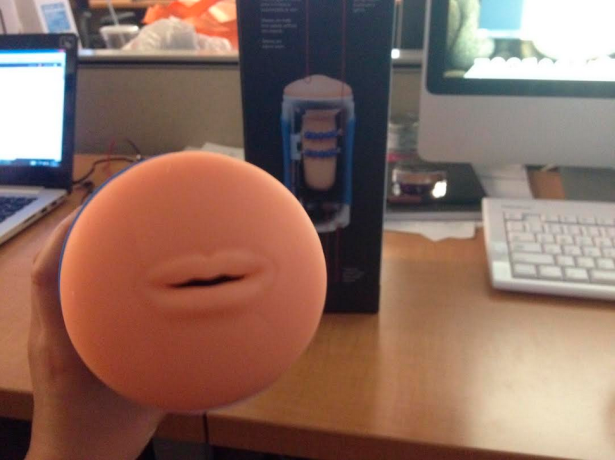 "I think it's a bigger deal for a guy to not be hooking up with anyone and then to have to resort to using masturbation toys," a female friend ventured as we talked about the Autblow 2 on gchat.
"I think men's sex toys are identified as strange more frequently, like sexual oddities, because they violate a narrow-minded masculine code that dictates that a man should be able to get himself laid," a male friend, Dave, told me. "Therefore, masturbation is shameful."
It's definitely a possibility — because of pervasive stereotypes of traditional masculinity, we subconsciously expect men to be able go out and find sexual partners whenever they please. Fail at finding a sexual partner and you've failed at being a man, cultural expectations dictate. The prevalence of the word "fap" (barf) suggests we already view male masturbation as a bit pathetic.
The prevalence of the Reddit neckbeard stereotype — the lonely, sedentary man sitting in his mom's basement playing World of Warcraft and jerking off — isn't doing much to alleviate the male masturbation stigma. There's even a NoFap subreddit where men literally compete to see who can not masturbate the longest. It ends up being extra shameful when a guy not only wants to masturbate, but when he wants to buy a whole electronic contraption to make it happen.
"It would show a sense of desperation, and not able to play alpha dominant role," another man said. He also admitted he'd consider shaming certain friends for using an Autoblow 2. "Truly depends on the friend," he said. "Like, if I found one of those at [arrogant loudmouth friend]'s house, I'd put it on Facebook."
The stigma could also come from the fact that men are assumed to be so relentless in their pursuit of sex, it's actually seen as a power move if a woman just wants to do it herself.
"I actually think women have an easier time finding partners if they want them, but that doesn't equate to satisfying sex as often as it can for men," another friend said. "Or that's the stereotype anyway."
She suggested different reasoning for why male sex toys are stigmatized more than women's — that we expect guys to be able to jerk off whenever, wherever, without the help of toys.
"It's on average more difficult for women to [reach orgasm] so we're more generally supportive as a society of making it work however it needs to. Not sure if that's fair though," she said. "ALL men masturbate, in my experience. But it's something about how 'easy' we think it is for them to do that. Like, men can just jack off at work in a few minutes in the bathroom and women typically need more of an environment and more time, etc. So this idea of toys for men sometimes seems just excessive or lazy to me."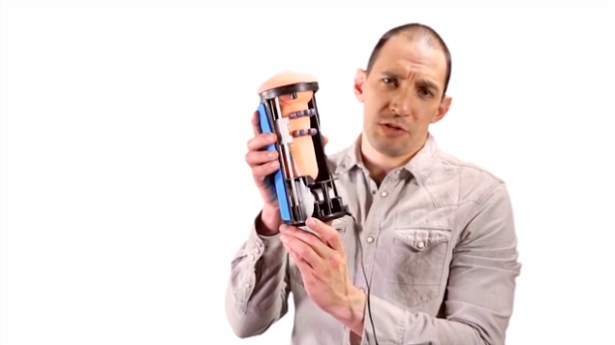 Would you try it?
Of course, I also had to ask men how they'd feel about trying the Autoblow 2. Here are some of their responses:
• One man told me he'd never use it, calling it "the ultimate in male laziness."

• "It's an obvious parallel to a vibrator, but it's a sad, sad day when a guy starts having mouth sex with a vacuum, AND pays for it. Investing in and using something like that alone would do a number on you. That number is zero. Zero long term satisfaction, zero impetus to leave the house, zero remaining ability to talk to women or start anything that doesn't require 120V. Maybe I'd try it once? Haha." – Alex Wood

• "No way. A machine doesn't know how to respond to the situation in real-time. I think most people who've gotten head, guys and girls alike, will agree that great oral sex comes from minor adjustments throughout, based on how your body feels. Machines can't do that. 'Mechanical' is a word that describes bad oral sex." – Dave

• "Whaaaaat. You have to plug this into a wall? If this was discreet (like those little rockets sophisticated ladies use) and ran on batteries then yes I would try it. Buuut only if it happened upon my doorstop free of charge and if I had zero chances of getting normal blow jays in the foreseeable future (e.g long plane ride, a dry spell)" – Anonymous

• "I wouldn't use it. Let me back track. I would give it a shot once. But to me, sex and especially blow jobs aren't completely about just getting off. Obviously they feel great. and I hope this doesn't sound super 'alpha male,' but as a guy it feels really good on the brain watching a woman do that to you. Makes me feel 'worthy' and I guess 'appreciated' (for lack of a better word). Not in the sense of, 'Damn I'm the man lemme watch this girl suck me off.' More in the sense of (to me anyway, but I feel like I think a lot like a girl when it comes to this stuff), 'This girl cares enough about me to put my small irish dick in her mouth because she wants me to feel good.'" – Anonymous
I also asked some female friends how they'd feel if their partners wanted to use an Autoblow 2.
One friend was a little embarrassed to admit she'd be pissed. "I think communication is the number one biggest challenge in long term serious monogamous relationships (assuming those are the kind we're speaking of)," she said. "I'd want my partner to just tell me if he wanted more blow jobs. Although, I don't typically have anything against toys or things that compliment a healthy sex life. As long as it's out in the open/not hidden from the partner."
"I feel like there's always room for new developments in sex toys, especially vibrating/oscillating penis toys, but this seems like a penis strangler," another friend said.
Some, however, were more open to it.
"I think it would do a great job… maybe even as good as the Rabbit vibrators," said another. "Great for long distance relationships!"
For now, my Autoblow 2 is being used as a handy desk ornament: