There's only one word to describe 11-year-old DJ Fulano: swag.
At age 9 he DJed Madison Square Garden. Twice.
That same year, Bill Clinton called him a "9-year-old wonder."
At age 10 he spoke at the United Nations and Saved the Music with VH1.
He's a sixth-grader who makes up to $10,000 per gig, DJing for clients such as the New York Knicks, the Barclays Center, Diane Von Furstenberg, Mercedes-Benz Fashion Week and The Clinton Foundation.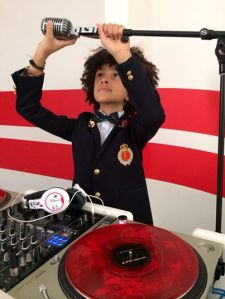 When the pint-sized DJ–real name Fulano Librizzi–asks the Observer to meet him and his mother Latham Thomas, founder of Mama Glow, at his "favorite place," Bar Pitti in the West Village, he arrives dressed for the occasion. Rocking orange Brooks Brothers' shorts, a J. Crew blazer–adorned with a bejeweled crown pin and 'F' patch given to him by his mentor DJ Cassidy–and approximately four inches of curly hazelnut hair, he describes himself as "on his suit and tie," a nod to his favorite rapper, Jay-Z.
"The first gig I ever did was when I was seven. I got $20 for it–that was a lot for me when I was a kid," he shrugs, pawing his custom Flips Audio headphones (for which he is the brand ambassador) lying around his neck.
So how exactly did DJ Fulano, a cute kid from Harlem, become the youngest person to ever DJ Madison Square Garden?
The answer to this lies largely in DJ Cassidy, the music man behind Obama's presidential inauguration and both the KimYe and Beyonce-Jay-Z weddings, who DJ Fulano met over Twitter three years ago. Since then, DJ Cassidy has provided him with a manager, sound man, new wardrobe, celebrity status and A-list clientele. He's also been featured on NBC's Today Show, Vogue Japan and his 11th birthday party was covered by Page 6.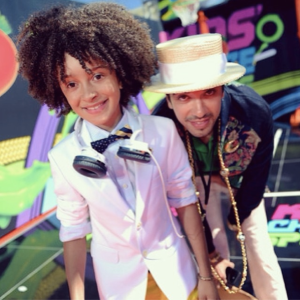 Although his birthday bash was mostly attended by A-List kiddies, his music taste is definitively 'adult.'
Standing atop boxes of FIJI Water, the 77-pound DJ spins soul and vintage hip hop—opting for Aretha Franklin and Otis Redding over Justin Bieber and One Direction.
"[People] are always very surprised and think [my music] is made by an adult," remarks DJ Fulano with a sigh. "I play the music that is from an older generation—Rick James, James Brown—music that kids wouldn't know. No offense to pop stars but all of their music just sounds the same," he states unapologetically.
Perhaps DJ Fulano's popularity stems from his ability to connect adult fans to their childhood in a way that no adult DJ can. He isn't nostalgic, he's soulfully and totally youthful.
"[Adults] are like, 'You play this soul music and hip-hop that I haven't heard in years blah blah blah," adds the DJ wonder-kid.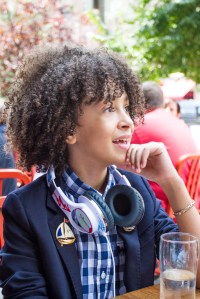 Despite his epicurean taste in music, the best part of being a world class DJ isn't the music at all. No, for Fulano, it's meeting his favorite celebrities.
As the waiter seats a chalkboard denoting the specials at DJ Fulano's table, he and his mother, Latham Thomas, recall the first time the DJ met Beyonce, right here at Bar Pitti.
"At the table over there," says DJ Fulano, his mother pointing to a corner booth. "I was flirting with Beyonce and I sat in her lap. And she was like 'Aw you're so cute,' he coos, imitating Beyonce. "And Jay-Z was like 'Don't come over here with your fluffy hair trying to steal my girl,'" the 11-year-old laughs, puffing up his chest like a prepubescent Hova.
The pinnacle of DJ Fulano's elementary school career has been meeting his hero, Carmelo Anthony, when he DJed for the Knicks at Madison Square Garden.
DJ Fulano describes his celeb encounters with a red carpet casualness, "I get to meet all my favorite people–like Carmelo Anthony and David Beckham, it's always a short conversation where [I] just want to get a photo and an autograph."
And although he has met more famous people and had more success than most DJs (or people) can hope for in a lifetime, let alone before middle school, he announces he won't stop until he's "the Beyonce and the Jay-Z of DJing: the best DJ in the world," pasta sauce dripping down his chin.
Like any savvy child star knows, to be "the best" one needs a televised presence. And what better way to do so than with a reality TV show. Last weekend, while in LA at the Nickelodeon Kids' Choice Awards DJ Fulano and his mother pitched his reality TV show to a major network interested in collaborating with the bite-size DJ. Added bonus: he might not have attended middle school just yet, but he's already attended acting school.
However, Ms. Thomas is confident that her son will not fall victim to the egotistical self-destructive child star archetype.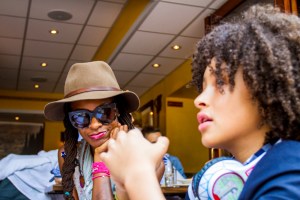 "The biggest thing is keeping [him] humble and down-to-earth," she says, peeling her Stella McCartney glasses from her face. "I'm not that parent that's just going to turn away or let my kid spiral."
To ground DJ Fulano, Ms. Thomas has added daily meditation, prayer and exercise into her son's Google Calendar. Ms. Thomas notes that Fulano is also "really into helping others in need—whether that's someone on the subway that needs a dollar, or kids suffering from cancer, or working with VH1 Save the Music."
But Ms. Thomas never planned for her son to be a child star. No, she first enrolled DJ Fulano in Dubspot because her friend, Dan Glove, owns it and was beginning a children's DJ class.
"I thought [Dubspot] was just going to be a way for me to have brunch on the weekends with my friends," she laughs, looking on at her impeccably dressed son. "But it was more than that for him. It turned out to be the foundation of his little budding career—"
"LITTLE BUDDING CAREER?!?" DJ Fulano echoes in utter shock. "It's not a little budding career!!"
Nonetheless, DJ Fulano is fairly content with being a kid.
"How do I feel about being 11?" He muses. "I feel pretty good. That's five more years until I get my Lamborghini."
[protected-iframe id="67a351a66fcebc06edede43fe524175c-35584880-59143305″ info="//player.vimeo.com/video/68918386″ width="500″ height="281″ webkitallowfullscreen="" mozallowfullscreen="" allowfullscreen=""]