Kim Kardashian's app has been exploding in popularity — it's finally reached number one spot for free apps at the Apple App Store, and is slowly making its way to the top of the highest-grossing charts as well. Meanwhile, the hype has caused game developer Glu Mobile's stock prices to soar. But what about Kim's cut of the profits?
Now there's a site that tell you what Ms. Kardashian's estimated royalties from the app will be. Aptly named KardashianCash.com, it was launched silently last night by Texas-based analyst firm PTT Research.
The site was inspired by a TMZ article which used some sloppy math to determine that the makers of Kim Kardashian: Hollywood would end up owing their eponymous superstar a whopping $85 million. The article caused the rapidly rising stock price for Glu Mobile to dip slightly — a little turbulence in an otherwise steady climb.
"The article was so flagrantly wrong, we thought it was important for us to set the record straight," PTT Research CMO Jeremi Karnell told Betabeat.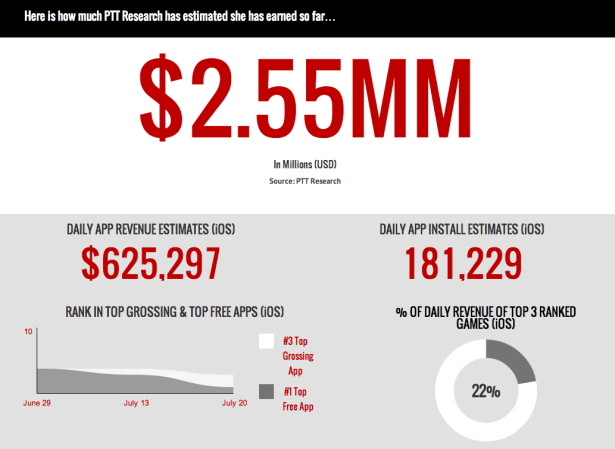 The estimate is based on the fact that TMZ claims to know that Kim is pulling in 45% of net royalties. But what TMZ doesn't seem to understand is what that really means.
"[TMZ] actually themselves say that they're no mathematicians," PTT Chief Analyst Mark Gomes says in the video explainer of their analysis. "That's very clear to me here." Burn.
So why would a research firm make a site about Kim Kardashian? Well, it's mainly because PTT Research is bullish on Glu Mobile, and strongly believes that the stock will continue to climb steadily. For them, showing Ms. Kardashian's relatively small cut of the profit — compared to TMZ's astronomical estimate — illustrates just how successful Glu is going to be.
In fact, for the same reasons we've said the stock is going to plummet, PTT Research thinks it's going to continue to soar: they see Glu's engine re-use model — where they make cosmetic changes in order to sell the same game over and over again — to be a winning model. In fact, PTT thinks that the current trading price of about $7.30 is undervalued.
"We think Glu could go to $10 a share this year, and that's a very conservative estimate," Mr. Karnell said. "There's no reason to think it's going to stop there."
Watch below for the full explainer of why TMZ was so wrong in their estimates:
[youtube https://www.youtube.com/watch?v=BcFe1hSoDC4]