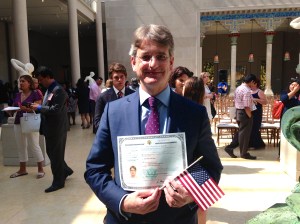 Today, the United States of America welcomed 75 new citizens from 42 different countries.
But it was not the usual naturalization ceremony. The event took place in the beautiful Charles Englehard Court, situated within the American Wing of the Metropolitan Museum of Art. It just so happened that Dr. Thomas Campbell, the museum's director and a native of the United Kingdom, was among those pledging allegiance to the United States of America.
"I am humbled and proud to be sharing this day with my fellow new citizens and delighted to be in this magnificent space for this occasion" Mr. Campbell said. He went on to discuss the museum's history.
"The story of the Met is a uniquely American one," he said. "In 1866, the year after the end of the American Civil War, a group of Americans met in Paris for a fourth of July celebration. They were convinced that America needed a great arts and culture museum of its own and the idea of the Metropolitan Museum was born."
And that tradition, according to him, is still alive today. "The Met's formative years were not without their growing pains but that early American ambition coupled with America's profound philanthropic tradition, has built, over the decades what is arguably, not arguably, I think simply, the greatest encyclopedic museum in the world. Today we are a global museum in a global city."
Mr. Campbell gifted his fellow new citizens with free admission to the Museum for them and their families. (The Met is pay-what-you-wish, but there's a suggested donation.) "Consider this museum your museum, come back day after day to explore the accomplishments of your own culture," he said. "It's all here for you, for all of us every day and part of our legacy as new American citizens."
When asked about how his life will change with a blue passport, Mr. Campbell, who has been living in New York for the past 20 years, told us, "In some respects nothing. I've been living here for twenty years, my wife is American, and my children are American. In other respects, many things because this places a reality in the life I'm living. I live in America, I love America and I am proud to become an American citizen."
At least one thing has changed already.
"I've started eating burgers," Mr. Campbell said.