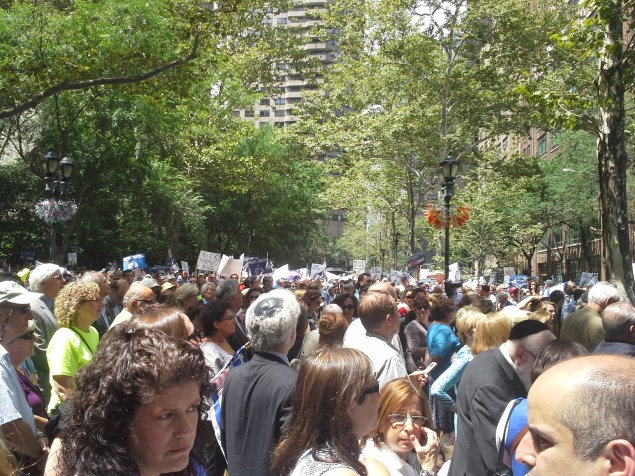 Thousands of demonstrators and a host of prominent elected officials descended on Manhattan this afternoon to rally for Israel as the Middle Eastern nation continues to trade rocket fire with its Palestinian neighbors.
The rally, led by the UJA-Federation of New York and the Jewish Community Relations Council of New York, was just one of several pro-Israel events in New York City over the past two weeks but likely its largest: throngs of people packed Dag Hammarskjold Plaza on the east side of Manhattan to hear religious leaders and influential politicians again profess their support for Israel, even as the nation endures criticism in the international arena for a mounting death toll in Gaza.
"Let us not forget one word describes why there are so many innocent who died: Hamas," said Senator Chuck Schumer, referring to the Palestinian religious and political movement that dominates the region. "Who is responsible for the deaths of so many of these Palestinian civilians?"
The crowd chanted "Hamas!"
"That is exactly right. The bottom line is very simple. We must send a message from one corner of this globe to the other and to that building over there that you will not have peace as long as Hamas has power. Hamas is a terrorist organization sworn to Israel's destruction who believes they have a moral right to start war at any occasion."
As some at the rally chanted "Hamas in hell" and waved Israeli and American flags, the speakers on the sprawling stage took aim at several targets. Mr. Schumer's "building over there"–the United Nations–was one, along with European countries that have criticized Israel's rocket attacks for leading to the deaths of more than 1,000 Palestinians (42 Israelis have died so far). Congressman Eliot Engel, the ranking members of the foreign affairs committee, also blasted media organizations for portraying Israel as an aggressor.
"You know the media has not exactly been fair to Israel and it's time that we stand up and say we are not going to accept this biased, one-side coverage. The media must be fair and it must be accurate and we have not seen fairness and accuracy at all," Mr. Engel said. "What is Israel to do? Would we in the United States tolerate a terrorist group in Canada lobbing missiles at American citizens in New York? I don't think so."
Mr. Engel vowed to introduce new legislation to bolster Israel's Iron Dome missile defense system, a sophisticated apparatus that stops the vast majority of Hamas' missiles from reaching Israeli civilians. Israel's military, bolstered by the United States, is far better armed than Hamas, which the United States and other countries classify as a terrorist organization.
Hostilities between Israel and the neighboring Palestinian territories renewed after three Israeli teenagers were kidnapped and killed in June. Israel blamed Hamas and a Palestinian teen was later killed in what many called a retaliation attack. Israel recently launched a ground invasion of Gaza to destroy tunnels that they claim are used by Hamas to launch attacks on Israel, further alienating many Palestinians.
"We must make the case that tunnels are not being built by squirrels but by terrorists," Comptroller Scott Stringer, mocking international critics, declared.
At a rally for Israel at City Hall two weeks ago, pro-Palestinian protesters arrived to denounce Israel as an occupying nation that is oppressing Palestinians. But today, with thousands of pro-Israel demonstrators packed into the Manhattan square, counter-protests were drowned out.
Instead, much of the city's congressional delegation, with local elected officials looking on in the crowd, took turns boosting Israel and denouncing Hamas for using civilians as "human shields" to carry out their attacks and smear Israel's reputation. Congressman Steve Israel, the chair of the Democratic Congressional Campaign Committee, said he would be traveling to Israel on Saturday to show his support for the nation.
For Congressman Hakeem Jeffries, a freshman lawmaker, criticism of Israel is unfounded because the country resides in a "very tough neighborhood."
"We know Israel lives in a very tough neighborhood," Mr. Jeffries said. "And there are certain realities to that. We mourn the loss of civilian life on both sides of the conflict but when you live in a tough neighborhood Israel should not be made to apologize for its strength. You know why? Because the only thing that neighbors respect in a tough neighborhood is strength."