A former investment banker who followed a passion for fashion, designer Timo Weiland snagged his grand, 2-bed-2-bath apartment in a contract race 10 years ago. A West Village classic, complete with high ceilings and wooden floors throughout, Mr. Weiland shares his home with partner Jeff Petriello, Producer / Creative at Mashable. Whether he's debuting his newest collection at NYFW or DJing at The Jane Hotel with his business partner, Alan Eckstein, Mr. Weiland finds his home handily close to the action.
"Having my company be profitable is way more important than living in some gargantuan duplex. To me, this apartment is cozy and palatial. It was built around the 1890s and it has charm. You can't capture that in a newer place, it just doesn't exist."
Why did you choose this apartment? I bought it while still in college. I looked at so many co-ops but wanted the long-term option of renting my home out, which is easier in condos.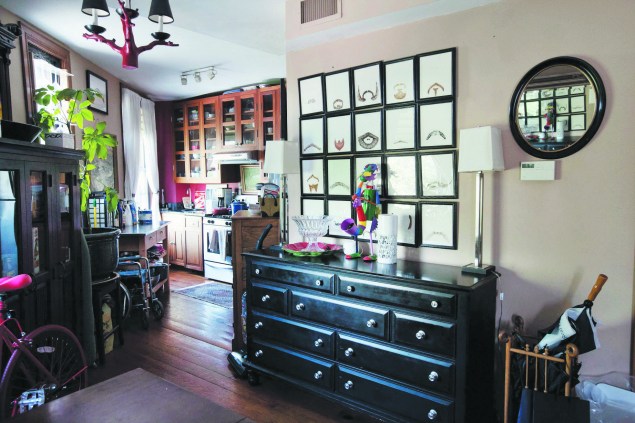 How did you decide on the West Village? I looked everywhere from Murray Hill to Chinatown. The West Village has always been my favorite neighborhood, though the East Village, Upper East Side, Chinatown and Nolita are amazing. If I had enough to buy something that's 10 times this price, I would probably look there, but I'm 31 years old and I work for myself. This area is so cool that the value is constantly rising.
Who designed the apartment? Did you have help from friends? My sister is an interior designer, so she was responsible for the look of the masculine, organic aesthetic. We grew up on a sailboat. My dad moved onto a boat when he left my mother, so he was everywhere from the Med, to the Caribbean, to New York. He was always out at sea, so I have a lot of details in the apartment that are reminiscent of that. The color of the wood is actually very similar to the color of the inside of the boat. As kids we were always sailing, surfing, fishing, in and out of the water all day long. It was our life. When I walked into this apartment, it felt like a boat to me, so I fell in love with it.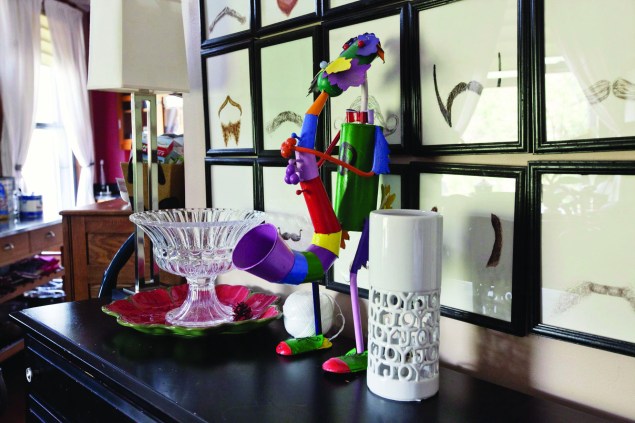 You were born in Nebraska and raised in Florida. Do you find yourself going back to those places for inspiration? I was raised in Florida, but I spent summers in the Hamptons. We still own our house in Florida and it's 100 acres with a pool and spring-fed lakes. It's set apart from the woods, except there's a stable with horses. It was fun growing up and being able to trail ride, go fishing, or surfing. The house is very unusual. There's a two-story library with a bookshelf that pushes open to reveal a secret set of rooms.
What sort of art do you collect? I have a couple different friends who are interior designers, and  I am lucky enough to have many artist  friends including John Gordon Gauld, so a lot of the art in the apartment is by him.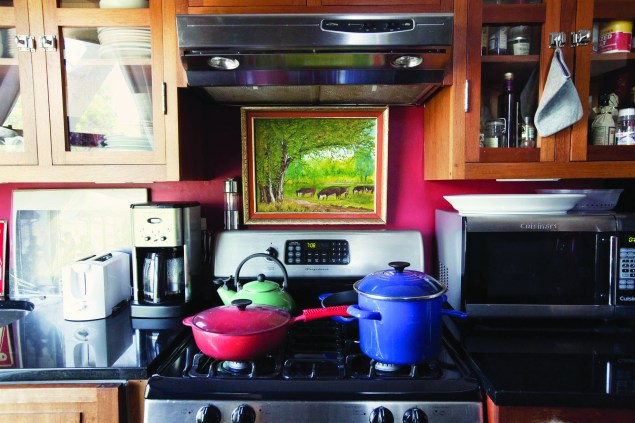 Any other special pieces? I bought my white, rather oversized couch with a banking bonus I made years ago and the mirror in the living room was a gift from my best friend, Leven Rambin (actress, The Hunger Games, Grey's Anatomy). 
During college, you also traveled around the world. You still travel often for work; which places have influenced you the most? I love London, Berlin, Tokyo and Hong Kong. India has been a highlight as well. The colors, history and architecture in there are amazing and Thailand is also on my list for that trip. New Zealand is my favorite place in the world, my roommate and I went there to live for a while when I was 19. We bought a car for $200 and traveled everywhere, living out of a tent. There's a nonchalant ease to the designs for my clothing label and the great street wear culture in New Zealand resonated with me.
 As a fashion designer by day and a DJ by night, do you get to spend as much time as you want in this incredibly cozy apartment? You even have two fireplaces. No, I wish. My boyfriend and I try to make date night either here or in the neighborhood. We also go to the drive-in theater in New Jersey. We try to spend as much time as possible here, but a lot of times I am working until midnight or later.
Where's your favorite place in the apartment? I love the fire escape. The view is beautiful because it looks out onto the avenue, and the park across the street.