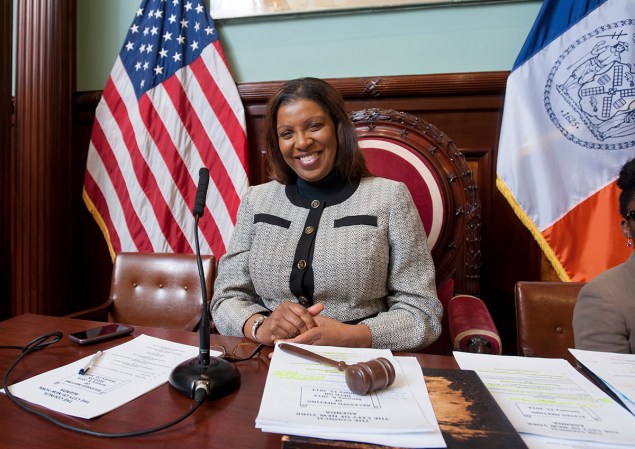 Sleaze go away.
That's the message Public Advocate Tish James had for New Yorkers and the Metropolitan Transportation Authority this morning, knocking the MTA for not doing enough to prevent sexual assaults from occurring on subway cars. Ms. James, at a press conference outside the 4/5/6 stop at City Hall, insisted that cameras be installed on subway cars, penalties be raised for offenders and the transit authority do more to educate riders–and potential offenders–about the dangers of sexual assault.
"Why is the largest transportation system in the world–why is New York City not leading the way in terms of safety?" Ms. James asked. "Our point today is this: that MTA in coordination with NYPD takes sexual assaults in our subway system very seriously and we believe that as of today they have not taken it very seriously. We are demanding justice, not only for victims but for all individuals who travel in our subway system."
Ms. James cited statistics, compiled recently by the New York Daily News, that showed there were 3,000 incidents of misdemeanor sexual assaults between July 2008 and July 2013 in the subway system. What Ms. James, who chose to stand outside the bustling 4/5/6 line because that's where relatively many crimes occur, didn't make clear is if there's an upward trend in this crime. When pressed, she said many incidents go under-reported and the true number is likely higher.
Appearing with advocates from the Straphangers Campaign and Hollaback!, an anti-street harassment group, Ms. James said one of the best ways to immediately combat sexual assault in the transit system is to install cameras in subway cars and not just on platforms. She called for the money to be funded from a large settlement the state and federal government recently reached with BNP Paribas, a French bank that pleaded guilty to state and federal criminal charges.
A chunk of the money–though not exactly as much as Ms. James claimed, at least according to press reports–has been turned over to the state's general fund to be used how lawmakers and Gov. Andrew Cuomo see fit. It's not clear if the state will want to spend this new windfall on cameras in subways.
An MTA spokesman said the next three classes of subway cars would come camera-ready. He implied installing the cameras on other cars would be a much more difficult undertaking than Ms. James believes.
"The next three classes of subway cars will come camera-ready, but the MTA has not made a final decision whether to install and operate cameras," said the spokesman, Kevin Ortiz. "No widespread testing has been done, no funding has been identified, and no technology for transferring video quickly to outside monitors has been established. Bandwidth capacity for what would be thousands of cameras would need to be identified."
To allay the concerns of privacy advocates, Ms. James said video recorded on the subway cars should be destroyed unless a potential crime is caught on the tapes. Ms. James is already calling for encounters between police and civilians to be videotaped in the wake of the Eric Garner controversy, an initiative that appears to have more immediate political traction than her newest proposal today.
Another component of Ms. James' proposal, along with a dedicated page on the MTA's website with information about spotting and combating sexual assault crimes, would be to boost the penalties for crimes like forcible touching and indecent exposure. The state legislature would have to approve any change in the law.
"We can and must do better for victims of sexual assault on our subway system. We are a world class city and we better start acting like one," Ms. James said.