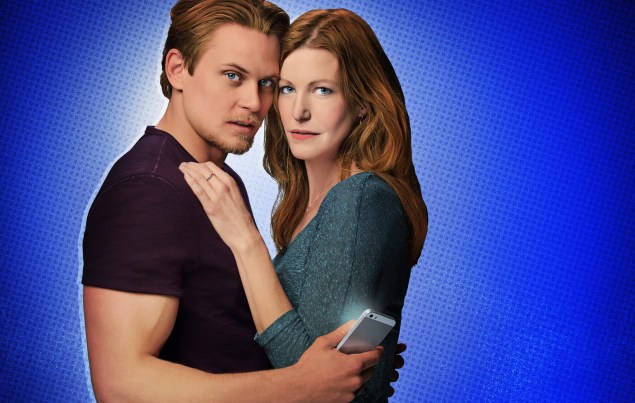 Desire. Ambition. Jealousy (professional). Jealousy (romantic). And lots of sex featuring the stunning Anna Gunn alongside the often-denuded-and-always-amazing torso of Tony nominee Billy Magnussen. Beautifully directed by David Schwimmer from a crackling script by Times darling Laura Eason, the aptly named Sex With Strangers opens tonight.
The play, staged in New York for the first time, grabs you from the first appearance of Ethan ("Am I being a dick?") and doesn't let go until Olivia has achieved the career success she is embarrassed to admit she craves. The May-September romance ostensibly at the core of this two-person play shares the stage with a variety of other compelling themes, including the modern competition for a partner's attention amid a clattering of electronics and the tension of a search for artistic validation plaguing even the basest of Twitterverse pervs.
Two of the play's inventions—an app that introduces the work of a new writer every day and a book-based-on-a-blog describing the weekly sexual conquest of its rakish author in tawdry detail—are so spot-on that it's hard to believe they didn't exist (or haven't been created since the play's debut at the Steppenwolf a couple years ago). And the references—not just Tolstoy and Marguerite Duras, but Junot Diaz, Dave Eggers, the majesty of being published by FSG—reflect the sensibilities of Ms. Eason, the Brooklyn-based playwright who comes to us by way of Chicago's Lookingglass Theatre, where she has worked with Mr. Schwimmer for a couple decades plus. (Good grief—has it really been nearly 30 years since I first saw Mr. Schwimmer in a Northwestern University black box production of Steven Berkoff's West that was so good I can still get chills recalling lines from it verbatim?)
Sex With Strangers is a wonder. Its dialogue is funny and painful and haunting and all these other adjectives that belong in the fake comments Ethan slides into the reviews of Olivia's e-book to get it started. And the acting is so good that Ms. Gunn's giggle after mentally reviewing her Penthouse Forum-worthy romp with her young new beau hits the audience in that special, intimate way that only live theater can.
Second Stage Theater, 305 W 43rd Street; 2st.com; $68-125