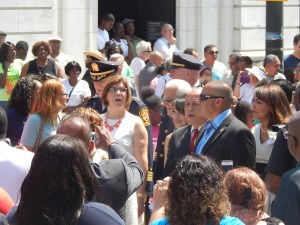 PATERSON – Moments before a motorcycle detail escorting Gov. Chris Christie appeared and another round of protest chants – "Christie's gotta go! Christie's gotta go! Christie's gotta go!" kicked in, Mayor-elect Jose "Joey" Torres appeared with his wife Sonia and U.S. Rep. Bill Pascrell (D-9) on a march to the swearing-in tent sent up in front of City Hall.
Sworn enemies during the mayoral campaign, Torres and Pascrell are uneasily coping with each other's presence, assisted by state Sen. Nellie Pou (D-35), who accompanied Pascrell.
There seemed to be some revenge in the air, as the anti-Christie protesters grudgingly quieted down when the program began.
Torres allies infamously disrupted Pascrell's endorsement of mayoral candidate Andre Sayegh at City Hall during the campaign.
Now everytime someone mentioned the name "Christie" into a microphone, boos rained.
"They don't like you governor," a woman in the audience noted.