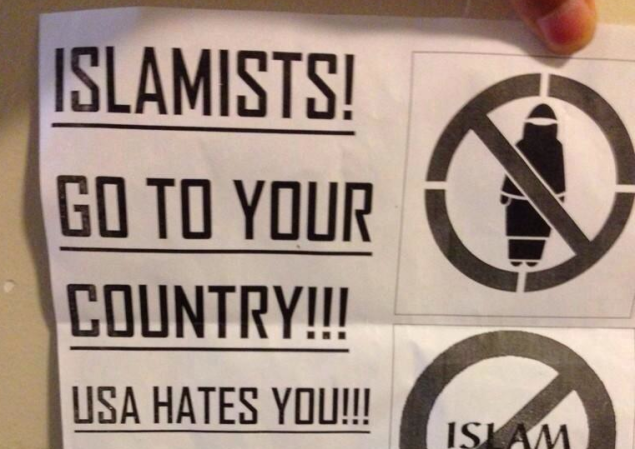 Police are investigating anti-Muslim flyers calling members of the religion "terrorists and bastards" that were apparently left in a Bensonhurst apartment building, City Councilman Mark Treyger said Tuesday.
"These flyers—which obviously send very chilling, very alarming messages of hate and intolerance—they aim to divide the community," Mr. Treyger, who represents the area, told the Observer Tuesday afternoon.
Mayor Bill de Blasio also weighed in Tuesday evening, decrying both the anti-Muslim flyers and recent vandalism of the Israeli Discount Bank in Brooklyn and saying there was no room for hateful language or actions in the city.
"The recent incidents of hate speech and bias attacks are disgraceful and run counter to the values we cherish most. They are a stain on our collective conscience, and we must make it clear that there is zero tolerance for such behavior," Mr. de Blasio said in a statement. "My administration is fully committed to protecting the security of every community of faith across the five boroughs, and we refuse to allow these divisive acts and language to threaten the safety of any New Yorker."
The incidents of hate speech come amid tensions over the the bloody conflict between Israel and Hamas in Gaza, which has spurred numerous rallies and counter-rallies in the city.
A copy of the anti-Islam flyer was posted to Twitter account of Take On Hate, a grassroots effort to "challenge prejudice of Arab & Muslim Americans" run by the National Network for Arab American Communities. Mr. Treyger said he was first alerted to them by the 62nd Police Precinct, which had referred the leaflets to a hate crimes task force.
The flyer reads, in all capital letters: "Islamists! Go to your own country!!! USA hates you!!! You are terrorists and bastards!!! You are the second Holocaust!!!!"
There are also clip-art style pictures of a woman in a burka and the word Islam inside circles with slashes through them.
Officer George Tsourovakas, an NYPD spokesman, confirmed that police responded to a call about a single flyer in the hallway of an apartment building on 21st Drive at 12:07 a.m. on July 26. In canvassing the area, police found additional copies of the flyer, he said.
No arrests have been made yet, but an investigation is ongoing, Officer Tsourovakas told the Observer.
Mr. Treyger, who is Jewish, said attacks on any group were an attack on all.
"This is a universal message of hate against everyone—an attack against one group is an attack against us all, and I'm not going to stand for it," Mr. Treyger, who also recently spoke out against the flying of a swastika over Brighton Beach, said.
The anti-Islam leaflets are not the first sign of religious tension in Brooklyn since the clash between Israel and Hamas in Gaza has intensified in recent weeks. Earlier this month, a mosque on Coney Island Avenue was egged and worshippers at another believed a man in a car with blinking lights was trying to intimidate them, according to the Brooklyn Daily Eagle.
On Monday, elected officials, members of the Jewish community and thousands of others held the second major rally in as many weeks supporting Israel in the midst of the bloody conflict in Gaza. While pro-Palestinian protesters garnered significant attention as they demonstrated nearby at a previous rally, Monday's event saw any counter-protesters drowned out by the large crowd.
But Mr. Treyger said standing together to denounce hateful messages like this one, or the swastika, would unite people of all different faiths together even stronger.
"Especially right now, with all the events happening around the country, here we need to make sure that our communities are united, we need to make sure that no one should live in fear," Mr. Treyger said.
In a statement, he also called for anyone with information about the flyers to come forward.
"I will continue to work closely with the NYPD and entire community so those responsible for spreading hate will be held accountable and I urge anyone with information to come forward," he said.
See the full flyer below: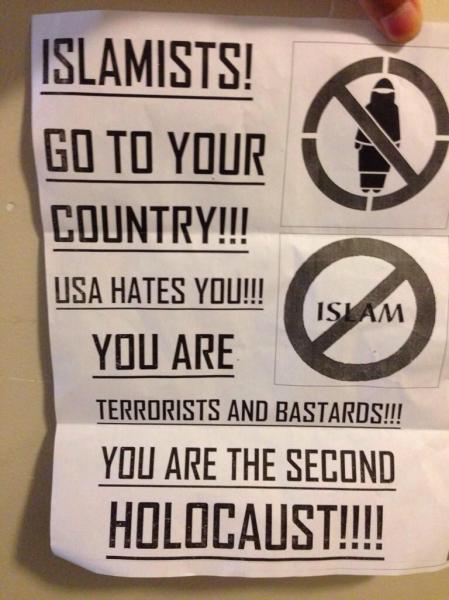 This story has been updated with new comments from an interview with Mr. Treyger and information from the NYPD, as well as with comments from Mayor de Blasio.