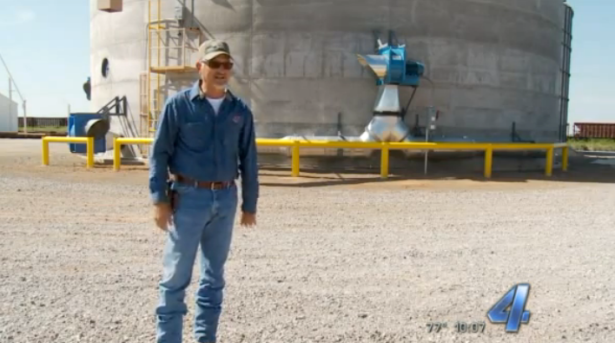 Here's a story that'll make you hate humanity a little less: an Oklahoma farmer lost his phone last fall, only to have it returned to him nine months later — from Japan.
Kevin Whitney, of Chickasha, Okla., lost his iPhone last October when it fell out of his pocket into his grain pit — which contained 280,000 pounds of grain — and then was whisked up the grain elevator, KFOR reports. We guess that's like the farming equivalent of leaving your phone in a cab.
From there, the phone accompanied Mr. Whitney's bushels of grain on an epic worldwide voyage, first to another part of Oklahoma, then down the Arkansas River, then down the Mississippi River to Louisiana, and finally across the Pacific Ocean on a ship bound for Japan.
Not only did the farmer think he'd never see his phone again, but he figured he'd also lost the cherished photos it reportedly contained — shots of his daughter's wedding, summer vacations and something called "barrel racing," which sounds very Midwestern.
So he was shocked when recently, he got a call from a man in Japan asking if he was Kevin Whitney, and if he'd lost a phone. A Japanese grain mill worker then mailed the recovered phone — which somehow still worked after all that time spent on barges and grain elevators — back to Mr. Whitney.
"It's crazy I can't believe it," Mr. Whitney told KFOR. "What really shocked me about it all was what a small world it is."
Mr. Whitney was especially happy to have his photos back. "There a lot of a lot of meaningful pictures on it so we are real glad to get the phone back," he said.
The only tragedy here is that the grain worker didn't sent Mr. Whitney a Japanese edible iPhone case, too.
[h/t The Blaze]