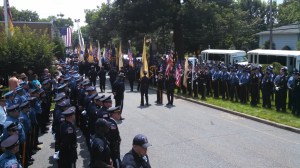 HO-HO-KUS – Under the scorching sun outside St. Luke's Church earlier today, Waldwick police officer Chris Goodell's casket was carried out to his burial site. Over it was draped an American flag.
It was the same flag that cloaked the casket of Jersey City police officer Melvin Santiago last week, as well as thousands of other firefighters, police officers and members of the United States Armed Forces killed in the line of duty before that.
Rumor has it that at one point, shortly after it was first gifted to U.S. Honor Flag CEO Chris Heisler by the Texas House of Representatives in 2001, it even stood among the rubble and twisted metal at Ground Zero.
"Everyone thinks it's just a piece of cloth, but it represents each and every man and women in America — life, liberty, and the pursuit of happiness," said Robert Kneer, a 42-year veteran of the Fairlawn Police Force and Commander of the New Jersey State Honor Guard (NJSHG). "Heisler decided it meant so much that he traveled to [NYC on 9/11] to have it there."
Kneer, 62, has a special relationship with the flag, now used at funeral proceedings like today's across the country. As Commander of NJSHG, he's charged not only with helping to direct and organize burial ceremonies — called "inspector's funerals" — for New Jersey police and firefighters killed on the job, but also with receiving and taking care of the U.S. Honor Flag when it arrives in the Garden State, as it did last week.
Kneer was there to pick it up at the Newark Liberty International Airport when it came in from Fort Worth, Texas, on Wednesday. From there it was taken to Santiago's funeral in Jersey City, an event that attracted some 7,000 people.
Today, it helped commemorate the life of Goodell, whose own funeral drew thousands of officers from departments across the state to the parking lot outside of St. Luke's Church. Even Gov. Chris Christie, who was later met with protests by New Jersey State Policeman's Benevolent Association at a townhall earlier, stopped to pay his respects.
Kneer said it's not unusual to do two funerals in such a short time span — but this one was especially tough. Both Kneer and Goodell are U.S. Marines, and Goodell even attended academy while Kneer was an instructor there.
"I can say this — he was an exceptional person, and was born to be a leader," Kneer, decked out in full ceremonial garb, said of Goodell. "He was respected, trusted, and loved."
Goodell, 32, was killed last week when a tractor-trailer plowed into his unmarked police car on the shoulder of Route 17; Santiago, 23, during a shooting outside a Walgreens earlier this month. The latter's death has spurred at least one New Jersey legislator to resurrect debate on bringing back the state's death penalty.
Later, after the burial ceremony had ended and the masses and motorcades departed, Kneer snuck back into the church and gently unlocked a black box. Inside was the U.S. Honor Flag, folded up in a triangle, and a flash light.
"Because you never leave an American flag in the dark," he said.