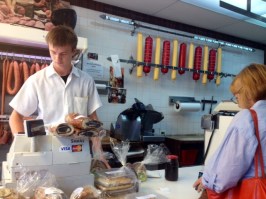 Two hundred and ninety-eight people were killed this morning when a Malaysia Airlines passenger jet crashed near the village of Grabovo in Eastern Ukraine, an area that has recently been ravaged by violence between government forces and pro-Russian separatist rebels. So far, it has been alleged that the plane, which lost contact before entering Russian airspace, was shot down. Reports state there were no survivors.
The shockwaves generated by today's crash and by the wider political turbulence of Ukraine's political instability have rapidly moved outside Ukrainian borders. In New York, the 800,000 strong Ukrainian community has been left stunned by the news and today many of them congregated in their East Village enclave, known fondly as Little Ukraine, to swap theories, conspiracies and speculations.
Though most agreed that it is too soon to jump to any conclusions, by mid-afternoon some were already deeming it an open-and-shut case.
"They say that the terrorists are controlling the border where the plane crashed. So it definitely could be the Russians," said Pavlo Kaidan, a worker at Veselka–arguably the most well known spot along the stretch of Ukrainian eateries, meat markets, schools, churches and youth centers on 2nd Avenue between Sixth and Seventh.
Mr. Kaidan's family is from Western Ukraine, a region which has remained generally unaffected by the violence happening on the Russia-Ukraine border. However, he has felt the effects of the conflict since his move to the United States.
"Before we didn't care about Russia. I can speak Russian because we have a lot of Russian TV and media in Ukraine. Now if someone asks me if I can speak Russian I say no," he said. His co-worker Maria Anna, also from Ukraine, laughed and said, "No, no. He's joking."
Mr. Kaidan quickly replied, "No, it's no joke. I'm telling the truth."
Not too far down the street a similar back and forth was happening at the Ukrainian East Village Meat Market.
"I think Russia did this because they want to show everyone how dangerous the situation is in Ukraine," said Igoz Ruboy, standing in front of a row of hanging sausages.
"But it might not be Russians, it could be separatists," one customer added as she took out her wallet to pay. "They aren't sure yet. Though I think it's the Russians, absolutely." She continued, "I'm Polish. I'm Ukraine's neighbor."
Mr. Ruboy hasn't been to Ukraine in six years, but his family, like Mr. Kaidan's, still lives in the Western part of the country. "It's an easier life there, but all the time people are coming from the Eastern part of Ukraine, looking for some shelter because people are afraid to live. People are blowing up their houses," he said.
With what he estimates to be thousands of people fleeing to West Ukraine all of the time, Mr. Ruboy suspects that this recent tragedy will only cause more people to migrate. "I think this plane crash will make more people go to the West," he stated.
However, others are not as willing to share their opinions.
"Just watch the news. Don't aggravate me," said an elderly woman at Self Reliance NY Federal Credit Union, an association that serves the financial needs of the Ukrainian-American community. She was setting up her Bingo board with 30 other senior citizens, all gathered around a long table as Fox News played on a television at the front of the room.
She added, "Of course I feel bad, I feel bad for my Ukrainian people. It's a big tragedy. There's not much we can say now, we have to see what happens."
The credit union's president, Oleh Lopatynsky, however, was fairly certain about what transpired today.
"I hope that the Russians did this. And everyone is saying they did, because Ukraine doesn't have the weapons to take down the plane. Two days ago a commercial plane went down. Last week, another two planes. It's the Russians. They have all kinds of weapons."
Mr. Lopatynsky came to the United States when he was 6. Though he considers himself American, he said his ties to Ukraine are strong. He worries that Ukraine doesn't have the financial means to respond to these attacks.
"The Ukrainian government wishes they could do something, but they don't have the money," he lamented.
Mr. Ruboy from the meat market agreed, but noted that other world powers play a role in Ukraine's current vulnerability. "When we gave up our nuclear weapons, there was a guarantee [that] the U.S., England, Germany would support us. Nothing. The U.S. doesn't care, Germany doesn't either," he emphasized.
Though the U.S. wants all countries to surrender their nuclear weapons, Mr. Ruboy doesn't think it's feasible.
He concluded, "The Ukrainians are not feeling support at all."