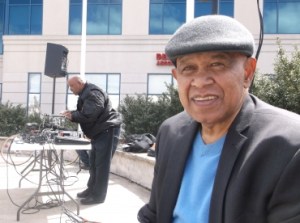 Growing up in Roselle, when he played ball summers in Warinanco Park, Union County Democratic Chairman Jerry Green remembers seeing Officer Ralph Froehlich and his partner Officer Arnie Highsmith on patrol.
Mr. Froehlich was a mentor then, but today Green feels like he lost a brother.
"Ralph used to talk to young guys like me, and used to tell me that there's a life other than crime," said the chairman and veteran 22nd District assemblyman. "He always treated you with the utmost respect.
"There are people in this world who do care about people, no matter where they come from or what their background is, and 40 years ago, Ralph believed in treating people equal. He had the foresight, and bridged the gap to make sure every individual felt that way. My feeling for him runs real deep. From day one, he was very encouraging and very supportive, and he never let me down.
"At that time, you got the feeling some would look at you and just see another number ready to go to jail, but Ralph gave me a chance to look at law enforcement with different eyes," Green added.
The longest-serving sheriff in the history of New Jersey, Union County Sheriff Froehlich died last night, aged 83, after a long illness.
"Unfortunately, these last couple of months have been rough on Ralph and his family, but he's in a better place now," Green said. "I am very proud of the sheriff's department, one of the best run in the state, and I want to congratulate staff for sticking together and making Ralph proud. They are Ralph now."
Green's son, Jerry II, serves in the sheriff's office as an undersheriff; and his grandson, Jerry III, just took the oath of office.
"He touched three generations of Greens," said the chairman, who still remembers calling Mr. Froehlich when he decided to get into politics to ask the sheriff for his advice.
"He said 'go for it,'" said the assemblyman.
Years later, "He loved calling me his chairman," Green added. "That coming from him meant more to me than from anyone else."