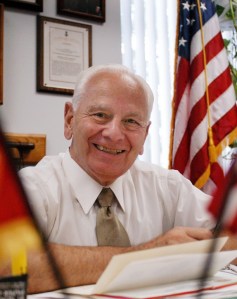 Union County today mourns the loss of the longest-serving sheriff in New Jersey history, who died last night at the age of 83.
First elected in 1977, Union County Sheriff Ralph Froehlich was a highly respected law enforcement figure in Union.
A veteran of the U.S. Marine Corps, the career officer served in the Elizabeth Police Department for almost 20 years, attaining the rank of lieutenant.
A 1975 graduate of Kean College, Mr. Froehlich attended the Northwestern University Traffic Institute in 1968.
During his tenure as Sheriff he instituted a nationally recognized fingerprinting program for children and launched a K-9 Search and Rescue Unit and a Domestic Violence Unit. In December 2010, the Union County Sheriff's Office received national accreditation from the Commission on Accreditation for Law Enforcement Agencies, Inc. (CALEA) through the New Jersey State Association of Chiefs of Police Accreditation Alliance Program.
In an effort to share services with other law enforcement agencies, Sheriff Froehlich implemented a Municipal Transportation Program to assist local police departments.
In later years, Mr. Froehlich, a Democrat, spoke out vociferously in favor of more regulations on guns, notably at a conference organized by Roselle Mayor Jamel Holley.
He died last night at Trinitas Hospital in Elizabeth following a long illness.
Mr. Froehlich was serving his 13th term as sheriff.
"A wonderful person," said state Sen. Ray Lesniak (D-20).
"When the head of the Union County Democratic Party, Elizabeth Mayor Tom Dunn, dumped me off the organization line for re-election to my third term in the Assembly, Sheriff Froehlich immediately announced he would be my campaign manager, ever though he was running for Sheriff on the organization line," Lesniak recalled. "I've often said, if Ralph Froehlich asked me to run through a brick wall, my response would be: which one! Totally dedicated to the community he served throughout his life, if we're fortunate one person like Ralph Froehlich comes into our lives in a lifetime. We were fortunate to have Ralph in our lives. God blessed us with him."
State Sen. Nick Scutari (D-22) said, "Having run with him many times he was a proven vote getter."
"Everybody loved Ralph," Assembly Minority Leader Jon Bramnick (R-21) said. "He's a politician from the past, the most popular politician in Union County. I would always say, 'Don't run against Froehlich, he may campaign.
"What it came down to with him – look, I always believed in a certain charisma and honesty in someone's eyes that you can't fake," the Republican added. "Ralph Froehlich had a warmth when he looked at you. He was looking at you. He worked hard to try to connect with you. He wasn't looking for the most important person in the room, and he was cop's cop."
Roselle Mayor Holley said he has known the late Sheriff Froehlich since he was a child in the late 1980s.
"The sheriff learned that my family was poor, and he did everything he could to help us out," the mayor said. "Ralph would provide us with food baskets and gifts during the holidays, and I remember him attending my brother's basketball and football games. He was more of a community sheriff to us."
When Holley entered local politics, he immediately received support from Froehlich, who endorsed his candidacy for Borough Council and, ultimately, mayor. The sheriff campaigned with Holley door-to-door, providing extra support where he could, the mayor said.
As Roselle's chief elected official, Holley said he could always count on Froehlich.
Senate President Steve Sweeney (D-3) issued a statement.
"Sheriff Froehlich had a long and distinguished career as a public servant and was a true giant in Union County," Sweeney said. "His decades of service, both as sheriff, a police officer and as a member of the U.S. Marine Corps, are a testament to the dedication and commitment he had to his community and his country. Our thoughts are with his family and friends."