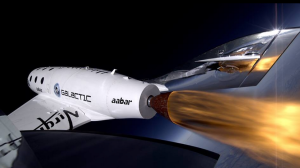 The United Kingdom wants to reach the final frontier in about four years.
Tomorrow, the government will officially announce eight possible locations for the country's first commercial spaceport — where spaceships would depart and land — is slated to open in 2018. The move is part of their ambitious plan to keep growing its space sector, which somehow pumps in more than $20 billion into the country's economy every year.
The short list includes Bristol, Norfolk and six spots in Scotland even though the country is mulling its independence from the monarch. "We have worked out the regulatory regime we need to launch spaceships in Britain and assessed what kind of aviation checks will have to be imposed when we put craft into space," said the U.K.'s science minister David Willetts.
And there's perhaps even more of an enticing reason to open the first U.K.-constructed spaceport: Richard Branson. The government hopes the eccentric billionaire Brit will use it to base at least some of his space tourism projects there rather than in the United States.