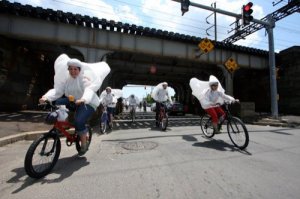 On August 17, you can be part of a moving work of art by participating in the Aeolian Ride, a group bike ride from Brooklyn to Governor's Island.
"I was commuting to work on my bike with a weird windbreaker on wondering what it might look like flapping around behind me," Jessica Findley, the artist behind the Aeolian Ride, told World Wide Cycling Atlas, as she explained the idea behind the costumed bike ride she created.
Originally developed for a Burning Man event, the Aeolian Ride, a bike ride where participants are outfitted in suits that catch the wind behind them, was launched in New York City in the wake of 9/11 to "bring senseless joy to a place that had experienced senseless pain," Findley told World Wide Cycling Atlas. "Aeolian," a Greek word that means "to be carried by the wind," refers to the bike riders' flowing costumes, which were designed and created by Findley herself.
The upcoming NYC and Montreal rides are in celebration of the Aeolian Ride's 10th birthday and each will raise money for local organizations: 596 Acres in NYC and Santropol Roulant in Montreal. Those who donate $100 or more will receive a Bicycle Aura Portait by Findley, according to Gothamist.
Over the past 10 years, the Aeolian Ride has taken place in cities throughout the United States and worldwide, including Los Angeles, Lisbon and Halifax, bringing happiness and art through a unique medium to all types of people.
"[The Aeolian Ride] turns a normal street into a place where art can happen at any time and you can be that art," Findley told World Wide Cycling Atlas.
Click here to reserve a costume for the upcoming one and a half hour NYC ride scheduled for Sunday, August 17 at 1:00 p.m. Tickets are $10 for adults and $5 for kids, who may participate in their own shorter rides at 4:30 p.m. and 5:00 p.m. Bike ride tickets include admission to the after party in Governor's Island.