Listen to a few seconds of Us the Duo's songs and it becomes perfectly clear. Married couple Carissa and Michael Alvarado have the kind of happily-ever-after love straight out of an '80s Rom Com, only they've taken it on a national tour.
"I saw this sign 'needing music video extra.' I showed up at this house and opened the door and there she was, looking beautiful. It was love at first sight, I knew I was instantly going to marry that girl," Mr. Alvarado told the Observer.
Us the Duo made their second appearance in New York on Monday night, stopping at Webster Hall's Marlin Room as part of their first U.S. tour. Fresh off signing with Republic Records in March, the folk-pop act hasn't taken the traditional route to making it big—the couple has Vine to thank for their entree into the spotlight.
[protected-iframe id="e5f3e8bb2eb0f2bc8e50904f5608b056-35584880-59143305″ info="https://vine.co/v/MFM15i35HxI/embed/simple" width="480″ height="480″ frameborder="0″]
Famous for their six-second covers, the Alvarados quickly inspired a following on video-sharing app Vine, reaching 1 million followers in 30 days. Now, nearing 4 million followers, the band is taking their original relationship-inspired music to an IRL crowd.
"We're hoping to see if these Vine followers are actual people. You log onto your Vine and you see 3.7 million and assume people are watching your videos," Mr. Alvarado said. "The tour is going to prove these are real people and real fans. It is going to create a person-to-person relationship. You can only go so far through the Internet."
The New York set showed just what kind of following Us the Duo has amassed. Singing to a packed room (at 8:30 p.m. no less) of tweens, moms, and young professionals, the couple's voices sometimes seemed drowned out by the crowd singing along.
"I am so overwhelmed right now. I was going to say something but then you all screamed and now I forgot what I was going to say," Mr. Alvarado told the crowd.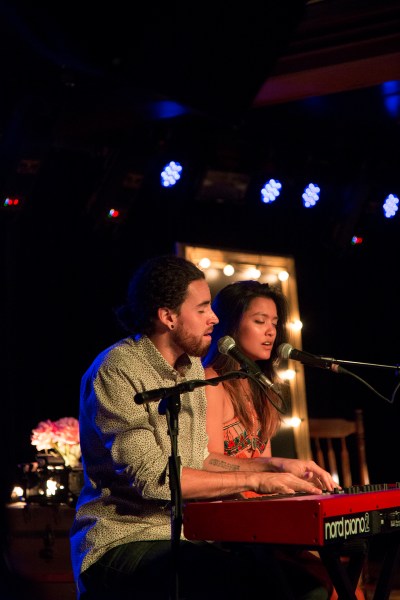 With its concert serving as the storyline of their sickly sweet relationship, Us the Duo's performance started at the very beginning, with "Girl in L.A.," which Mr. Alvarado wrote on the plane headed home to North Carolina after spending just three hours with his future bride.
Their perfect harmonies and personal lyrics only served to pull the crowd further into the story of their relationship and success. No Grinch could make it through Us the Duo's set without cracking a smile—the act's energy was infectious. Sneaking glances at each other as they sang, sitting together at the piano bench, and sharing a mic, the couple didn't shy away from sharing their love.
With just under 2 million views on YouTube, "No Matter Where You Are," the title track on their album, is the musical version of their vows, which they performed on their wedding day.
"My favorite song to play is still 'No Matter Where You Are.' I literally, my mind can picture her in the veil, walking down the aisle. You see that in so many movies but until you live it you'll never know," Mr. Alvarado said.
While musically narrating their way through the trials of long distance and their failed TV audition, the couple found a way to get back to their online roots. Playing six seconds of Lorde's "Royals" and Ariana Grande's "The Way," Us the Duo showed off their true singing chops, layering vocals and beatboxing to create dreamy covers of the pop hits. Just before rolling into "No Matter Where You Are," Us the Duo shot a Vine just for New York.
"New York City, scream loud if you're feeling good," the duo sang to the iPhone before turning around to film the crowd.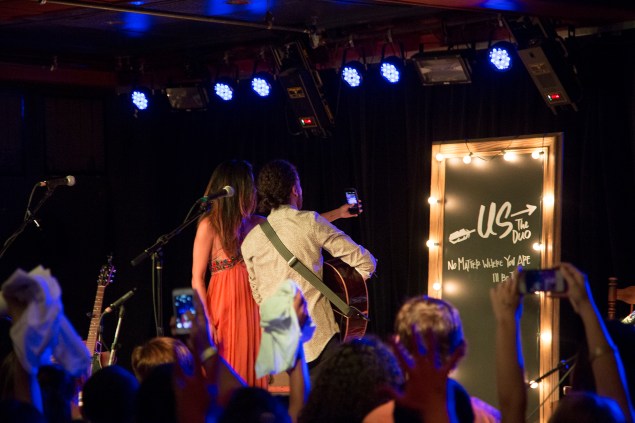 Mr. Alvarado, who quit his job as a marketing director at a real estate firm to pursue music with his wife, urged the crowd to never let anyone keep them pursuing from their passions.
"If you know that many people are watching and listening to what you have to say, you can really inspire a change, change people for the better," he told the Observer.
"We want to leave them inspired to not let anyone stop them from doing what they want," Ms. Alvarado added. "We just want to make people happy and spread joy."