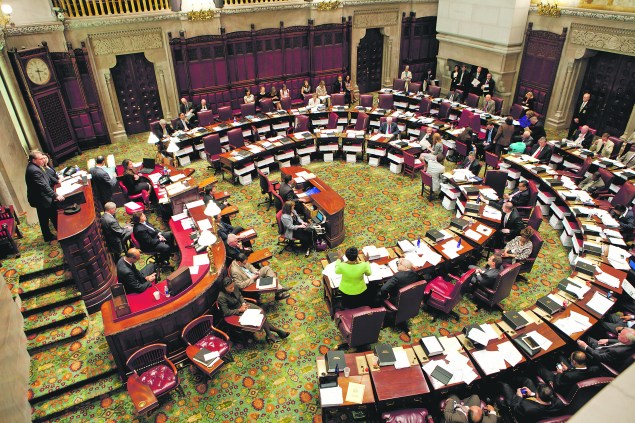 New York State voters don't hold the Legislature in very high esteem.
In a new Siena College Research Institute Poll, 65 percent of those polled said most state legislators "do what's best for them and their political friends and it never surprised me when another one gets indicted."
Just 28 percent thought state lawmakers were "honest, hardworking, and doing what's best for their constituents."
Voters might have some reason not to be shocked by indictments of Albany lawmakers — they happen quite often. In the last month, Assemblywoman Gabriela Rosa was indicted on marriage fraud charges and Deputy GOP Leader Senator Tom Libous on charges he acted inappropriately to get his son a law job.
Still, voters are likely to send those lawmakers they don't exactly trust back to Albany — 49 percent said they were inclined to re-elect their state senator, and 41 percent to re-elect their Assembly member.
One elected official remaining popular with voters was Gov. Andrew Cuomo, who holds a whopping 37-point lead over his GOP challenger, Rob Astorino, leading 60 to 23 percent.
Voters reported being happy with Mr. Cuomo's record — his favorability rating stands at 61 percent to 35 percent, down slightly, and his job performance rating is at 50 percent.
"Andrew Cuomo is liked by voters and they are inclined to want to re-elect him. Rob Astorino remains largely unknown to the majority of voters and among those who know him they are evenly divided on whether they view him favorably or unfavorably," Siena College pollster Steven Greenberg said in a statement. "Astorino has failed to become significantly more known to voters or to put a dent in the Cuomo armor in the last six months. He has much to do and not much time to do it in.
The issues mattering most to voters polled were jobs, taxes, education and other economic issues.
Voters polled by Siena did back one big priority of Mr. Astorino's — stopping the implementation of Common Core, an issue Mr. Astorino turned into a ballot line. Forty-nine percent of voters want to see Common Core's rollout halted, compared to 39 percent who want it to continue.
Check out the complete poll below.
[protected-iframe id="1fdf8c423c5f22517d0375e0fa150dfd-35584880-67241311″ info="//www.scribd.com/embeds/234654824/content?start_page=1&view_mode=scroll&show_recommendations=true" ]