When Shihori Yamamoto was 10 years old, she picked up a can of red paint and began to cover the walls of her house in Yokohama, Japan, sparing only the tatami mats on the floor. Her mother, understandably, was furious, but once she cooled off, she took her impish daughter to a fabric store and bought her rolls of red cloth. Ever since, Ms. Yamamoto, 26, has used fabric and paint to transform spaces into cocoons of reds, yellows and oranges. The colors give her comfort in a world that she finds invasive. "I feel like I'm losing my identity all the time," Ms. Yamamoto told me. "So I have to make sure I have a shelter or a place where I can sustain myself."
Ms. Yamamoto created just that in her solo exhibition "Welcome to My World," which ran for one week last month at Ouchi Gallery, a cozy space in Downtown Brooklyn that focuses on Japanese artists, where we met. In the back of the gallery, where the gallery director's tiny Chihuahua, Hottie, was scampering around, was Ms. Yamamoto's work Refuge (2014), which looks like a large square tent made of layered orange rags. It floated about seven feet above the ground, suspended by strings connected to the walls. If you peeled back the blankets of fabric, you could stand inside and bathe in the light, which was colored red by the cloth.
An hour before the opening of the show, Ms. Yamamoto emerged from the installation, wearing, of course, a red dress, as well as yellow patent-leather ballet flats. We sat a few feet away from her piece, on a couch tufted with buttons, and she leafed through a binder with photographs of her art. She looked at the pictures dreamily while she described her fear of authorities, which has influenced her work. (Though, for someone who says she feels threatened, Ms. Yamamoto speaks frankly and has a daringly playful side. She is an articulate, adorable paranoid.)
Though the government and mass media are concerns for her, school has affected her most most. "Professors did not like me because I did not follow their guidelines. They tried to fix me, but I kept failing to be fixed," she said. "That made me always nervous, always sad and disappointed."
Her works are rarely portable, since they rely on the space they inhabit. She paints detached front doors carrot orange or builds wooden boxes 10 feet tall and entirely red. "The funny thing is sometimes people think red is radical and has so much energy that it won't be comfortable to stay in," said Ms. Yamamoto. "But really it's like feeling sunset all the time." She rarely works with the two-dimensional—even for Refuge she didn't start with a drawing but with a 3-D model. She then ripped up sheets of fabric and sewed them together by hand. (She doesn't want a sewing machine to be a middleman.)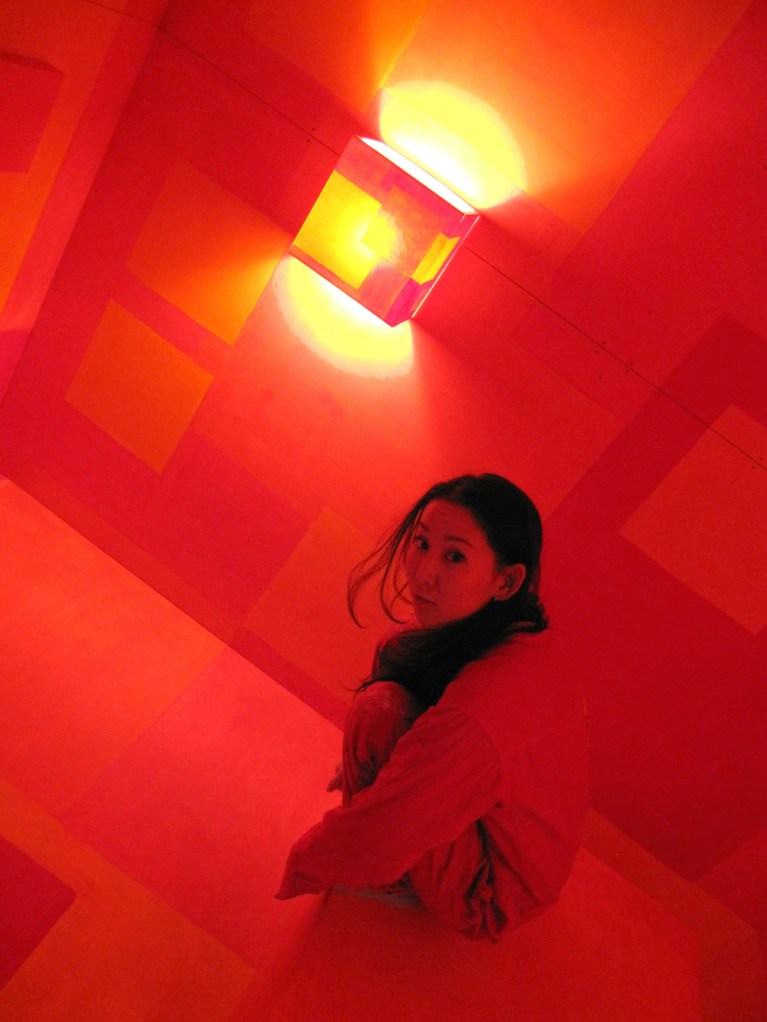 Three years ago, Ms. Yamamoto moved to New York to attend Pratt for graduate school, which she completed last May, and has been showing around town since then. "Welcome to my World" was her first solo exhibition outside of Pratt and her undergraduate art school in Japan. In her final project at Pratt, called Come In Don't Come In, she created what appeared to be a rectangular white box, 11 feet long and 4 feet tall. The bland exterior was camouflage; at the back of the box, Ms. Yamamoto had cut a small, square entrance where people could crawl inside. The interior was painted entirely red and box's floor was lined with crimson mattresses to laze on. The piece was an equalizer: everyone who entered was forced to bow and crawl. At the same time, Ms. Yamamoto had a bouncer by the entrance and only people she had given invite cards to were allowed to enter. She did not want strangers invading her space.
Ms. Yamamoto has one work that is not large and is not three-dimensional. It is a postcard that is currently in A.I.R. Gallery's group exhibition of postcards called "Wish You Were Here," which runs through July 20. She filled her card with various-sized rectangles, all in her warm color palette. "That one was different for me because I saw it more as a letter to my family. The exhibition's title is what I think all the time."
That said, she's doesn't plan to leave New York anytime soon. She works during the day at Blik art supply store in Soho and has a piece in the group exhibition "Under Construction" at SOHO20 Chelsea gallery, opening on July 22. She showed me a picture of the work, which is called AKAKABI, or "red mold" in Japanese. The photograph displayed a large patchwork, made of strips of red fabric, that was attached to the walls and ceiling. It almost seemed to be growing out across the room, imbuing the cold, white environment with energy. With just cloth, Ms. Yamamoto was controlling the space.