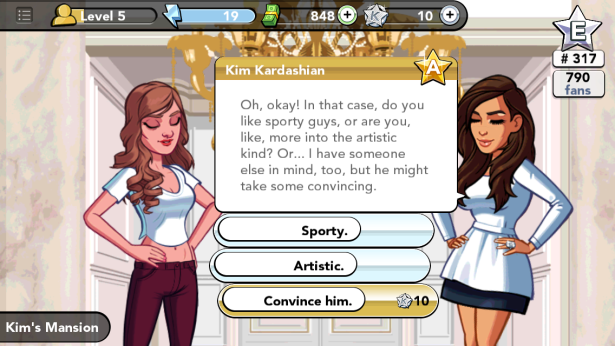 When we first broke the news that reality empress Kim Kardashian was working on a mobile game, we knew it would be popular — just not this popular.
Kim Kardashian: Hollywood (guess her native Calabasas doesn't have as nice a ring to it) is now the second most-downloaded free-to-play game on the U.S. App Store, Bloomberg reports. And it's on track to pull in $200 million in revenue in its first year.
This is a boon for parent company Glu Mobile, which has also published four mobile iterations of Call of Duty as well as games inspired by Mr. & Mrs. Smith, Aqua Teen Hunger Force, Ice Age and Who Wants to Be a Millionaire, among others.
In Kim Kardashian: Hollywood, players are tasked with navigating the social structures and professional hierarchy of Hollywood. If you've ever wondered what it's like to flirt with an oddly sexy cartoon dental hygienist or get reamed out by an evil entity known as Willow Pape via Twitter as you ascend the ranks from unknown to A-lister, well, this is the game for you.
That is, until you've finished playing all the free parts and it starts prompting you to buy a bunch of virtual coins stamped with K so that you can buy new clothes and get access to other parts of the game.
You have to give Ms. Kardashian and the game's designers credit, though. It shows a pretty self-aware side of the superstar as she counsels players on how to get a momager and pose for photos. At one point, the game even reminds you, "Make-up is the photo shop [sic] of real life."
The game has five stars in the App Store, Bloomberg reports, which is the highest possible amount of stars. What else would you expect, though, from a mobile game starring one half of the #WorldsMostTalkedAboutCouple?