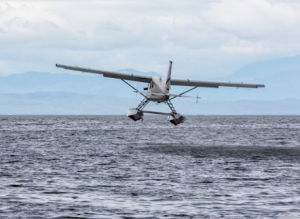 With the potential LIRR strike slated for this weekend, promising extreme overcrowding of roadways and general chaos, some Hamptons-bound New Yorkers are opting to travel by seaplane or helicopter to their East End shore destinations, the New York Post reported.
Although Mayor de Blasio claims that contingency plans for the strike are strong, according to the Post the extra busses and ferries can only handle 5 percent of the LIRR's 300,000 daily riders.
While this could leave tens of thousands of workers stranded or in bumper-to-bumper traffic along the Long Island Expressway, Melissa Tomkiel, co-founder of Manhattan-based seaplane firm Fly the Whale, claims that demand is soaring.
"[People afraid of the strike] are booking two weeks in advance to be guaranteed a seat," Ms. Tomkiel told the Post.
And for those who don't plan that far ahead or are choosing to embark upon a more spontaneous weekend jaunt, a new app called BLADE , launched Memorial Day, allows users to book a seat on an existing helicopter ride to the Hamptons or launch their own flight via smartphone.
Evan Licht, general manager of BLADE, told the Post, "A strike reinforces why people should go to [our] 34th street [heliport], get a glass of rosé and fly out with us."
The regional economy could lose $50 million a day as a result of the strike. Meanwhile, a BLADE flight, costing around $500 for a one-way-ticket, will not only provide rosé, but free bottled water, phone chargers and, should weather prevent the helicopter from running, a private Maserati directly to your destination.