At the beginning of August, hundreds of fans will pack Miami's Eden Roc Hotel to meet models with whom they've all been intimate, and yet have never actually met beyond the screens of their webcams.
"[They'll] meet the models [they]'ve been chatting to for four years. People could start fainting," Clinton Cox, the founder of the first annual CammingCon, told me over the phone. "There's going to be a huge level of nerves… Who knows what the energy's going to be like? It's a giant science experiment."
This year, Miami will play host to the largest-ever convention dedicated exclusively to camming, the form of adult entertainment wherein viewers watch and interact with performers in real time over webcam. From July 31 to August 3, webcam performers — commonly known as cam girls — will get to meet each other, network, and attend seminars and parties. The convention will also have a fan day, where camming enthusiasts will be invited to come meet their favorite models in person.
With camming having entered the mainstream of the adult entertainment industry in the past few years, Mr. Cox thinks the time is ripe for CammingCon.
"I really think that CammingCon could rival Comic Con," he said, "just different industries."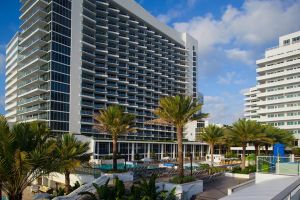 Going Mainstream
"I think camming's completely going to obliterate porn," Nikki Night, head of performer training and development at Cam4.com, told me over the phone.
Ms. Night, who previously worked as a cam girl for three years, has noticed that people looking to get into adult entertainment are skipping the porn route altogether, and going straight to camming.
"When you're camming it's a little bit more controlled," she said. "When you want to work, you work. Literally you make your own schedule."
It's also safer than other forms of performance, she said — you get to stay within the comfort of your own home instead of trekking to sketchy studios or strip clubs late at night.
I also consulted an adult entertainment expert, sociologist Chauntelle Tibbals, Ph.D, on why she thought more and more porn stars were incorporating camming into their repertoires. Ms. Tibbals could think of two possible answers.
"First, camming can be a great moneymaker," she said over email. "Consumers are gravitating toward the experience," she said, so performers who know what they're doing stand to earn a lot of cash.
Finding work in conventional porn production is also becoming way more competitive due to things like piracy and the economy. "Consequently, there's less work available for performers," she said, so many turn to camming.
Camming also offers opportunities not just for hardcore porn performers, but also softcore and glam models, many of whom have amassed huge followings on social media, and are looking for ways to make money from them.
"They have to start learning how to monetize all these fans that press like [on Facebook] and press the heart button [on Instagram]," Mr. Cox said. "It's just going to flip soon. It's going to be really amazing."
Finally, it's a great exit strategy for porn stars looking to get out of shooting videos. Mr. Cox, who's also done business development for Reality Kings, said he's seen huge numbers of performers crossing over from doing shoots to camming.
"It's a natural progression of a porn model," he said. "How long can you have sex every day for money? Going on set every day, [having sex] for hours, the body gets old. The model gets old. I would say, more than half are crossing over to cams."
Camming has become more and more popular among consumers, too. Instead of wasting time scouring porn sites for the perfect video, viewers can ask a cam girl to play out whatever specific fantasy they had in mind.
Often, the appeal even goes beyond the realm of sex.
"Everyone thinks that people are just masturbating," Mr. Cox said. "There is a percentage of people that get on there and they're gone in three and a half minutes, [but] there's a whole other percentage of people that want companionship."
On an even deeper level, Ms. Tibbals suggested camming helps remedy the isolating effects of the Internet.
"As we get online more and more as a culture and have access to basically anything we want instantly, one huge hole has begun to emerge – personal connections," Ms. Tibbals said. "I think that's a lot of what people are craving, even if it's just the illusion thereof… It's a real comment on the state of society in general, one that we should pay close attention to."
Life of a Cam Girl
Cam girl LittleRedBunny doesn't make many public appearances, but last week she agreed to travel from New York to Miami for CammingCon.
"I actually rarely come out of my bedroom," she told me over the phone. She said her only other public appearances had been when she accepted her awards for Best Webcam Girl at the 2013 Sex Awards and Favorite Webcam Girl at the 2014 AVN Awards.
LittleRedBunny works full-time, through the night. She alternates between entertaining viewers in her free public room and performing private shows at a rate of $4.99 per minute.
"I have privates that can last from eight minutes to 19 hours — my longest was 19 hours," she said. "You never know what the night is going to be."
Private performances aren't strictly sexual, she said. LittleRedBunny has clients that have been coming to see her for four years, so the experience is also really social.
"You develop a lot of friendships too," she said. "It can be very naughty, and sometimes it can be sexual for really long hours… [But] you take some little breaks, you chat a little more — it really varies with every member — sometimes it's talking and sharing experience and knowledge and taste in music."
She started camming five and a half years ago because she "was always attracted [to] or curious about sexuality on many different levels," she told me.
"The first night was really awkward and weird, [but] I gave it a try and started to get more comfortable," she said. As a newbie, she had to learn unfamiliar sex terms — like "BJ" for blowjob, which she somehow hadn't heard before — as well as learn to fend off guys who "try to fool you with tricks to get you naked because they know you're new."
Now, LittleRedBunny's a pro. She's developed her own signature camming style; her warm, dimly-lit room is "like an online speakeasy, like it's a throwback in time," she said, and there's jazz from the 1920s to the 1960s playing in the background. The look reminds people of Boardwalk Empire, LittleRedBunny said. People have tried to copy her look, so she wouldn't tell me what kind of lights or camera she uses. "I cannot give my secret ingredient!" she objected.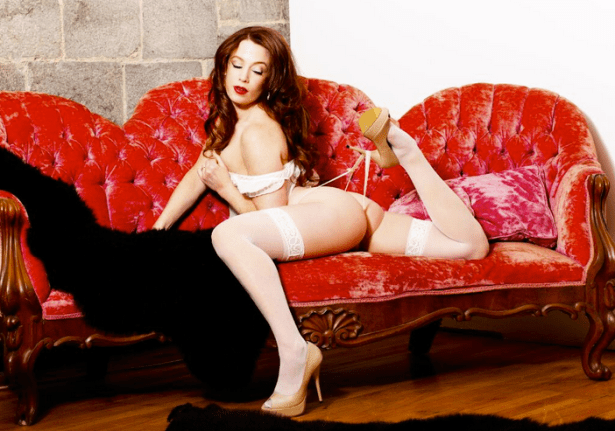 She might be an expert performer, but there are slip-ups, too — like the time the batteries died in her computer mouse, and she had to quickly and stealthily grab some from a nearby dildo and pop them into the mouse. Or the time her shoe flew off mid-dance and snapped her lampshade in two. Or when she used her stiletto heel to stretch out her g-string, only to have the underwear snap and fly across the room.
"People were laughing their asses off in my room," she said.
Over time, LittleRedBunny has noticed camming moving more toward the mainstream. She described the camming industry as "very underground [and] totally unseen" when she started. Now, "more and more people are open to talk about it," she said. "It's not as taboo as it used to be."
The Risks Involved
Despite the relative safety of webcam work, Ms. Night, the Cam4 coach, stressed there are still risks involved — like sexual health issues.
"Nobody ever talks about sexual health in camming," she told me. "I'm sorry, but if you're masturbating all day, you are going to have some freaking backlash." She listed vaginal tearing and urinary tract infections as examples.
Aside from excessive masturbation, just the dancing and stripping can be exhausting for the body, too. Ms. Night recalled how tired she'd be at the end of the night, only to have a client request a last-minute private show.
"You're so tired, [but] you take it and you just grin and bear it and fall into a coma afterward," she said.
When she coaches Cam4 performers, Ms. Night shows them how to take care of their bodies — everything from how to stretch before performing, to which natural products make for the best lubricants (she suggested I try coconut oil).
There are emotional risks for performers, too.
"It's extremely isolating," Ms. Night said, reflecting on her years of camming. "I remember one time, it was in the wintertime, there were two weeks when I didn't see another human being. You get this anxiety about it."
Then again, Ms. Night confessed it can also be emotionally nourishing.
"There's such an empowerment with camming," she said, "you get this energy when you do it. All of a sudden you're in these crazy positions, and afterwards, you're like, 'What the hell?'"
Countdown to CammingCon
As I chatted with Mr. Cox, I was particularly impressed by the range of educational opportunities CammingCon would offer its model attendees. There'll be makeup artists explaining which colors look best on different skin tones; photographers talking about the most flattering way to light yourself; lawyers speaking about Internet safety. His goal is for models to get "true nutrition," and to walk away with dozens of new ideas.
He's desperately hoping the convention will be well-attended; when we spoke, there were around 424 registered attendees — 250 of them fans waiting to meet their beloved models. Mr. Cox is marketing the event heavily, placing ads on billboards, radio, in magazines, and even on local dating sites.
Ms. Night, for one, can't wait to attend. She'll be giving various talks, as well as makeup lessons.
"Things like CammingCon are really going to bring respect and acknowledgement to the industry, and spread the world this is a very safe way for people to legitimately make money," she said. "It's about time the world recognizes what a massive industry this is."