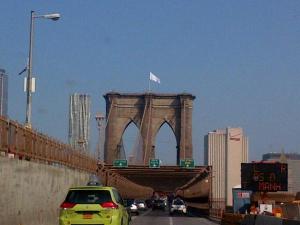 Yet another twist in the mysterious Brooklyn Bridge flag debacle arose Wednesday when a California pro-pot activist claimed responsibility for the bleached American flags.
Rev. Bud Green, of the POT (People Opposing Tyranny) Party, said on his website that "brave members of the Pot Party and supporters of my candidacy for Prez in 2016" replaced the traditional American flags with white versions atop the Brooklyn Bridge last week.
Mr. Green, who called the Daily News this morning to report his admission, revealed he was amused by the reaction but also upset that the group could not continue their plan to replace the flags a second time. His statement online said:
"The fascist police prevented us from doing it with their constant surveillance. The 2 new flags were gonna be the Pot Party flag which is a marijuana leaf with the revolutionary slogan Don't Tread on Me to symbolize the beginning of a new American Revolution to be led by Pot Party Supporters. The other flag was to represent what the good old USA has become now that we are fully under the control of the Republicratic party and the united corporations of America. This flag was to be a logo of corporate media conglomerate GE and a Nazi Swastika with a background of bombs and guns.  This unfortunately is what Amerikkka has become and is exactly why we need civil disobedience and non violent Revolution to truly change this country."

Rev. Bud Green lighting up on an episode of the Joan Rivers Show. (YouTube)
A pro-marijuana activist since the 1980s, Mr. Green told the Daily News that he was the one who came up with the idea but that two unnamed "professionals" carried out the act. He is the only person to claim responsibility for the flag switch that some deemed an act of terror.
The flags stand for peace and surrender, Mr. Green said. "It would make people think about what's going in. Also the wars. Our solution to the wars is for people to smoke weed and chill out," he said.